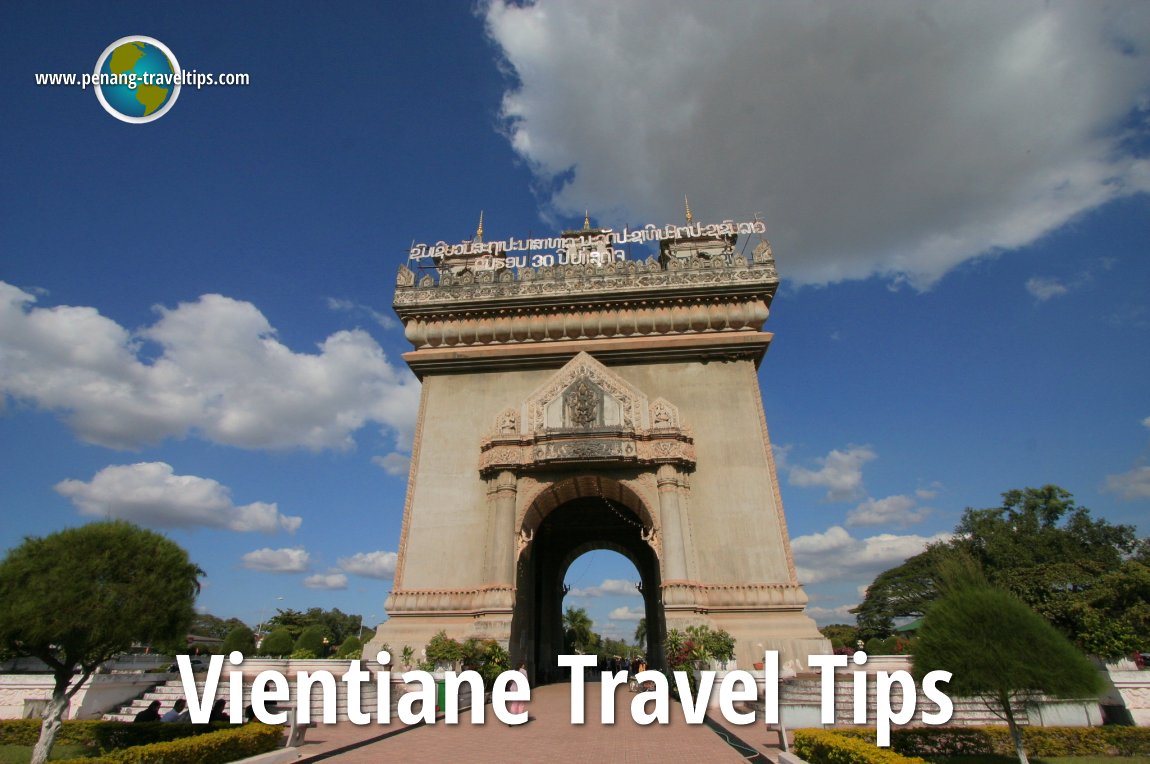 Vientiane, Laos
(1 January, 2006)
Vientiane
is the capital of Laos. It is an elegant city by the banks of the
Mekong River
. It is on the whole a relatively quiet town compared to other capital cities of Asia, giving you the feel that you are in a provincial capital rather than at a national capital. Laid out by the French, it still bears their influence in the boulevards and outdoor cafés.
Vientiane is located on the northern (or some say, north-eastern) bank of the meandering Mekong River. Chanthabuli is the name of the centralmost district of Vientiane. This is where you can find most of the government buildings as well as Vientiane's most significant temples. Thanon Lane Xang is a broad boulevard that resembles the Avenue des Champs-Élysées in Paris. It runs from the Presidential Palace to the
Patuxai
, and onwards to
That Luang
.
Like Luang Prabang, Vientiane has a high concentration of Buddhist temples, one every few hundred meters.
Budget Travel to Vientiane
By Plane
Vientiane's Wattay International Airport is located just 4 km west of the city. It has direct flight connections with Bangkok, Kuala Lumpur, Hanoi, Phnom Penh, Ho Chi Minh City, Siem Reap, Chiang Mai and Kunming. AirAsia flies there three times a week.
Most hotels offer a pickup service from the airport. If you arrive independently, you can take a taxi for $6.00 - buy the coupon before exiting the terminal building. Going to the airport, you can just hail a tuk tuk, which will only cost you around $3.00.
By Road
Vientiane is linked to Nong Khai in Thailand by the
Thai-Lao Friendship Bridge
, also called
Saphan Mittaphap
. You can't walk across the bridge. At the least, you need to board a shuttle bus service which costs Baht 20, available after the Thai immigration. There are bus services linking Talat Sao Bus Terminal in Vientiane with Nong Khai (Baht 55) and Udon Thani (Baht 80). You can get your visa into Laos on the spot. Bring along a passport-size photo, or have it taken then and there for $1 / Baht 40.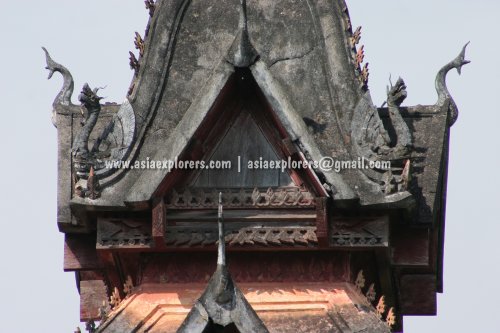 Roof structure at Wat Si Saket
(25 December 2005)
© Timothy Tye
Travel within Vientiane
The fastest way to get around is to hire a tuk tuk, or their bigger cousin, the jumbo (which is similar to the songtheaw in Thailand). If you intend on visiting many sights in the city, hire the tuk tuk by the hour, negotiate up front, and this save you the hassle and time. Your tuk tuk driver will be more familiar with the ins and outs of the city, and will be able to get you there faster.
Travel around Laos
Vientiane is your gateway to Laos. Other destinations that you should visit include
Luang Prabang
and the
Plain of Jars
.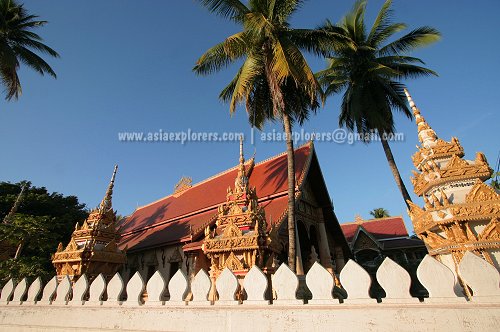 Wat Xieng Nheun
(1 January 2006)
© Timothy Tye
History of Vientiane
According to the great Laotian epic, the Phra Lak Phra Lam, Vientiane was founded by Prince Thattaradtha when he left the legendary Lao kingdom of Muong Inthapatha Maha Nakhone because he was denied the throne in favor of his younger brother.
Thattaradtha originally founded a city called Maha Thani Si Phan Phao on the western banks of the Mekong River, in what is today's Udon Thani in Thailand.
According to the legend, one day a seven-headed Naga told Thattaradtha to start a new city on the eastern bank of the Mekong opposite Maha Thani Si Phan Phao. The prince called this city Chanthabuly Si Sattanakhanahud, the predecessor of modern Vientiane.
Contrary to the legend, however, most historians believe that Vientiane was an early Khmer settlement centered around a Hindu temple, the site of which stands
Pha That Luang
today.
In 1354, a Lao warload by the name of Chao Fa Ngum founded the Lan Xang Kingdom. He captured Vientiane, which was an important administative city, even though the capital at that time was
Luang Prabang
.
King Setthathirath moved the Lan Xang capital from Luang Prabang to Vientiane in 1560. When the Lan Xang Kingdom collapsed in 1707, Vientiane became an independent kingdom. In 1779, it was conquered by the Siamese general Phraya Chakri and made a vassal of Siam.
When King Anouvong raised an unsuccessful rebellion, it was obliterated by Siamese armies in 1827. Vientiane then passed into French rule in 1893. The French rebuilt it, and made it the capital of the French protectorate of Laos in 1899.
Origin of the name Vientiane
The name of Vientiane is derived from Pali, the language used by Theravada Buddhism. Its original meaning was "The king's grove of sandalwood" or "City of Sandalwood". The sandalwood tree being prized for its fragrance in classical India.
It is also believed that the original name of Vientiane (Viangchan) means "City of the Moon" in the native Lao language. The romanized spelling "Vientiane" is of French origin, and reflects the difficulty the French had in pronouncing the hard "ch" syllable of the Lao word; a common English-based spelling is "Viangchan", or occasionally "Wiangchan".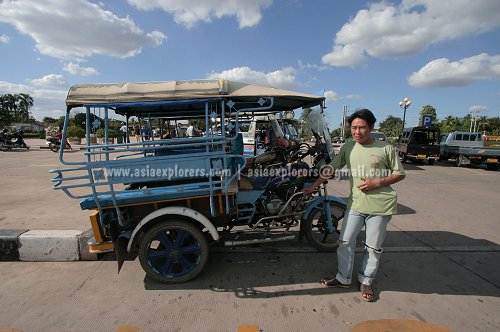 A Vientiane jumbo with driver
(1 Janaury 2006)
© Timothy Tye
Places of Interest in Vientiane
In listing out the places of interest in this city, I am putting the temples on a separate list.
Main Temples of Vientiane
Other temples of Vientiane
The following are some of the smaller, lesser-known temples spread out within the inner city of Vientiane. You can explore them by just hiring a tuk tuk to take you around.
Discover the Ancient Sites of Asia with me
If you love learning about Asian civilization, here are other ancient sites in Asia that I have explored and written about.
Thank you for using my website!
arrange for you a tour guide and/or driver
to show you around. If you are traveling by bus anywhere in Malaysia or Singapore, you can
book your bus ticket
. If you seek accommodation, you can
get hotel room rates
.
As a Christian, I hope that through this website, I am able to deliver God's message to all who need it, anywhere in the world. If you are open to hearing it, please read
God's Good News to You
.
If you wish to contact me, please use this
contact form
. And don't forget to
follow me on Facebook
. See you!