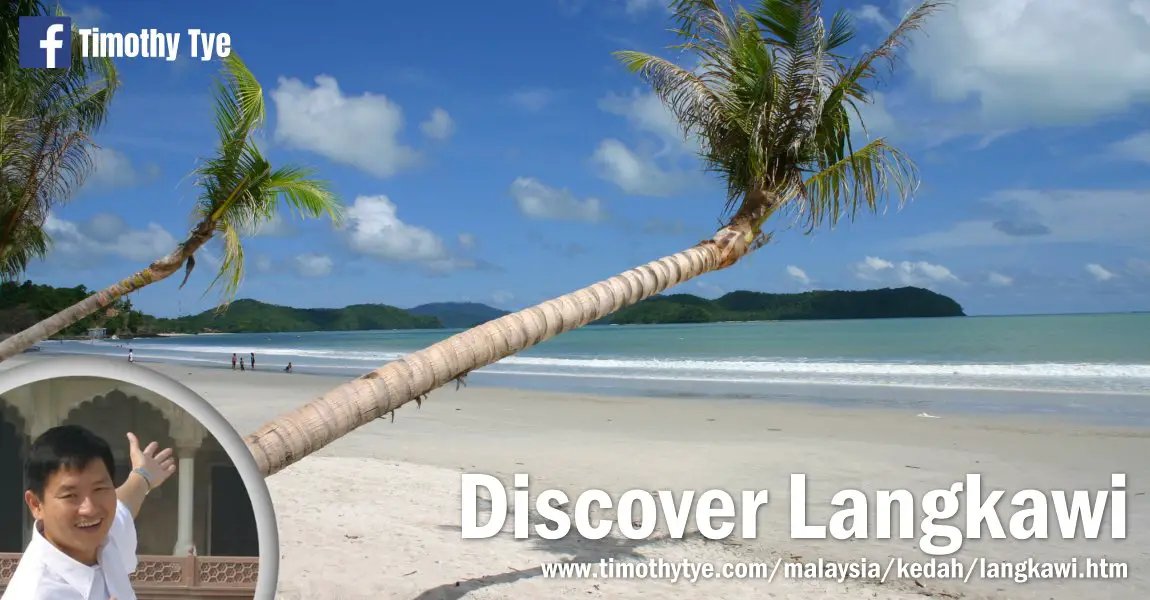 Discover Langkawi with Timothy Tye
(8 September, 2018)

B. Melayu
Langkawi
(GPS: 6.3675, 99.79774) is a major tourist destination in northern Malaysia. The island was officially given the title
Langkawi Permata Kedah
, meaning Langkawi, the Jewel of Kedah, by the late Sultan Abdul Halim, in conjunction with His Royal Highness's golden jubilee celebration on 15 July, 2008.
Langkawi is an island that belongs to Kedah, and is regarded as one of the districts of the state. It comprises the main island, Pulau Langkawi, and close to a hundred surrounding smaller islands and islets - some no more than rocky outcrops jutting out of the sea. Some tourist brochures say that at high tide, there are 99 islands while at low tide, an additional 5 emerge above the water surface. How much this is true remains to be ... well, calculated.
I create this guide to provide information you can use as you plan your vacation in Langkawi. My hope is that it will help you have a great time in Langkawi. I shall try my best to update the information from time to time, and do apologise if there are any errors.
Where to stay in Langkawi
As a norm, when asked where to stay at a certain place, I keep my suggestion to hotels where I myself have stayed before and experienced its hospitality. For Langkawi, that would be
Temple Tree At Bon Ton Resort
.
Map of Langkawi
Sights in Langkawi
Where to eat in Langkawi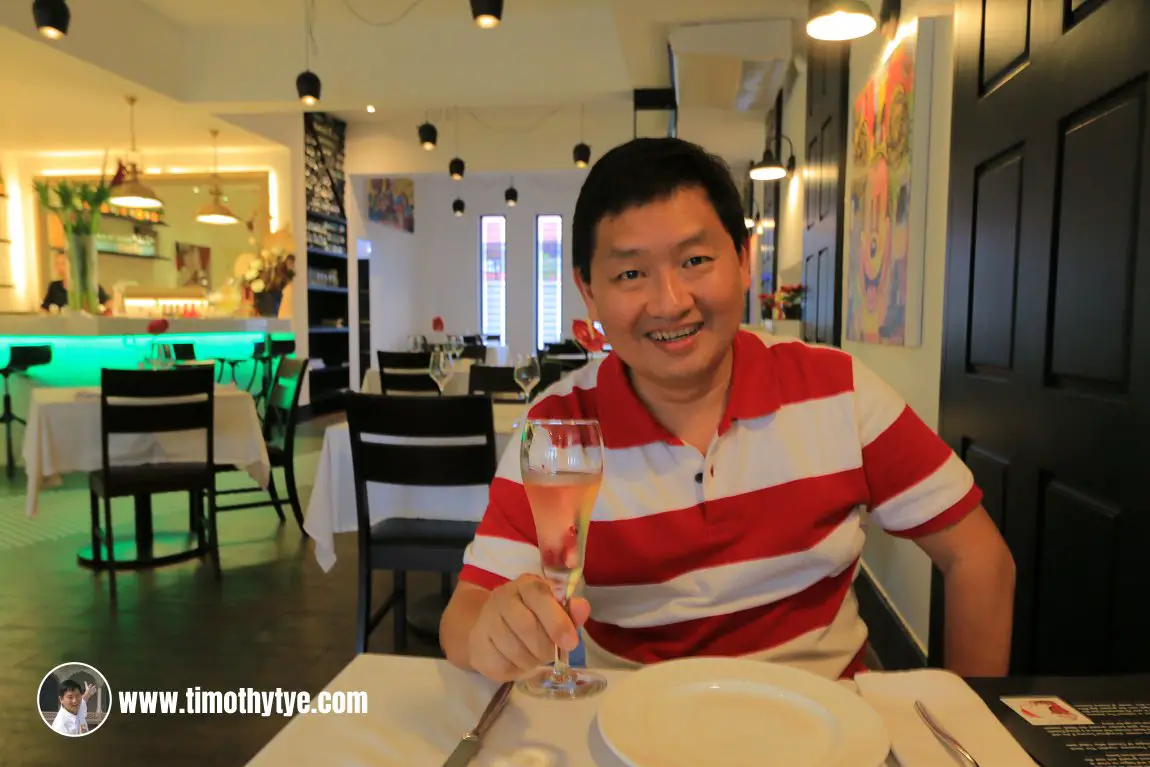 Gallo Nero Italian Restaurant
GPS: 6.35056, 99.73184
Gallo Nero is an Italian restaurant in Padang Matsirat. If you love to dine on authentic Italian cuisine, I believe you would enjoy dining here, as much as I did.
Details
Activities in Langkawi
My Langkawi Travelogue
Main towns in Langkawi
Map of Places in Langkawi
Categories of sights in Langkawi
Rivers in Langkawi
Arriving in Langkawi
You can fly to Langkawi, arriving at the
Langkawi International Airport
, or take a ferryboat, and arrive at
Kuah Jetty
.
Renting a car in Langkawi
It is very easy to rent a car whether you arrived at the airport or at the jetty. You will find car rental kiosks lined in two rows at the Arrival Hall of the airport. There are also car rental kiosks at Kuah Jetty.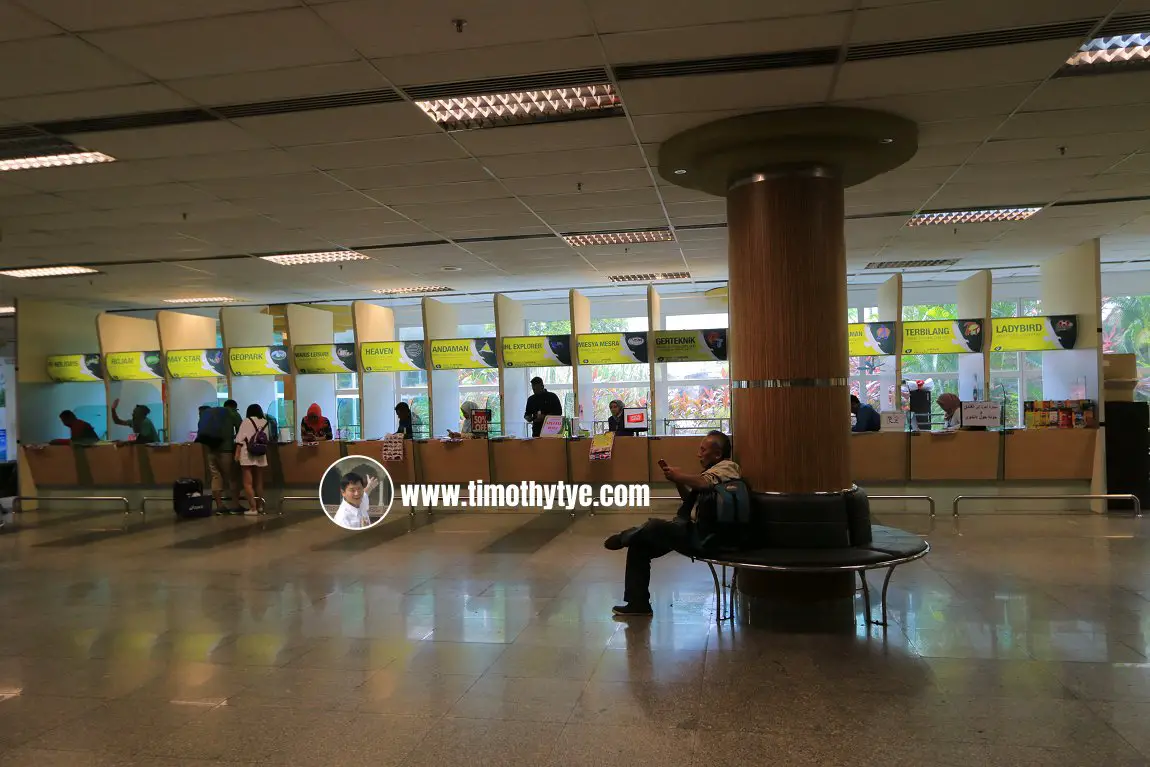 Car Rental Kiosks at the Arrival Hall of Langkawi International Airport
(7 September, 2018)

Driving in Langkawi
If you plan to rent a car and drive around, do be aware that although traffic is low in most places, the locals in Langkawi tend to drive quite slowly. Also, distances are further than you might expect on the map, so plan ample time between sights. To make sure you don't run out on fuel, here's a list of
Petrol Stations in Langkawi
.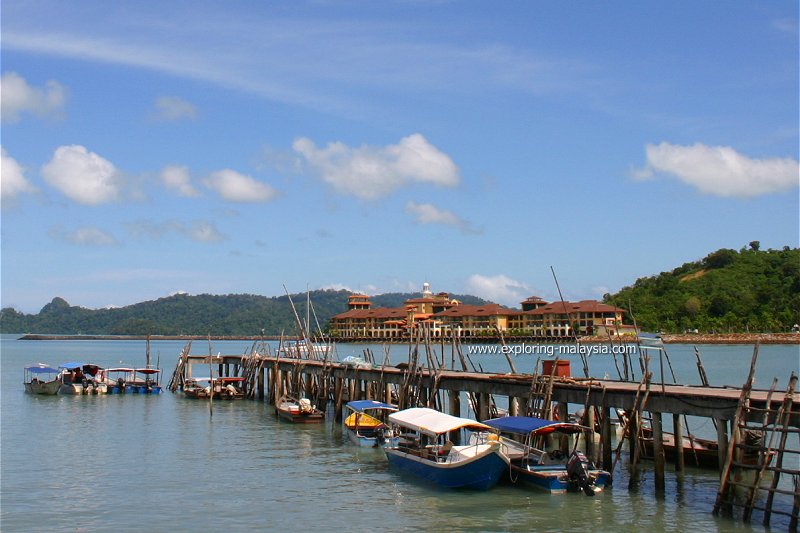 Resorts World Langkawi
(6 June, 2005)

All About Langkawi
The main island is 478 sq km (185 sq mi) in area. The main town is
Kuah
, a town with a population of around 65,000 people (2011 estimate). The Langkawi archipelago is steep in legend. Many of the place names in Langkawi recall past historical events, legends and myths. This includes Kuah as well as the names of mountains and islands in the archipelago.
The most famous legend of Langkawi is the one of Mahsuri, a woman who was put to death for allegedly committing adultery. She was said to have put a curse on the island to last seven generations. Incidentally, just a few years after the death of Mahsuri, a Siamese attack laid waste the island (that same Siamese invasion resulted in Kedah itself being annex into the Kingdom of Siam, remaining so until 1909).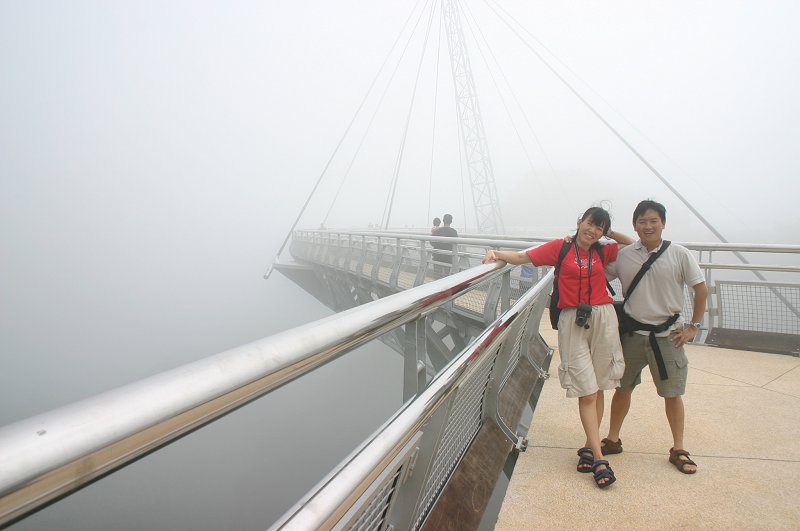 Suspension Bridge Walkway on Gunung Machincang (6 June 2005)

Langkawi remained a desolate place for much of the 19th century and the first half of the 20th century - with many holding to the belief that the curse was in effect. To brush away any links to their unhappy past, Mahsuri's descendents moved to
Phuket
, where they can still be found today. True enough, Langkawi only began to blossom after what would be seven generations had passed.
To be more prosaic, Langkawi was fortunate in the fact that both the first and fourth prime ministers of Malaysia, namely
Tunku Abdul Rahman
and
Tun Dr Mahathir Mohamad
, hailed from Kedah. While the two did not always see eye to eye, they both were in alignment over Langkawi's potential. Langkawi is their favourite child. Of course they are not along. Other far-sighted individuals including the late Tan Sri Loh Boon Siew recognise what could become of Langkawi, and proceeded to acquire Langkawi land, at that time costing little more than a song, until he became the biggest landowner on the island.
Langkawi certainly has much to its side. It has plenty of land, beautiful sceneries, and although its population is low, it is near enough to Penang to bank on the latter's human resources. As a result, it grew at a furious pace between the early 1980's to the turn of the 21st century. Today you can find hotels of every class and category on Langkawi, from the basic to the luxurious. On the whole, the island is expensive, when compared to the Kedah mainland. But this is something to be expected of a resort destination.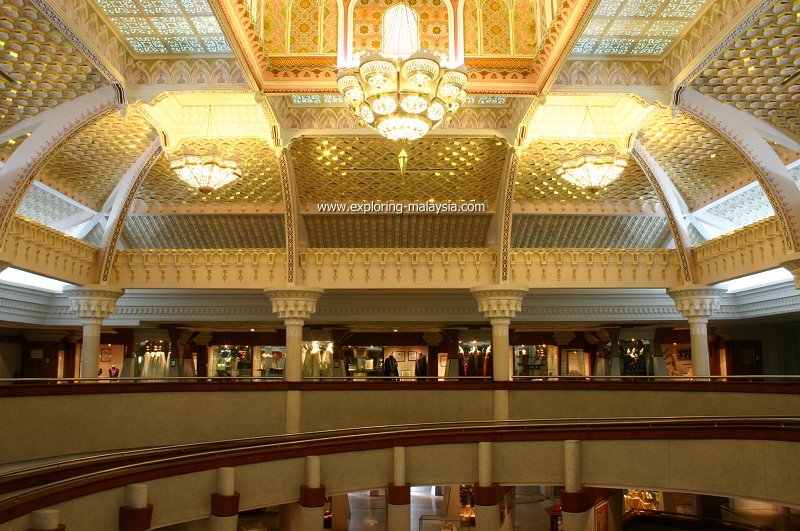 Galeria Perdana ceiling design (5 June 2005)

Langkawi is a major beach resort destination in Malaysia. It is often known as the Islands of Legend, because of the many legends associated to the island as well as places within the island. Langkawi is an archipelago comprising Pulau Langkawi, the main island, and 99 satellite islands nestling serenely in the tropical waters some 30 kilometers off the coast of Kedah, in the northeast of Peninsular Malaysia.
Langkawi belongs to Kedah state and is administered under the Pulau Langkawi District. It is adjacent to the Tarutao National Park of Thailand. The largest island of the archipelago is the eponymous Pulau Langkawi. Pulau Langkawi, Pulau Dayang Bunting and Pulau Tuba are the only inhabited islands in the archipelago.
Langkawi has been enjoying tax-free status since 1987. This has helped fuel its tourism industry and improve the standard of living of the population, which numbers around 45,000. Numerous hotels of various classes have been built in Langkawi, catering to a wide spectrum of tastes and expectations.
In 2007, the Langkawi Archipelago was declared a Geopark by UNESCO. Langkawi Geopark is the only Geopark in Southeast Asia and the 52nd geopark under the Unesco Global Geoparks Network.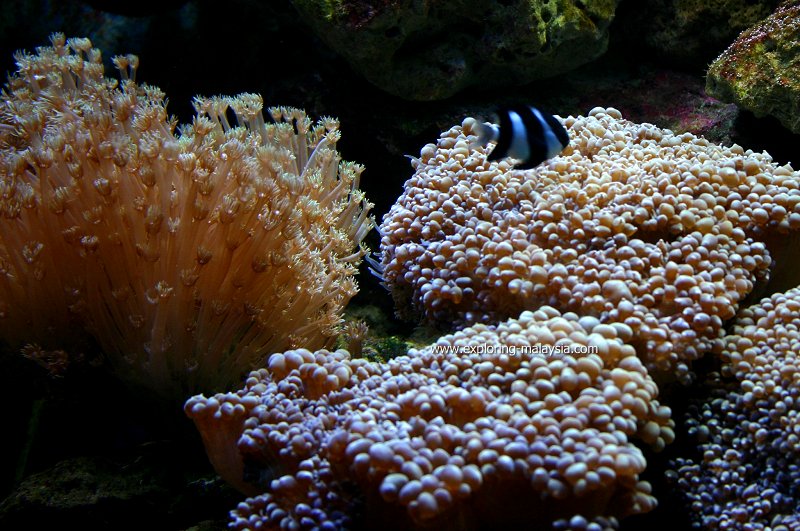 Soft corals, Underwater World Langkawi (4 June 2005)

Getting to Langkawi
By Air:
Langkawi International Airport has direct links with Penang, Kuala Lumpur, Singapore and Bangkok.
By Sea:
There are regular ferry services connecting Kuah, the main town on Langkawi, with Kuala Perlis (45 minutes), Kuala Kedah (90 minutes) and Penang (3 hours) in Malaysia, and with Satun and Koh Lipe in the Tarutao archipelago in Thailand.
Public Transport Terminals
Getting Around
Perhaps the most convenient way to explore Langkawi is by renting a car or motorcycle. Other forms of transport is quite limited. You can rent a car or motorcycle directly from both the airport as well as the jetty.
Driving in Langkawi
Driving in Langkawi is fun. The roads are often devoid of traffic. The only drawback is that some of the roads allow only two lanes of traffic. Many of the islanders drive at cattle speed. If you get behind one, it may be a while before you have a chance to overtake.
There are just a few main roads on the island. Confusingly, three of them take the route number of 112. These are Jalan Padang Matsirat, which runs from Kuah town to the village of Padang Matsirat; Jalan Ayer Hangat, which skirts the eastern part of Langkawi, from Kuah town to Ayer Hangat village; and Jalan Ulu Melaka, which starts at Ayer Hangat Village and ends at the junction with Jalan Padang Matsirat. In a way, if you follow 112, you make a loop around the eastern and central portions of Langkawi.
In addition to Route 112, there are a few other main roads which you should explore. Route 113, also known as Jalan Teluk Yu, begins at Ayer Hangat village, crosses the northern part of Langkawi, and ends at Burau Bay. On the southern part of the island, Jalan Bukit Malut, also known as Route 167, joins Jalan Padang Matsirat to Jalan Kedawang.
On the western part of Langkawi, there is Jalan Pantai Cenang, which runs along the main beach belt of Langkawi. To the north of it is Jalan Kuala Muda, which runs along the coast next to the Langkawi International Airport.
Thank you for using my website!
Hello and thank you for reading this page. My name is
Tim
. I wrote this page to compile what I discover, for my own knowledge, and also to share it with people who might find it useful. It is part of three inter-connected websites:
Penang Travel Tips
,
TimothyTye.com
and
Timothy Property Mart
.
I am a real estate agent, food blogger, amateur historian and travel author. This website is an encyclopedia as well as a business directory. As a real estate agent, I help people buy, sell, rent and let properties. If you have a property to sell or rent in Penang, Kuala Lumpur, Johor Bahru, Ipoh or Malacca, my team of realtors and I can help you. If you operate a restaurant, can write about your food and promote your restaurant. I can also help you engage other food bloggers to write about your food. And finally, if you are operating a business anywhere in Malaysia, you can add your shop to this website and be found by lots of customers. All you need to do is contact me with what you need.
contact Tim
You can do many things directly from this website. If you are visiting Penang, I can
arrange for you a tour guide and/or driver
to show you around. If you are traveling by bus anywhere in Malaysia or Singapore, you can
book your bus ticket
. If you seek accommodation, you can
get hotel room rates
.
As a Christian, I hope that through this website, I am able to deliver God's message to all who need it, anywhere in the world. If you are open to hearing it, please read
God's Good News to You
.
If you wish to contact me, please use this
contact form
. And don't forget to
follow me on Facebook
. See you!
Copyright © 2003-2019
Timothy Tye
. All Rights Reserved.