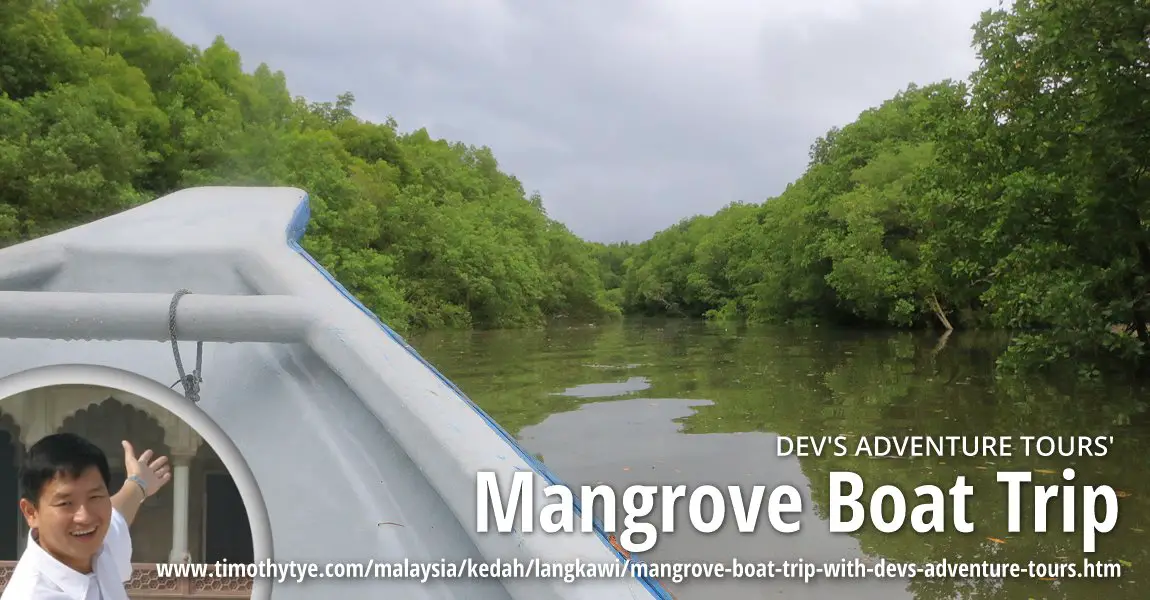 Dev's Adventure Tours' Mangrove Boat Trip
(10 September, 2018)

The Mangrove Boat Trip with Dev's Adventure Tours
is an ecology appreciation tour of the
Kilim Geoforest Park
, one of the three components of the
Langkawi UNESCO Global Geopark
.
Initially, Dev's Adventure Tours had wanted to offer us the Mangrove Kayak trip, but I found that to be too much for us. Also, since I tend to travel with a whole load of photography equipment, I asked for an alternative, and was offered the Mangrove Boat Trip. It turned out to be one of the memorable highlights of our visit to Langkawi.
Latest products from Dev's Adventure Tours
Map of our Mangrove Boat Trip with Dev's Adventure Tours
This map below shows some of the places associated with our visit to the Kilim Geoforest Park with Dev's Adventure Tours.
Shortly after our breakfast - we were staying at
Temple Tree at Bon Ton Resort
at that time - the van from Dev's Adventure Tours arrived to fetch us, at 9:40am sharp. We were the first to be picked up. From there, it made other stops, collecting guests from Bon Ton Resort, Meritus Pelangi Beach Resort & Spa, and a few other hotels. We then headed across
LangKawi Island
to the base station for Kilim Geoforest Park.
Our guide was a chap named Mohd Shahirul. He went by the nickname Chiro. Although he had been a guide for just over a year, Chiro exhibited great enthusiasm for his work, and a good knowledge of the mangrove ecosystem. Speaking excellent English, he delighted us with his friendly, educational interpretation.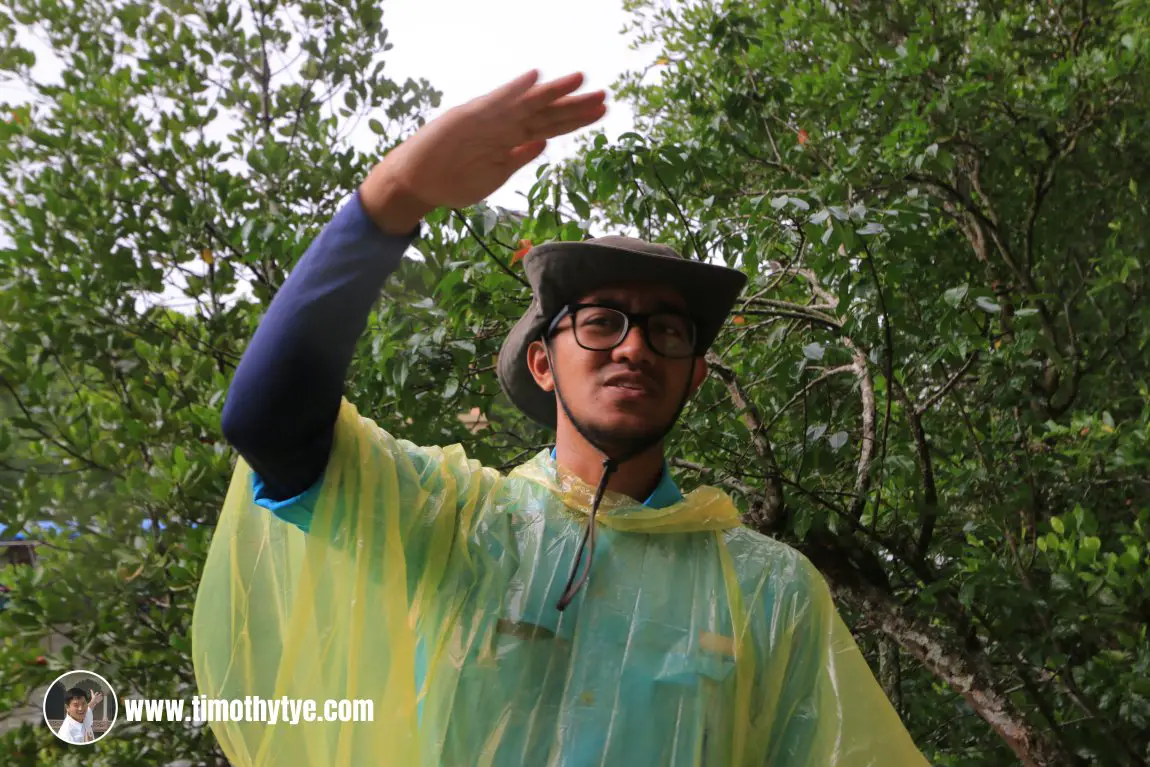 Our guide Mohd Shahirul, aka Chiro
(10 September, 2018)

Dev's Adventure Tours' mangrove boat trip was very well organised. The moment we arrived, we were handed drinking water.* Unfortunately the weather wasn't the fairest that day. No sooner had we gotten to the entrance of the geoforest park, it began to rain heavily. Chiro immediately passed around disposable raincoats. He apologised that we would have to wait a little bit, because a couple of guests were late in turning up.
* Beginning from 15 September, 2018, Dev's Adventure Tours has become the first tour operator in Langkawi to offer drinking water in glass bottles known as SIPPY, doing away with disposable plastic bottles.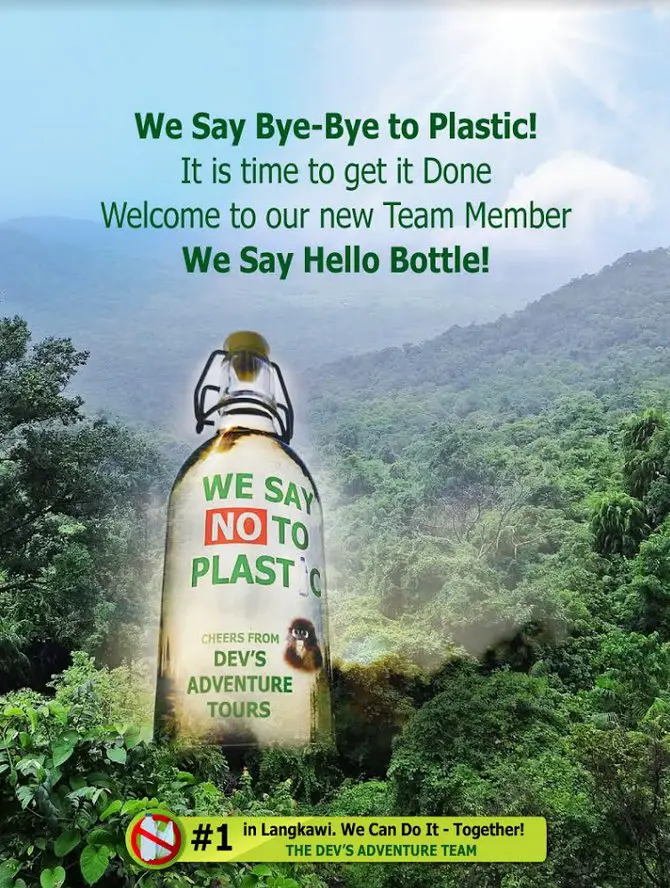 Dev's Adventure Tours say bye-bye to plastic!
© Dev's Adventure Tours
The sky let up for a moment as we made our way to the
Kilim Geoforest Park Pier
. There, our boat was waiting to take us to explore the mangrove forests. As our journey began, it began to rain heavily once more.
Our first stop was
Gua Kelawar
, which means "bat cave". Due to the heavy downpour, the walkway was quite slippery, so we gingerly made our way, step by step, into the cave, stopping every once in a while to let other visitors out. I was a bit surprised by the number of visitors to the cave. At one point, Chiro stopped to point out an ancient plant called the
Cycas clivicola
. He also taught us about the monkeys in the area, how they behave, and how we could keep ourselves safe from them.
From Gua Kelawar, we continued into the mangrove forest by boat. It was a most interesting journey for me, even though at times the rain came down in torrents. Through it all, Chiro continued his running commentary, telling us about the ecology of the mangrove swamp, its importance in checking erosion as well as acting as a buffet for natural disasters such as tsunamis. I particularly enjoyed his explanation of how the mangrove tree
Rhizophora apiculata
(
bakau minyak
in Malay) propagates itself.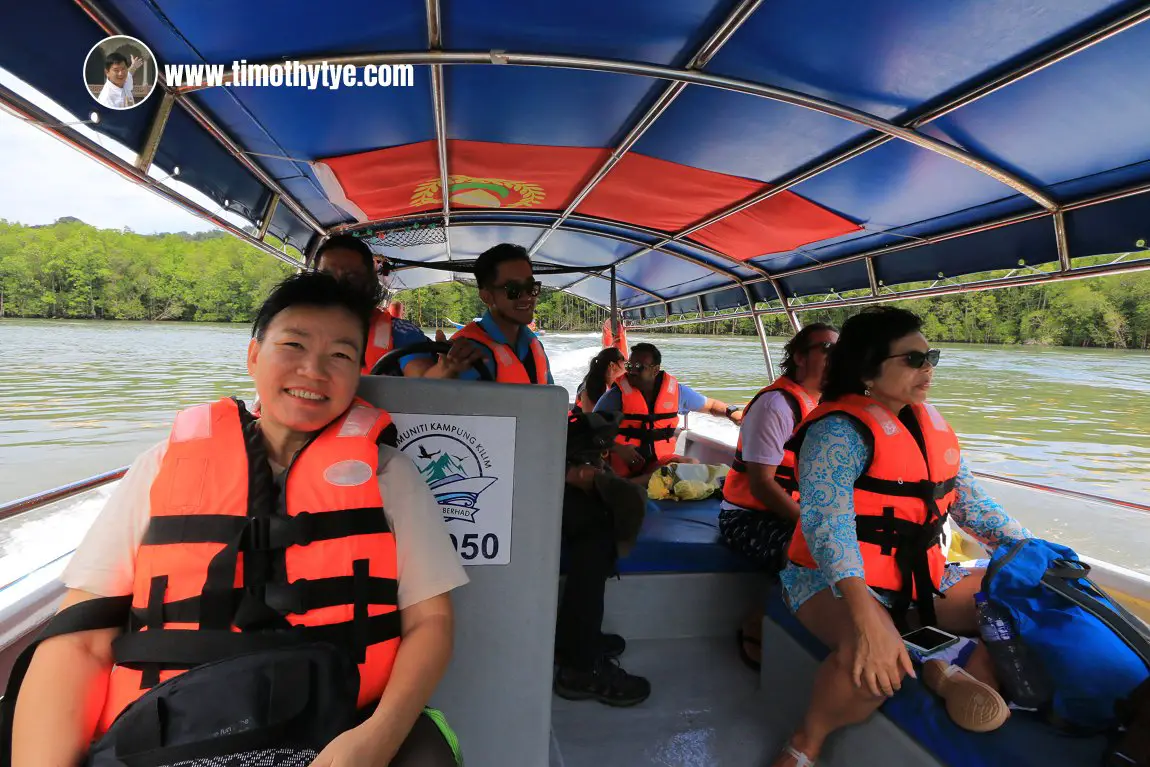 My wife and other passengers enjoying Dev's Adventure Tours Mangrove Boat Trip.
(10 September, 2018)

As we journeyed into the swamp, stoppubg at various points wherenever Chiro or our boatman spotted wildlife. I do admire their sense of sight, particularly Chiro's. He seemed to be able to spot wildlife even though he was in the midst of describing things to us. Several times, he stopped the boat to point out
mangrove pit vipers (Trimeresurus purpureomaculatus)
. Even when he told us to look, I saw nothing until he pointed out the snake with his laser pointer.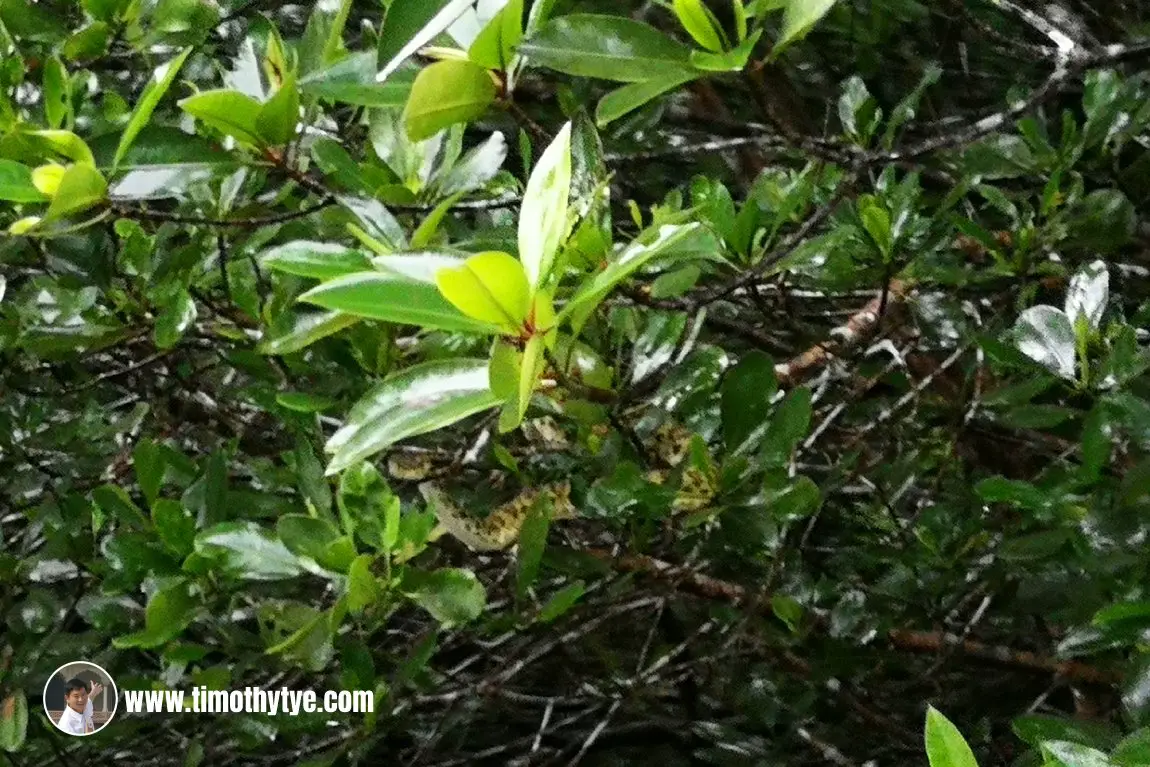 Mangrove Pit Viper in the trees at Kilim Geoforest Park
(10 September, 2018)

At times the rain came down hard. But somehow, I was enjoying the sight of our boat as it glided through the heavy downpour.
At one spot, the air had a foul stench. Apparently we were passing a garbage dump, and the rotting garbage had released the horrible smell. I did wonder inwardly whether it is permissible to have a garbage dump within or next to a geoforest park. That is certainly an issue which the local authorities have to look into.
We also passed by what looked like fishermen's jetty. I suppose this is for coastal fishermen. I am not sure whether it is allowed to fish within the geoforest park itself.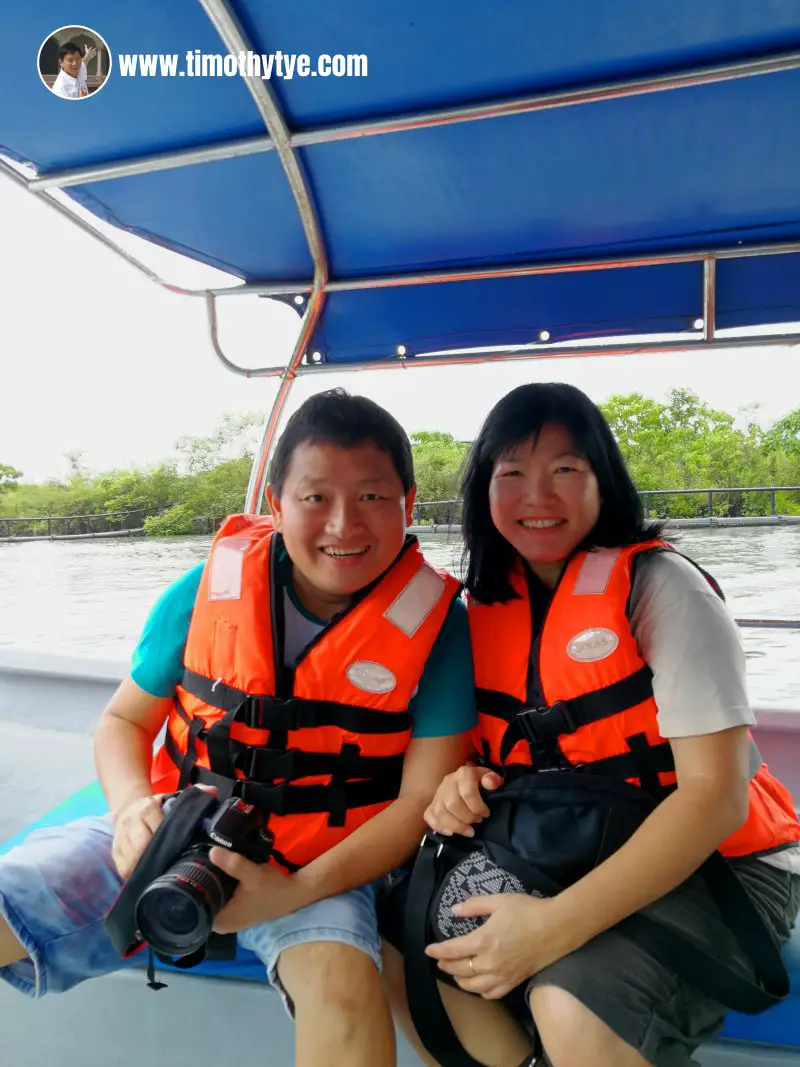 Enjoying the Mangrove Boat trip with Dev's Adventure Tours
(10 September, 2018)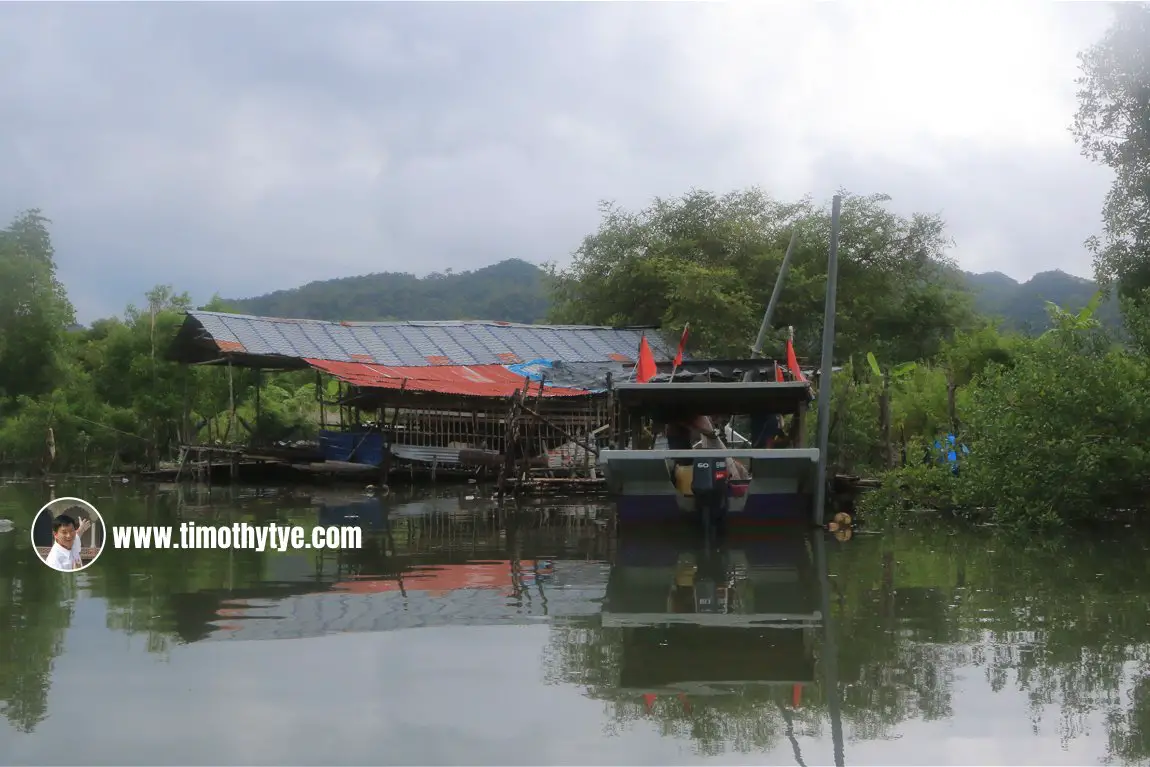 We past several fishermen's jetties like this one
(10 September, 2018)

The meandering rivers gradually widened as we approach the Andaman Sea. Towards the sea, we passed by the Kilim Geoforest Park sign. Chiro had intended to take us to a picnic spot, but due to the high tide, it was not possible to land there. So he brought us to an alternative spot, which was near a sandbar which during low tide would emerge from the sea. But even at that moment, we could get out of our boat and wade through the water along the submerged sandbar.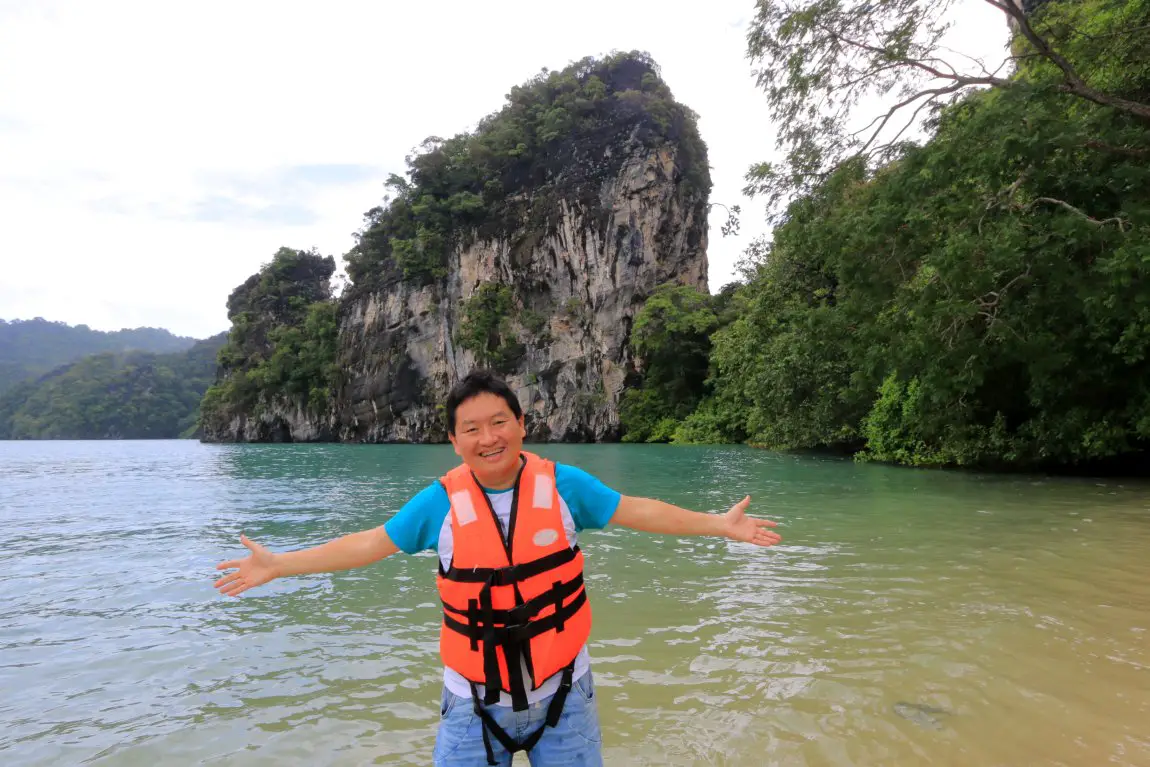 Taking a walk on the sandbar at Kilim Geoforest Park
(10 September, 2018)

It has been a few hours since we started our journey, and I was beginning to feel the hunger pangs. But not to worry, next stop was lunch, which was at Amin Floating Restaurant. It was a restaurant on a raft which also serves as a fish farm.
Lunch was rudimental, comprising rice, one stir-fried dish and one soup. Each person gets his own, so he could choose whether to opt of chicken, prawns or vegetarian. As for the soup, we could choose spicy (which is Thai tomyam soup) or clear soup.
After lunch, we proceeded to the final stop of our tour, which is the eagle feeding site. I was surprised to see so many eagles congregated in one spot. Somehow, the birds all know where to go to get food. According to Chiro, this eagle feeding site came about following the expansion of the
Langkawi International Airport
.
The airport had a problem with large birds of prey, such as the
white-bellied sea eagles
(
Haliaeetus leucogaster
) and
brahminy kites
(
Haliastur indus
), which pose a danger to planes.
To prevent accidents, the birds were lured away from the airport with food, towards the Kilim Geoforest Park. However, offering food to the birds only make them lazy, and instead of hunting, the birds became dependent of being fed. It is not the intention to feed the eagles, as this would disrupt the ecological balance if they do not hunt on their own. On the other hand, the feeding could not be stopped abruptly, as this would cause the birds to starve. To encourage the birds to hunt, the amount of feed given to them is gradually reduced, and over time, the birds are forced to learn to hunt again.
After the eagle feeding site, it was time to return to the Kilim Geoforest Park Jetty. By then the sun was shining again. It was a good trip. I enjoyed myself very much. I thank Mr Chiro for his wonderful guiding, and I also thank Dev's Adventure Tours for having sponsored our tour.
Add your business/shop to my site
How would you like to have your business or shop added to this website, so that would-be customers can easily find you? This website provides place information of the whole world, with special emphasis on Malaysia and Singapore.
If you has a shop or business anywhere in Malaysia or Singapore, with a physical location, you may have your shop listed on one of the pages of this site. For example, a shop in Cheras will be placed on the Cheras page, another in Kota Bharu is listed in the Kota Bharu page, and so on. You only need to pay a one-time fee, and your shop will be listed for you for as long as this site is still running. There are different placement plans available. To find out more,
CONTACT ME
Where to stay when in Langkawi
When asked where to stay at a certain place, I keep my suggestion to hotels where I myself have stayed before and experienced its hospitality. For Langkawi, that would be
Bon Ton Resort
and
Temple Tree At Bon Ton Resort
.
Going somewhere?
If you're travelling somewhere, look for accommodation using the Search Hotel engine below. It helps you find the online booking site that offers the best rates for the room you want.
Going somewhere by express bus in Malaysia/Singapore?
Book your bus ticket online right here.
It is easy, safe and fast!.
Book your hotel room here
If you're coming to Langkawi, book your hotel room online with Agoda. Agoda offers the best prices on 2,000,000+ properties worldwide.
Click here
for hotels in Langkawi, and
here
for hotels everywhere else.
Looking for a book? Get it from Book Depository with free delivery worldwide!
I have just discovered
Book Depository
, a subsidiary of Amazon.com, and I love it. This is where you can buy books and have them sent to you. But unlike Amazon, when you purchase using Book Depository, you enjoy free delivery worldwide.
Give it a try today!
Vital Links
Hire a car
|
Our Recipes
|
Facebook Posts
|
Just Curious
|
Not In The Dictionary
|
Our Flowering Garden
My YouTube Videos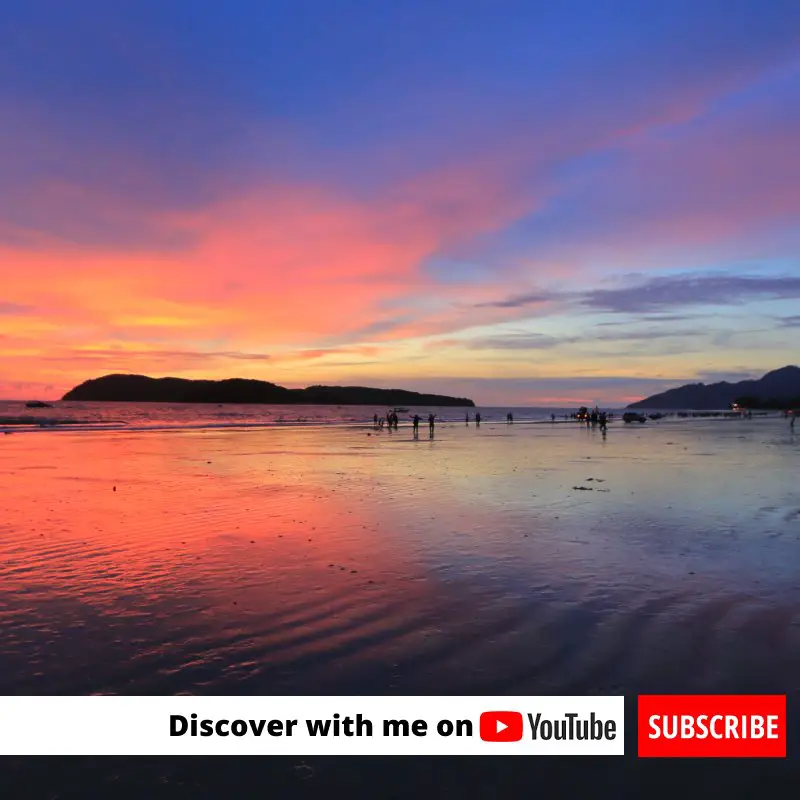 Check out
my YouTube Channel
and don't forget to subscribe!
About Timothy Tye
Malaysia Travel Tips!
My
Malaysia Travel Tips
has useful information on every state in Malaysia (
Johor
,
Kedah
,
Kelantan
,
Malacca
,
Negeri Sembilan
,
Pahang
,
Penang
,
Perak
,
Perlis
,
Sabah
,
Sarawak
,
Selangor
,
Terengganu
) and every major city and destination (
Kuala Lumpur
,
Johor Bahru
,
Ipoh
,
Langkawi
,
Cameron Highlands
,
Kota Kinabalu
,
Kuching
,
Alor Setar
,
Seremban
,
Petaling Jaya
,
Putrajaya
,
Kota Bharu
,
Kuala Terengganu
,
Taiping
) and hundreds of smaller towns.
Singapore Travel Tips!
In addition to covering Malaysia, I have created the travel tips for Singapore. Please visit my
Singapore Travel Tips
for browse through the pages there.
Hosting
This website is hosted on
Bluehost
, one of the biggest web hosting companies in the world.