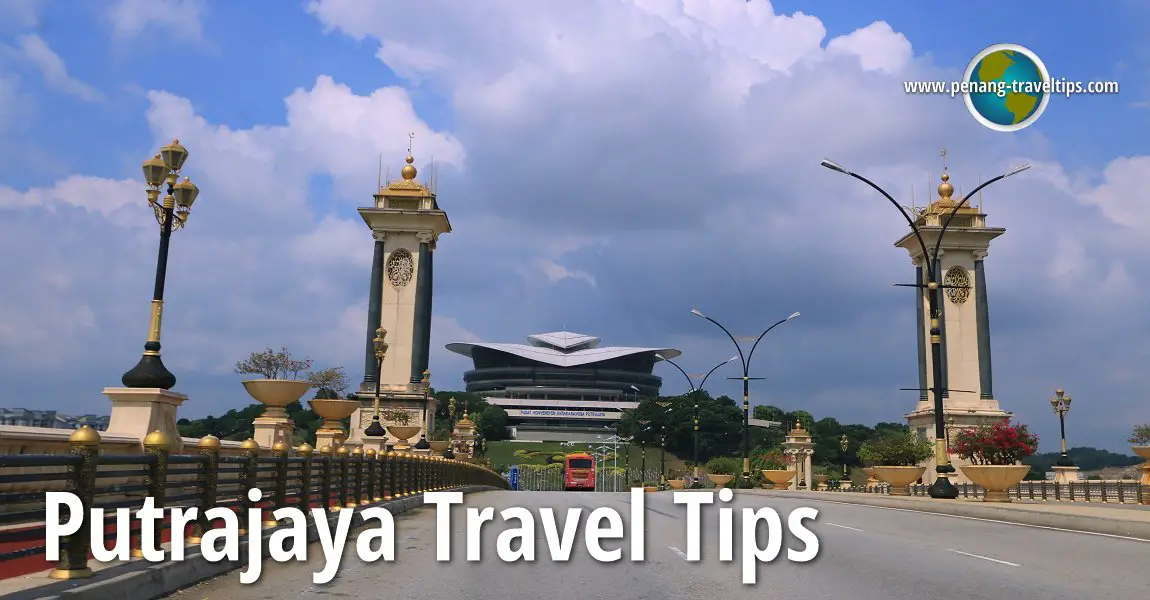 Putrajaya Travel Tips
(9 July, 2016)

B. Melayu
Discover Putrajaya, Malaysia
is a travel guide to the administrative capital of Malaysia. While Kuala Lumpur remains as the Federal Capital, Putrajaya (GPS: 2.90443, 101.68054) was developed as a planned city on land that was once palm oil plantations and disused tin mines, to house the administrative centre of the country. A visit to Putrajaya is similar to visiting Epcot Center in Disney World - the architectural styles transport you to various countries of the world, from the Taj Mahal to Central American pyramids to some of the state of the art buildings.
I have visited Putrajaya a few times, during the day, evening and night. The shots you see on this page were taken from two of those trips. One of them was made with a few of my former school mates, friends whom I have not met for many years.
I am thankful for the patience of my friends as I run around with my heavy tripod taking photographs while they waited for me in the car. I think it could be a rather taxing experience travelling with me.
The shots enable me now to give you an online tour of Putrajaya. If you have never been there, I hope one day you would have the chance to explore it, whether on your own, or with a group of your friends.
Map of Putrajaya
Sights in Putrajaya on the map
Categories of sights in Putrajaya
Precincts of Putrajaya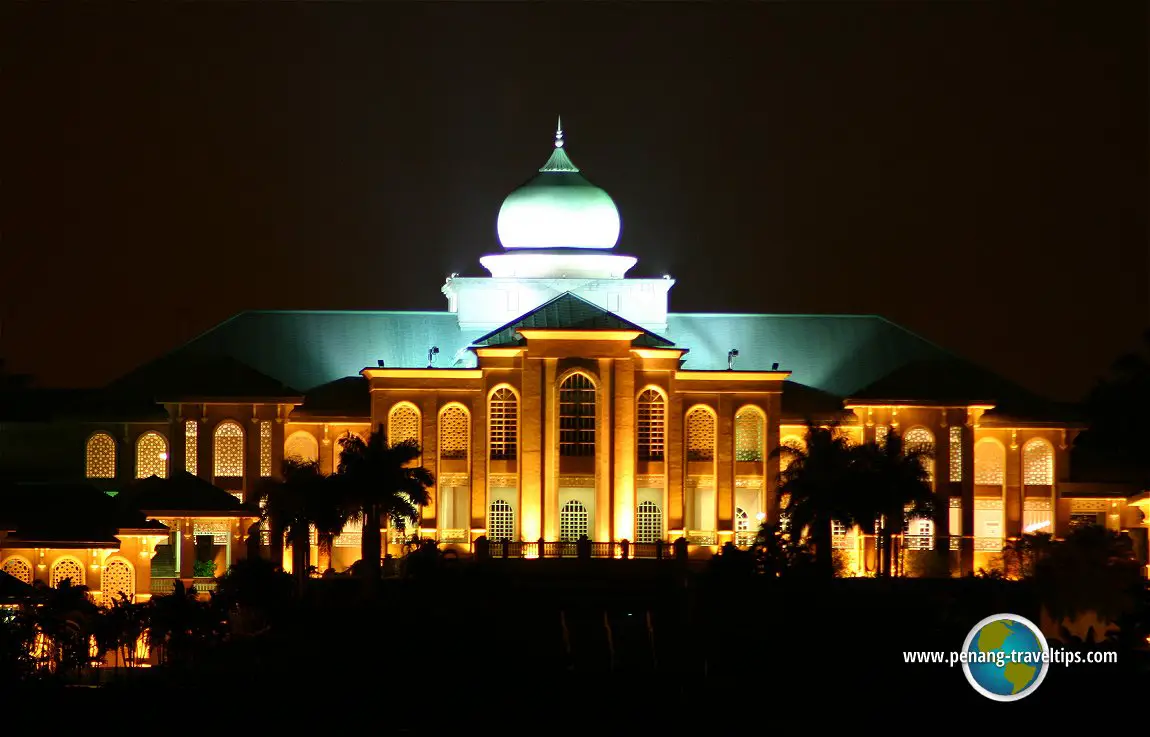 Seri Perdana Building, Putrajaya
(6 June 2004)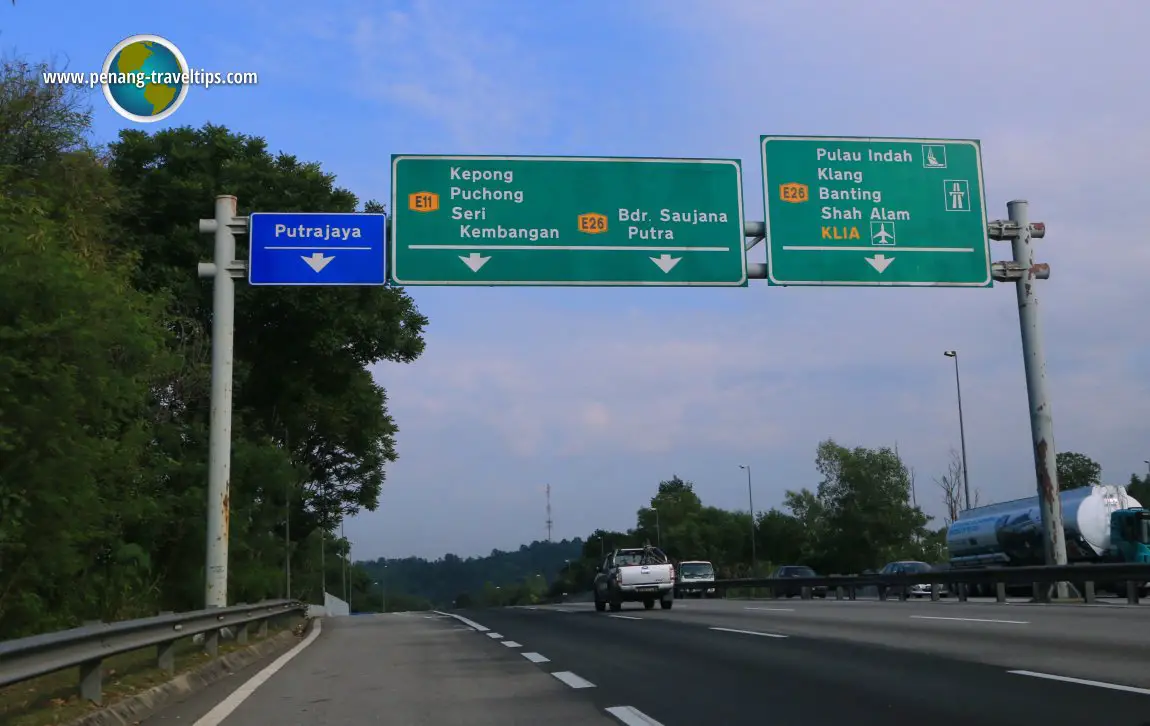 Putrajaya exit on the South Klang Valley Expressway
(9 July, 2016)

Getting to Putrajaya
By Plane
: If you arrive by flight at the Kuala Lumpur International Airport (KLIA), you can reach Putrajaya by taking the taxi as well as the express train (see below).
By Taxi
: If you are taking the taxi from Kuala Lumpur, there is a fixed fare at KL Sentral of RM35 to Putrajaya. If you're coming from KLIA, the fare is approximately RM60.
By Train
: The KLIA Transit train makes a stop at Putrajaya on its way to KL Sentral. The train runs once every 30 minutes, and takes 20 minutes to reach Putrajaya. The fare is RM9.50 one way or RM15 return.
By Bus
: There are buses from Sinar Kota in Kuala Lumpur to Putrajaya. They run from 6:30am to 10:00pm every day. The fare is RM3.50 and the journey takes from 30 minutes to one hour, depending on the traffic condition. From KL Sentral, you can take the RapidKL bus to Putrajaya, for RM5.00.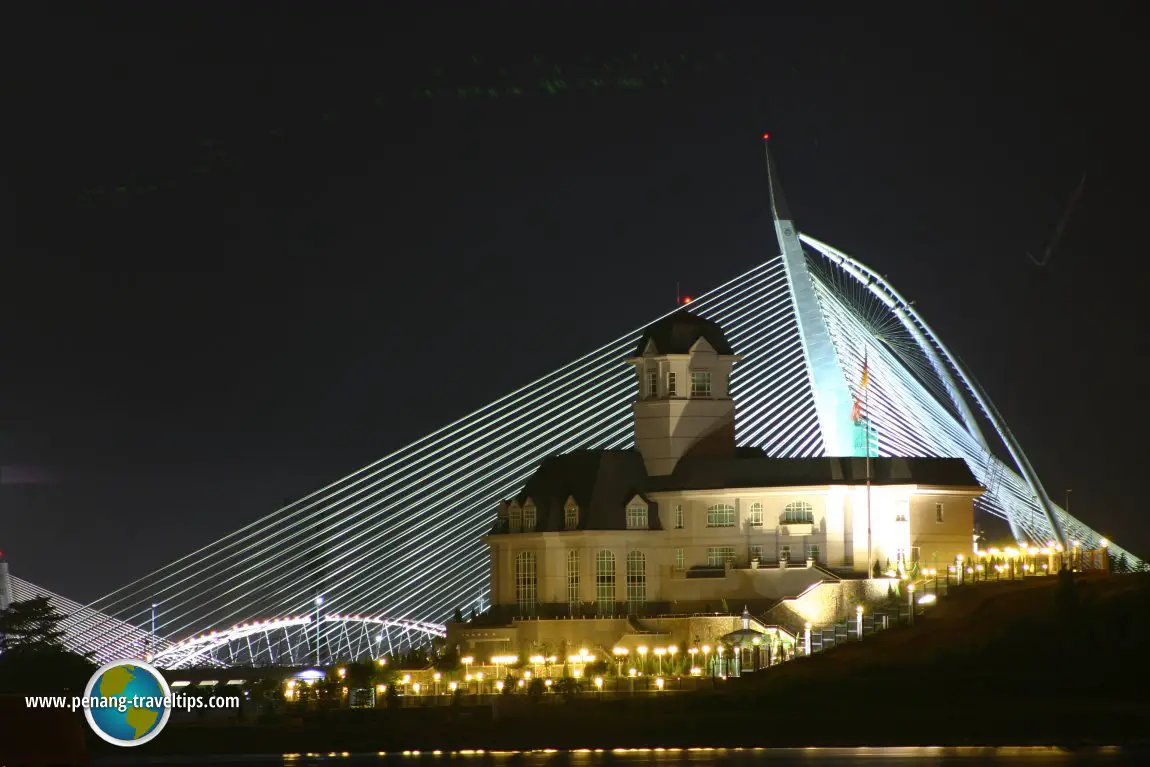 Istana Darul Ehsan, Putrajaya
(6 June 2004)

Getting around Putrajaya
There is inadequate public transport within Putrajaya, and to view all the sights, you are encouraged to self-drive. To charter a taxi, the cost is from RM30 per hour, and but can be negotiated down.
History of Putrajaya
The idea that the administrative capital of Malaysia should be moved out of Kuala Lumpur was hatched as far back as late 1970's. When Janda Baik, near
Bukit Tinggi
in
Pahang
, was deemed not suitable, a search was made to find a more appropriate site. Eventually in June 1993, Prime Minister Dato' Seri Dr Mahathir Mohamed settled for Prang Besar in
Selangor
. One and a half years later, the site was renamed Putrajaya, in honour of Malaysia's first prime minister, Tunku Abdul Rahman Putra Al-Haj. Mahathir performed the ground-breaking ceremony in September of 1996. Three years later, on 4 June 1999, the staff of the prime minister's department moved into their new office in Putrajaya.
The area now known as Putrajaya was formerly called Perang Besar. According to blogger Raja Petra Kamarudin, the area was called Perang Besar
1
after "The Great War" or World War I, because it was land that the British awarded in 1918 to the soldiers from Malay who fought with the British in the war.
Geography of Putrajaya
Putrajaya covers 4581 hectares. The site runs northeast to southwest, surrounded by lakes and wetlands, and connected by bridges. In this tour, we will visit the different areas, so you have an idea where you are in Putrajaya.
You can divide Putrajaya into two major areas: the Core Area and the Peripheral Area. The Core Area covers 1069 hectares and is divided into five precincts, namely the Government Precinct, Commercial Precinct, Civic & Cultural Precinct, Mixed Development Precinct, and Sports & Recreational Precinct. Forming the spine of Putrajaya is a 4.2km boulevard that runs right through the middle linking the Core Area precincts.
The Peripheral Area comprises 15 precincts, twelve of which will be used for residental development. A total of 67,000 homes of various sizes have been planned here, served with schools, hospitals, shopping centres, mosques, multipurpose halls, learning centres and neighbourhood parks.
Do we need Putrajaya?
We probably don't. To many Malaysians, it represents the excesses of our leaders to build big. The amount spent to built it could probably go to better use elsewhere. How well will it be maintained goes to be seen. Yet to others, Putrajaya is the epitome of the Malaysia Boleh spirit - that if others can do it, so can Malaysians. As for myself, since we are getting Putrajaya whether we like it or not, we might as well enjoy it!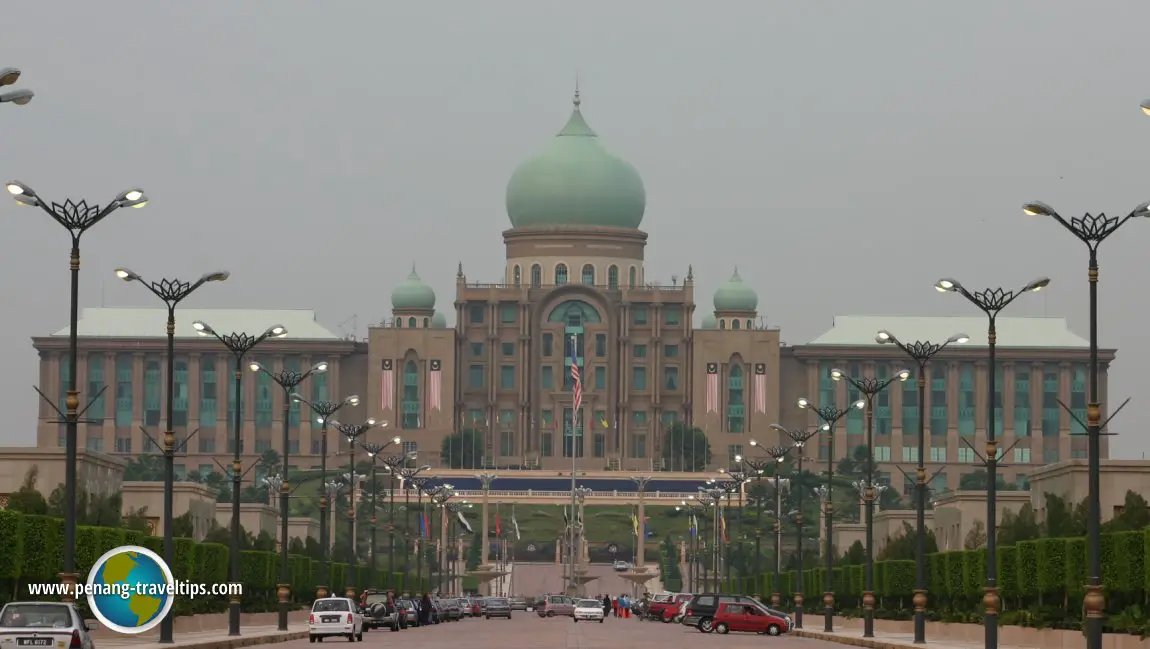 Perdana Putra Building
(6 June 2004)

References
Thank you for using my website!
arrange for you a tour guide and/or driver
to show you around. If you are traveling by bus anywhere in Malaysia or Singapore, you can
book your bus ticket
. If you seek accommodation, you can
get hotel room rates
.
As a Christian, I hope that through this website, I am able to deliver God's message to all who need it, anywhere in the world. If you are open to hearing it, please read
God's Good News to You
.
If you wish to contact me, please use this
contact form
. And don't forget to
follow me on Facebook
. See you!