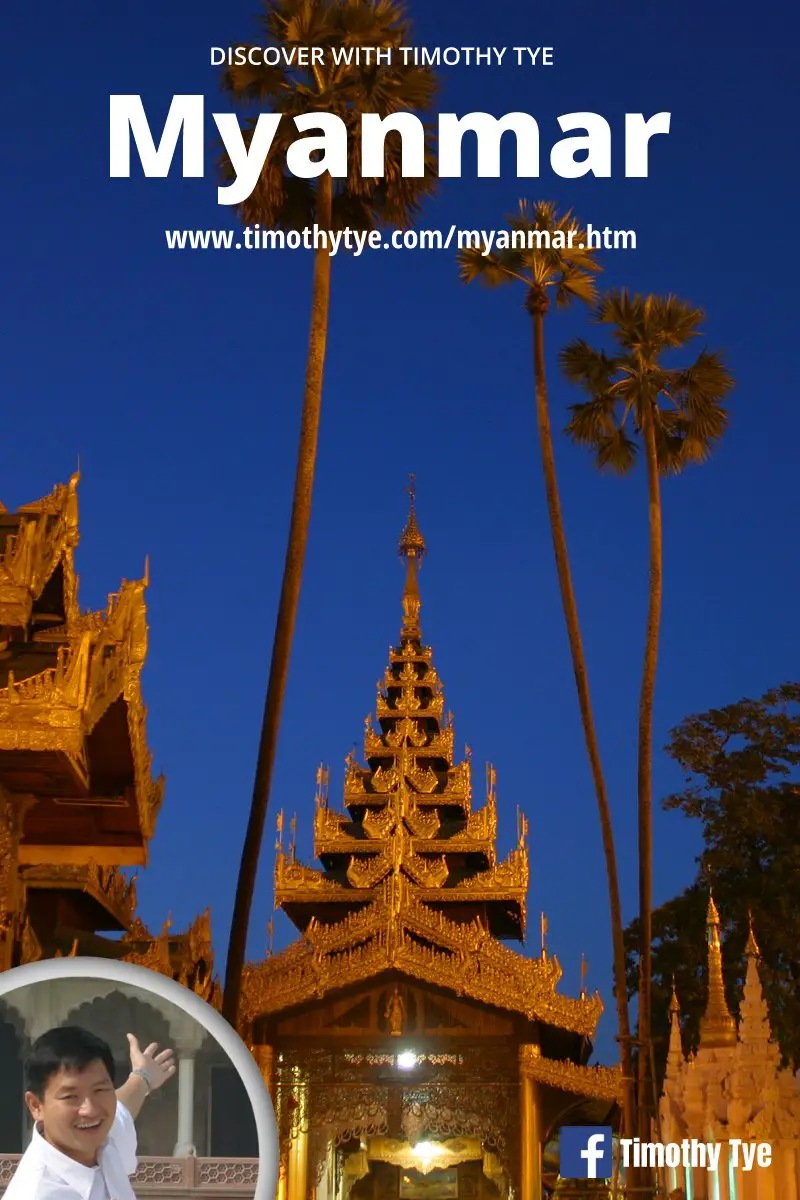 Myanmar Travel Tips
(27 July, 2017)

Timothy Tye
Myanmar
is the biggest country on mainland Southeast Asia. Formerly known as Burma, Myanmar is a country that tends to stir up controversy. After years under an atrocious regime, the country is finally inching its way towards becoming a democracy. Nevertheless its years of shunning itself from the outside world has helped to preserve much of its culture and historic buildings.
This guide on Myanmar is created to help people who are planning a Myanmar tour. Myanmar is not a pricey destination. What you would face are infrastructure challenges. I hope that this budget travel guide can do justice to all that the country has to offer.
Cities & Places of Interest
Places of Interest in Myanmar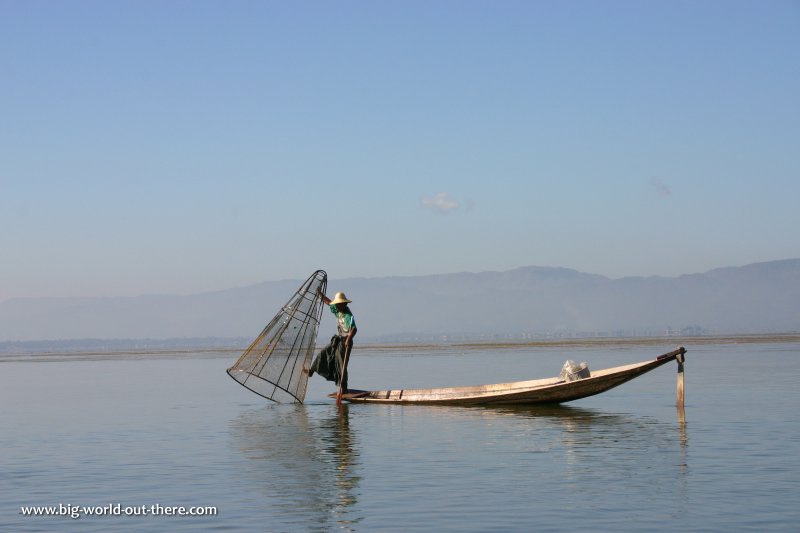 Leg-rowing fisherman of Inle Lake, Myanmar
(28 November 2003)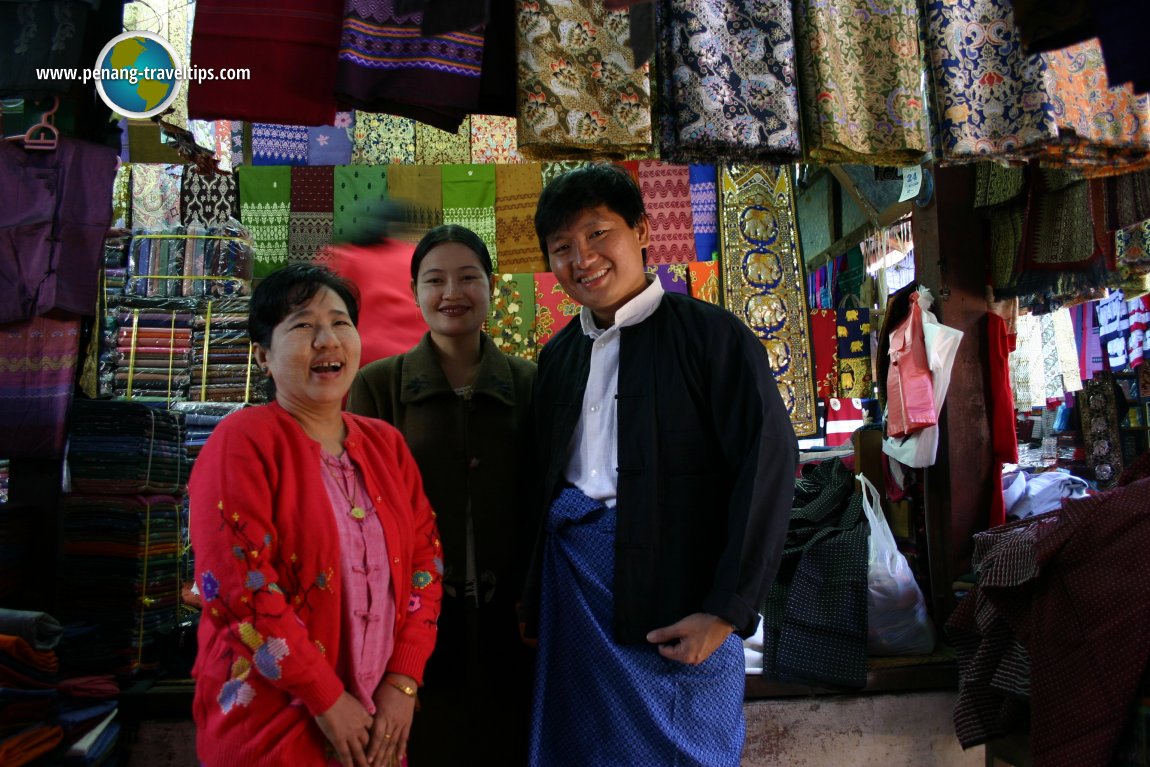 Tim trying out Burmese attire, with vendors at Nyaung-U Market, Bagan
(20 November 2003)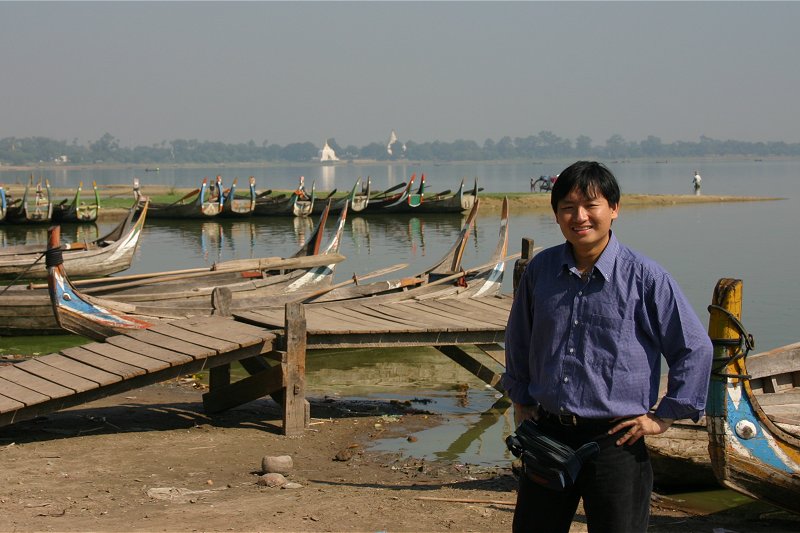 Tim at Lake Taungthaman, in Amarapura
(23 November, 2003)
It is not difficult to find people who refuse to visit Myanmar because they cannot agree with the regime that runs the country. AsiaExplorers maintains that all countries in Asia, regardless their political climate, is worth a visit, as long as it is still safe to go there. And as far as Myanmar is concerned, it is still relatively safe.
By visiting a country, we get to see things for ourselves, and not take everything reported to us at face value. There is nothing like visiting a country to confirm what we have heard to be true or otherwise. While we may not be in full agreement with the government that runs the country, we should also ask ourselves whether ostracizing the country will at all benefit its people. At the very least, the presence of foreign eyes in the country deter its government from excesses that we can report back.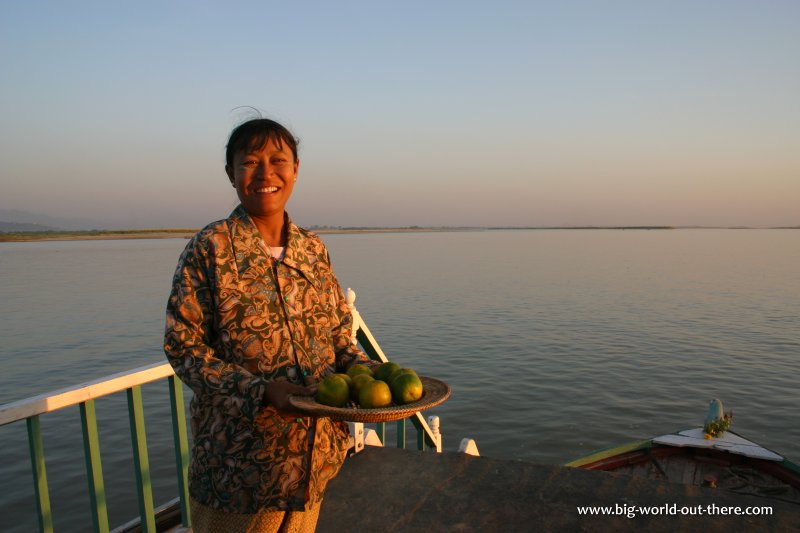 Service with a smile - the wife of our boatman serving us oranges as we cruised down the Ayeryarwady River
(23 November 2003)
While it may be true that in cases like Myanmar, tourists only get to visit the sanitized regions, and not places which its government is not fond to show, nonetheless the influx of tourist and the tourist dollar is much needed to alleviate the suffering of the Myanmar people. Visitors to Myanmar may be keen to note that just fifty years ago, this was one of the richest countries in Asia, a nett exporter of rice, wealthier than Korea and Taiwan. How is it possible that within a short space of time, Myanmar has regressed from the richest to the poorest?
To say that Myanmar is poor may also be incorrect. It all depends on the yardstick we use to measure wealth. If wealth is measured in dollars, then Myanmar is way behind the rest of Asia. But if it is measured by living standard, then they may not be so far behind. Bear in mind that Myanmar is predominantly a rural community. Generally, the people are religious. Their devotion to Buddhism is visible from the amount of gold leaf that clad the many stupas and Buddha images throughout the country. If a dollar amount is placed on all the gold and precious gems cladding the temples, then Myanmar is far from poor. The wants of the people is vastly different from those living in Singapore or Hong Kong. Moreover, the people's aspiration may be vastly different from those of other Asian nations. Becoming a monk may hold a greater sense of fulfillment than the 4Cs of car, condo, credit cards and career.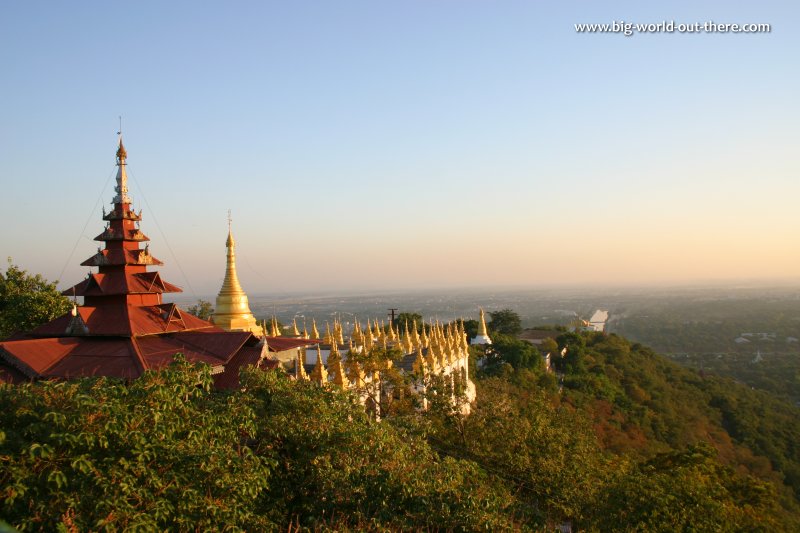 Mandalay Hill at sunset
(22 November 2003)
Myanmar Travel Information
Time Zone: 6½ hours ahead of Greenwich Mean Time.
Currency: kyat
Language: Burmese, spoken by 80% of the population.
International Dialing Code: 95
Population: 48 million (2007)
Religion: Theravada Buddhism (90%), with minority observances of Muslim, Hindu and Christian
Electricity: 230V 50Hz
Electrical Outlet: 2-pronged round pin and 3-pronged pin plugs. See details at https://www.kropla.com/electric.htm
Driving: On the right side of the road.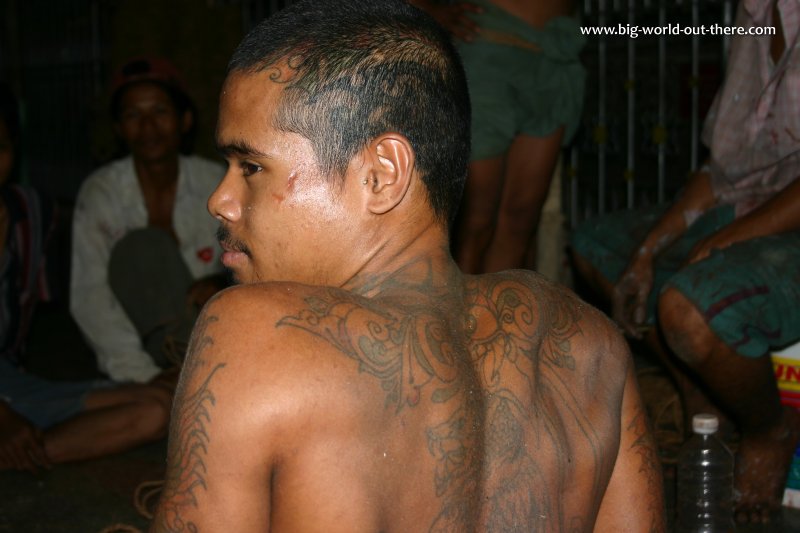 A body of work - workman with tattoo
(20 November 2003)
Thank you for using my website!
arrange for you a tour guide and/or driver
to show you around. If you are traveling by bus anywhere in Malaysia or Singapore, you can
book your bus ticket
. If you seek accommodation, you can
get hotel room rates
.
As a Christian, I hope that through this website, I am able to deliver God's message to all who need it, anywhere in the world. If you are open to hearing it, please read
God's Good News to You
.
If you wish to contact me, please use this
contact form
. And don't forget to
follow me on Facebook
. See you!