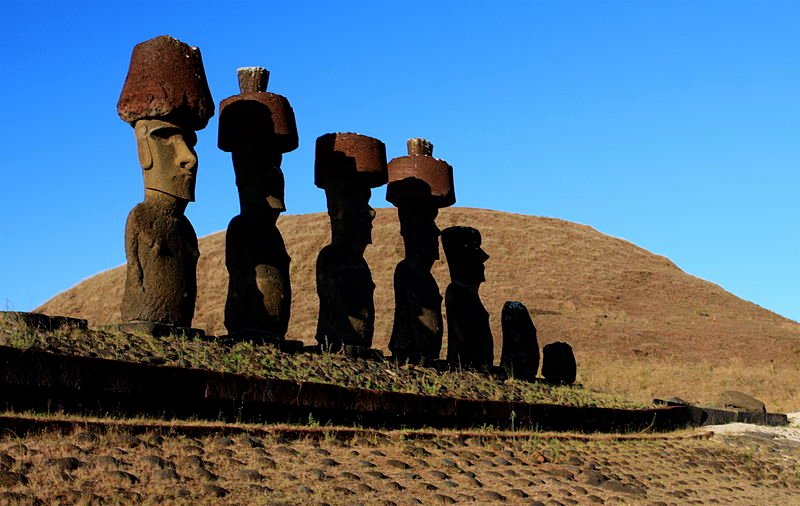 Ahu Nau Nau, Easter Island

https://commons.wikimedia.org/wiki/File:Ahu_Nau_Nau_-_Easter_Island_(5956407322).jpg


TravelingOtter


Easter Island
is an island in the South Pacific Ocean that got its name because it was discovered on the Easter Sunday of 1722, by Dutch Admiral Jacob Roggeveen. The island was annexed by
Chile
in 1888 in the Tratado de Anexión de la isla (Treaty of the Annexation of the Island), signed by Policarpo Toro on behalf of the Chilean government, and the native inhabitants of the island. Between then and the 1960s, the islanders were forced to live in a settlement outside the main town of Hanga Roa. Today Easter Island is a special territory of Chile.
Since 1995, Easter Island was recognized by UNESCO as a World Heritage Site. The inscription of Easter Island is entitled
Rapa Nui National Park
.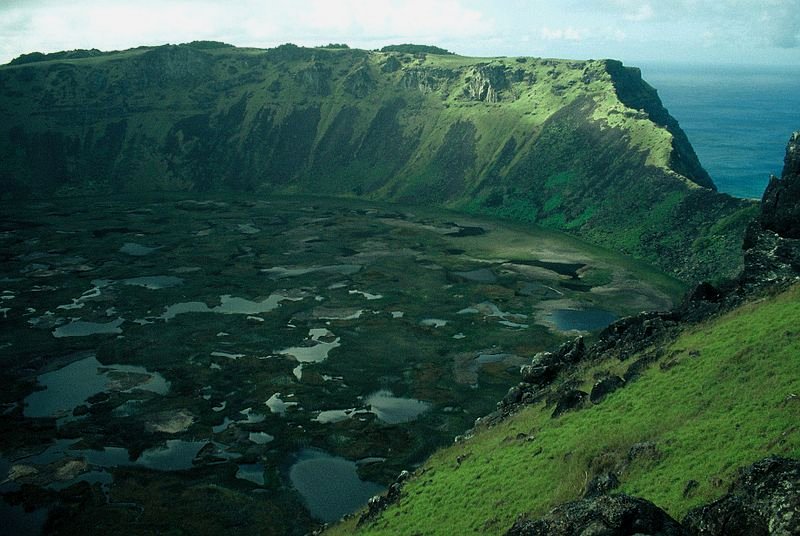 Freshwater lake at Rano Kau, Easter Island

https://commons.wikimedia.org/wiki/File:Osterinsel_Krater-Rano_Kao.jpg


ProfessorX


Easter Island is an extremely remote island. Its closest neighbor is Pitcairn Island, which is 2,075 km (1,289 mi) away in the west. Mainland Chile is even further more distant, being 3,510 km (2,180 mi) to the east. The island is known in Spanish as Isla de Pascua, a direct translation of Paasch-Eyland, which is Dutch for "Easter Island". The islanders on Easter Island however call it Rapa Nui.
Easter Island is 24.6 km (15.3 mi) long and 12.3 km (7.6 mi) wide. It covers 163.6 sq km (63.2 sq mi). The island was created by volcanoes that are now extinct. There are three of extinct volcanoes on Easter Island. Their names are Terevaka, Poike and Rano Kau. The tallest peak on the island is 507 m (1,663 ft) above sea level. The island also has three freshwater lakes called Fano Kau, Rano Raraku and Rano Aroi, but no permanent rivers or streams.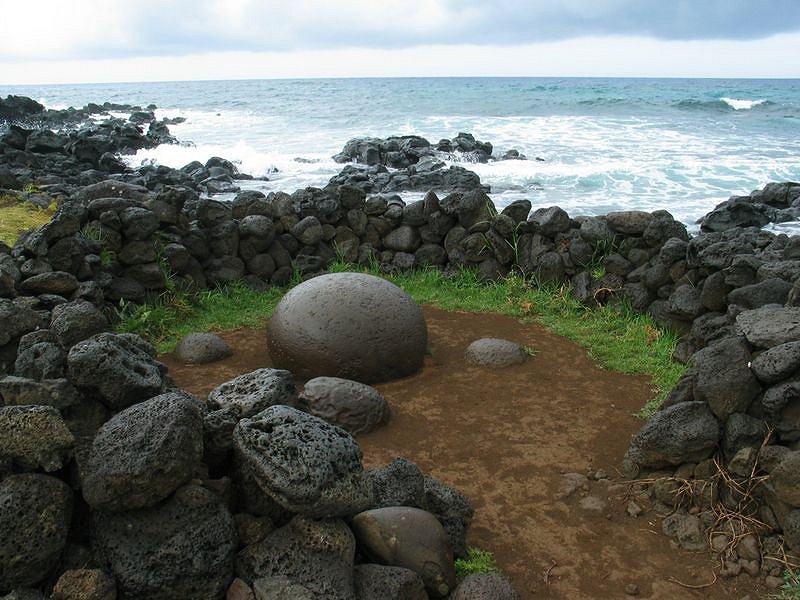 Round stone at Ahu Te Pito Kura, Easter Island, considered the Navel of the World by the locals

https://commons.wikimedia.org/wiki/File:AhuTePitoKura.jpg


BjarteSorensen


The climate of Easter Island is subtropical maritime. The warmest month here is February, when average temperatures reach 28°C (82°F). Coldest months are July and August, when the temperature drops to 18°C (64°F). Although precipitation is quite evenly spread out across the year, the wettest month is April.
Easter Island is most famous for the stone statues, called moai, which dot its coastline. These statues have earned Easter Island recognition as a World Heritage Site. The moais were carved from compressed volcanic ash. All are monolithic, that is to say, carved from a single piece of stone.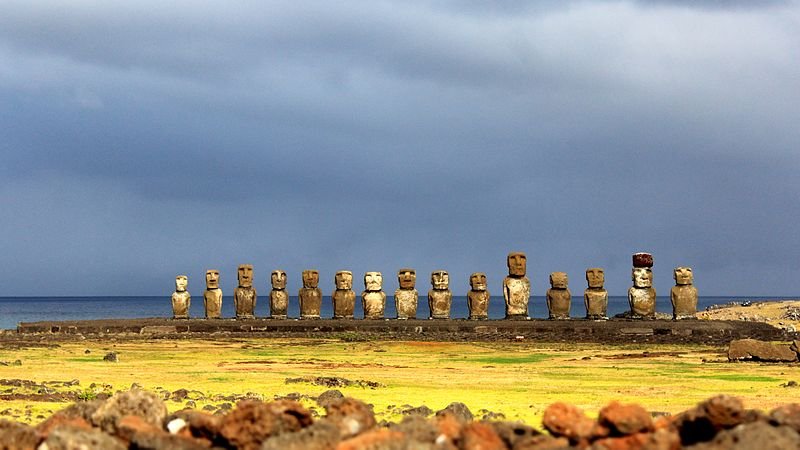 Ahu Tongariki, Easter Island

https://commons.wikimedia.org/wiki/File:Ahu_Tongariki,_Moais.jpg


Mbmerino


The largest standing moai is Paro. It is almost 10 metres (33feet) high, and weighs 75 imperial tonnes (83 American tons). Archaeologists have also discovered an even larger, but unfinished moai in the quarry - it is 21 metres (69 ft) and would have weighed 270 tons if completed.
95% of the moai came from the quarry of Rano Raraku, a volcanic crater on Easter Island. 397 moai statues have been counted to have been quarried from the interior and exterior slopes as well as in the exterior quarries. Work is still being conductged to inventory the statues quarried from the interior quarries. The use of Rano Raraku to sculpture the moais is believed to have lasted 500 to 1000 years, right till after the European discovery of Easter Island in 1722.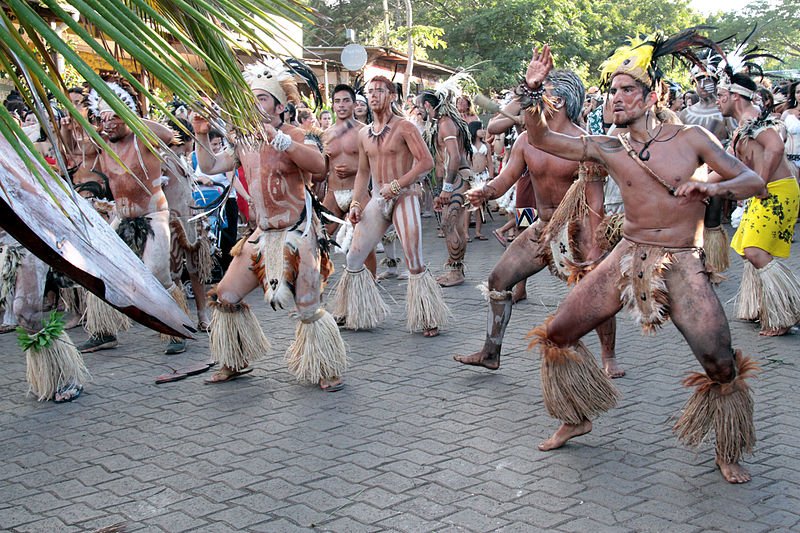 Tapati Festival, Easter Island

https://commons.wikimedia.org/wiki/File:Tapati_3351a.jpg


Yves Picq


Planning your visit to Easter Island
The entry requirements for Easter Island is the same as that for Chile. Nationals of Britain and the EU do not need a visa to enter Chile, for up to 90 days (except the nationals of Greece, who enjoy up to 60 days visa-free visit). Nationals of the United States, Canada and Australia have to pay a "reciprocal processing fee" of USD100 for American citizens, USD132 for Canadian citizens, and USD56 for Australian citizens; this is equivalent to the visa fee meted out by those countries on Chilean citizens.
The
Mataveri International Airport
, also called the
Isla de Pascua Airport
(IPC), is the gateway to Easter Island. It is located on the south side of the island. LAN Chile Airlines (www.lan.com), flies to Easter Island several times a week from Santiago de Chile, Lima and Tahiti. As there are no other airlines flying this route, expect a high air fare of around $1,000 or more for a round-trip ticket. Take note also that when leaving Easter Island, you also have to pay a departure tax in cash.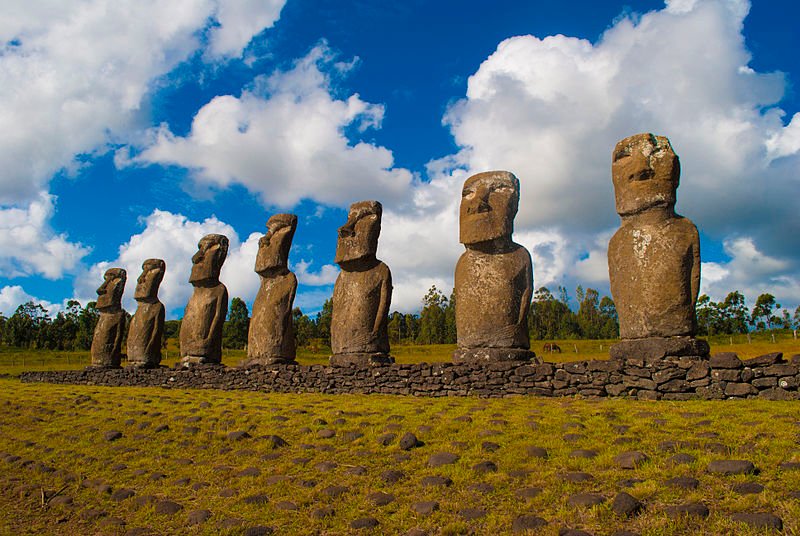 Ahu Akivi, Easter Island

https://commons.wikimedia.org/wiki/File:Ahu_Akivi_de_Isla_de_Pascua,_Monumento_Nacional.jpg


Hbcreuz


When to visit Easter Island
The best time to go to Easter Island is between late January and early February. That is when the island holds the annual Tapati Rapa Nui Festival, the biggest festival and party on Easter Island. Tapati Rapa Nui was first organised in 1975 to boost tourism to Easter Island. The festival celebrates the 1963 passing of Ley Pascua, allowing the Easter Islanders to vote in the Chilean presidential elections.
Among the events are native dance and song competition as well as horse racing, wood carving, and spear fishing, among others. Also included are competitions based on ancient sports events. These include
haka pei
, a competition where the participants slide down a steep hillside sitting on a banana tree trunk.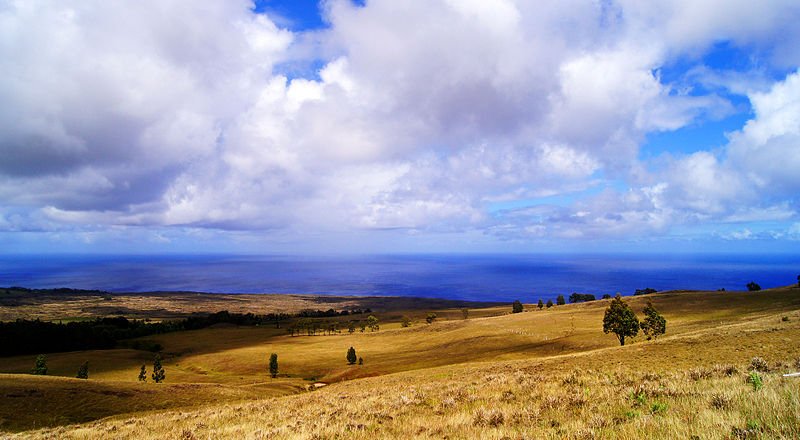 Easter Island vista

https://commons.wikimedia.org/wiki/File:Bajando_la_colina.JPG


Fabián Sepúlveda


There is also a triathlon event that includes swimming, followed by paddling totora reed bundles across the lake at Rano Raraku, and ends with a race with big clusters of bananas slung on a pole across the shoulder. The participants have to compete barefooted, and wear only
hami
loincloth and body paint.
There are also dance dramas, like the reenactment of the first landing of Hotu Matu'a at Anakena or Ovahe beach, by torchlight. The most important contest in the festival is for the festival queen. Contestants from the other events win points for the festival queen. The queen of the competition is announced on the last Saturday night of the festival. The following night, she is officially crowned at a ceremony at the Tahai archaeological site, by moonlight and torchlight, and accompanied by singing and chanting.
Carved stone at Orongo, Easter Island

https://commons.wikimedia.org/wiki/File:Petroglifos_isla_pascua.jpg


Soizic Gaborel


Places of Interest in Easter Island
Ahu Akivi
Ahu Ko Te Riku
Ahu Tongariki
Anakena
Hanga Roa
Motu Nui
Ranu Kau
Ranu Raraku
Thank you for using my website!
Hello and thank you for reading this page. My name is
Tim
. I wrote this page to compile what I discover, for my own knowledge, and also to share it with people who might find it useful. It is part of three inter-connected websites:
Penang Travel Tips
,
TimothyTye.com
and
Timothy Property Mart
.
I am a real estate agent, food blogger, amateur historian and travel author. This website is an encyclopedia as well as a business directory. As a real estate agent, I help people buy, sell, rent and let properties. If you have a property to sell or rent in Penang, Kuala Lumpur, Johor Bahru, Ipoh or Malacca, my team of realtors and I can help you. If you operate a restaurant, can write about your food and promote your restaurant. I can also help you engage other food bloggers to write about your food. And finally, if you are operating a business anywhere in Malaysia, you can add your shop to this website and be found by lots of customers. All you need to do is contact me with what you need.
contact Tim
You can do many things directly from this website. If you are visiting Penang, I can
arrange for you a tour guide and/or driver
to show you around. If you are traveling by bus anywhere in Malaysia or Singapore, you can
book your bus ticket
. If you seek accommodation, you can
get hotel room rates
.
As a Christian, I hope that through this website, I am able to deliver God's message to all who need it, anywhere in the world. If you are open to hearing it, please read
God's Good News to You
.
If you wish to contact me, please use this
contact form
. And don't forget to
follow me on Facebook
. See you!
Copyright © 2003-2019
Timothy Tye
. All Rights Reserved.