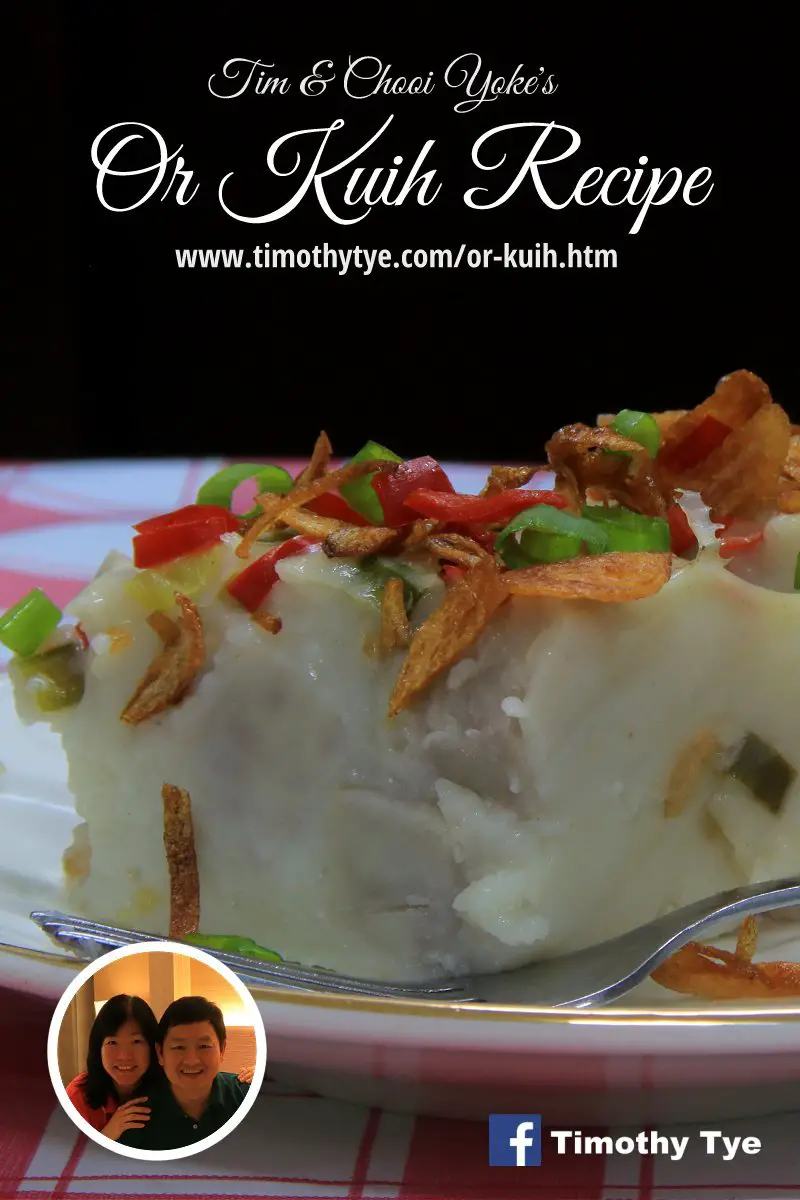 Or Kuih
(14 September, 2016)

Timothy Tye
Or Kuih
(芋粿;
Penang Hokkien
Taiji System
or33kuih4
), often called yam cakes (though to be precise, it should be taro cakes), is a popular Chinese snack made of taro (which is often confused for yam). No wonder it is often also called taro cake (though admittedly, it is more popularly known by the misnomer of yam cake). The Or Kuih is similar in appearance to the
Chai Thau Kuih
, but you will know the difference when you taste them.
Or Kuih is made by steaming a batter of rice flour, tapioca flour and diced taro. The yam cake is topped with a garnishing of dried shrimp (
heh bee
) thinly sliced dried shallots (
yew chang
), sliced red chilli and chopped spring onion. This is finished with a dash of hot chilli sauce. Delicious.
We often make Or Kuih to serve our church members when it is our turn to prepare morning refreshments for church on Sunday (the duty is rotated to us once every three months), so most of the photographs we show on this page are taken from the Or Kuih we made for church.
Or Kuih Recipe
Preparation Time: 20 minutes
Cooking Time: 45 minutes (steaming)
Total Time: 65 minutes
Serving Portion: 10 persons
Ingredient:
300g rice flour (80% rice flour with 20% tapioca flour)

750ml water

1kg yam (taro) - skinned and cubed

120g dried prawns - cleaned and chopped

5 cloves of garlic - peeled and minced

2 teaspoon salt, or to taste

1 teaspoon pepper, or to taste

2 sprigs of spring onion - cut into small sections

1 red chili - cut into small sections

1 large pinch fried shallots

3 tablespoon oil for frying
Method:
Create a rice flour mixture which is one part rice flour to 1.5 parts of water. Add salt and pepper and a bit of colouring to the flour mixture. Put aside.
Put some oil in a wok and lightly fry the yam cubes in a wok until slightly brown. Dish out and put aside.
Fry the garlic until light brown, add in chopped dried prawns. Stir fry until fragrant.
Add in the fried yam and mix well.
Turn the heat to medium and add in the flour mixture. Stir until it thickens.
Off heat and scoop out the thickened mixture into an oiled tray. Smooth and level the surface.
Steam for 45 minutes or until fully cooked.
Before take out the steamed or kuih, sprinkle on the surface some chopped spring onions and chopped red chilis. Steam for a few minutes.
Once done, take the kuih out to cool. Sprinkle some fried shallot on the surface.
Cool completely before cutting into diamond shaped.
Serve with chili sauce or eaten on its own.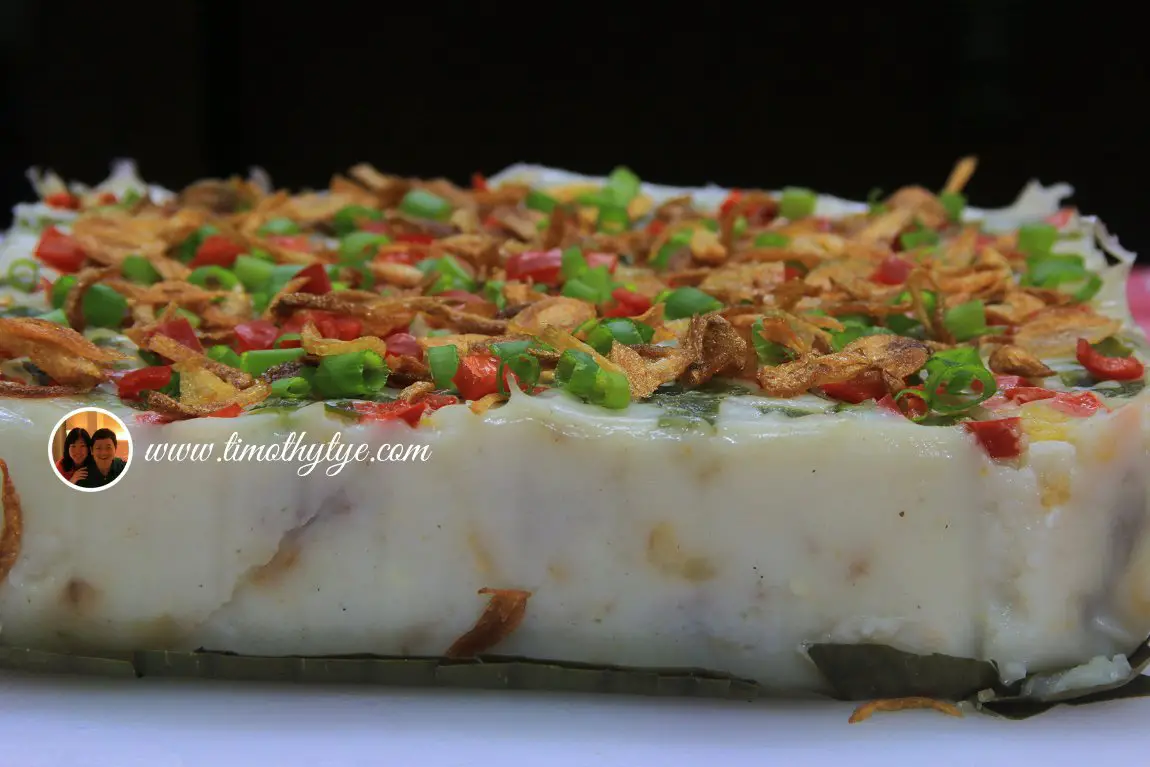 Or Kuih, right after steaming. The banana leaf is not necessary.
(13 July, 2018)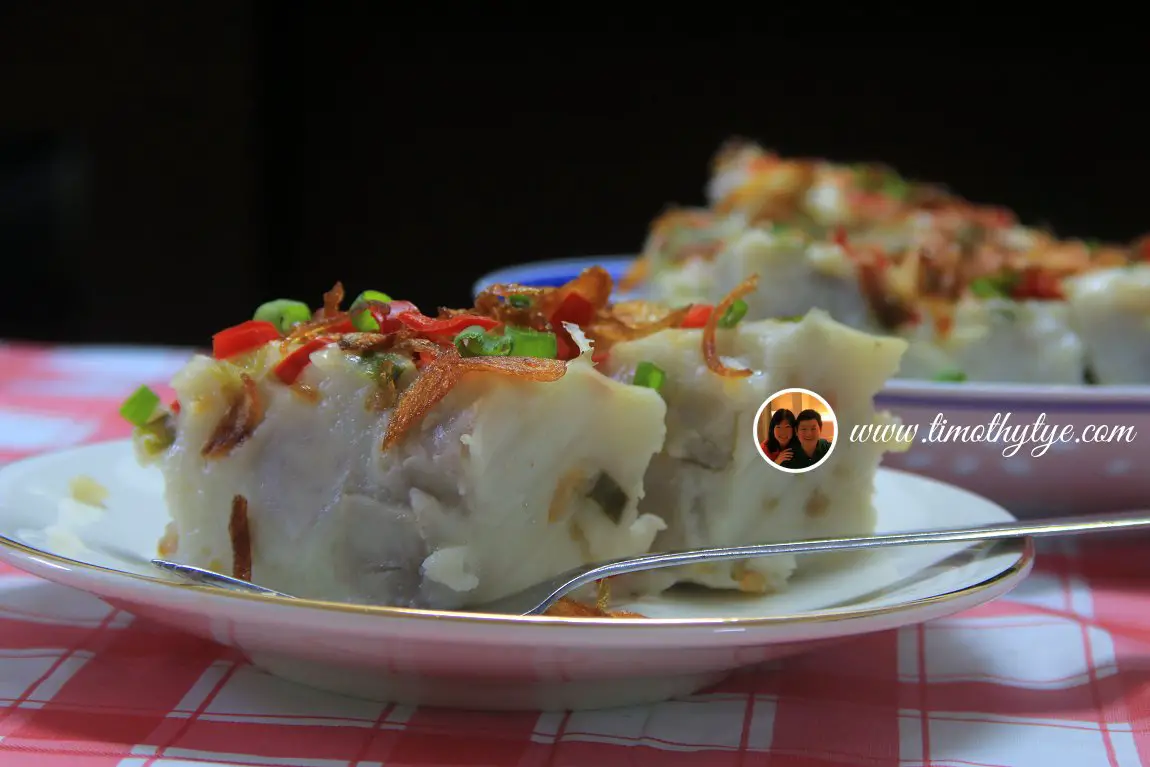 Our Or Kuih, ready to be eaten
(13 July, 2018)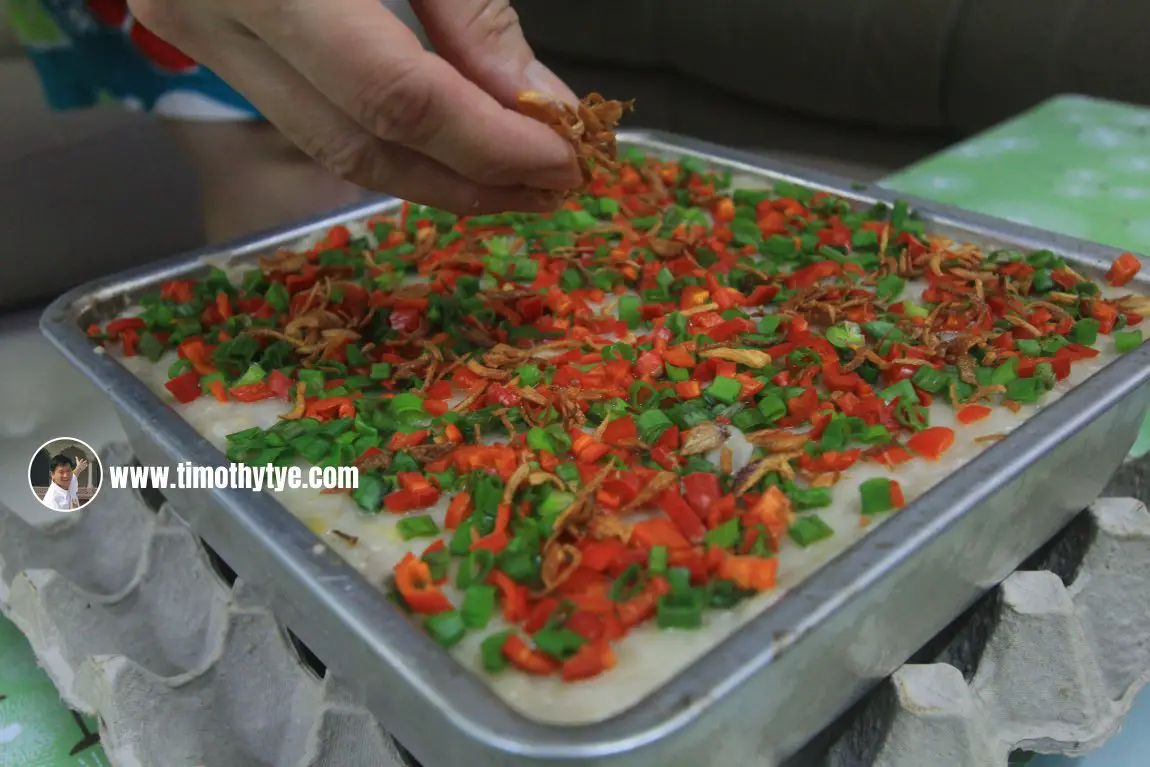 Put a generous about of fried shallots on top.
(13 July, 2018)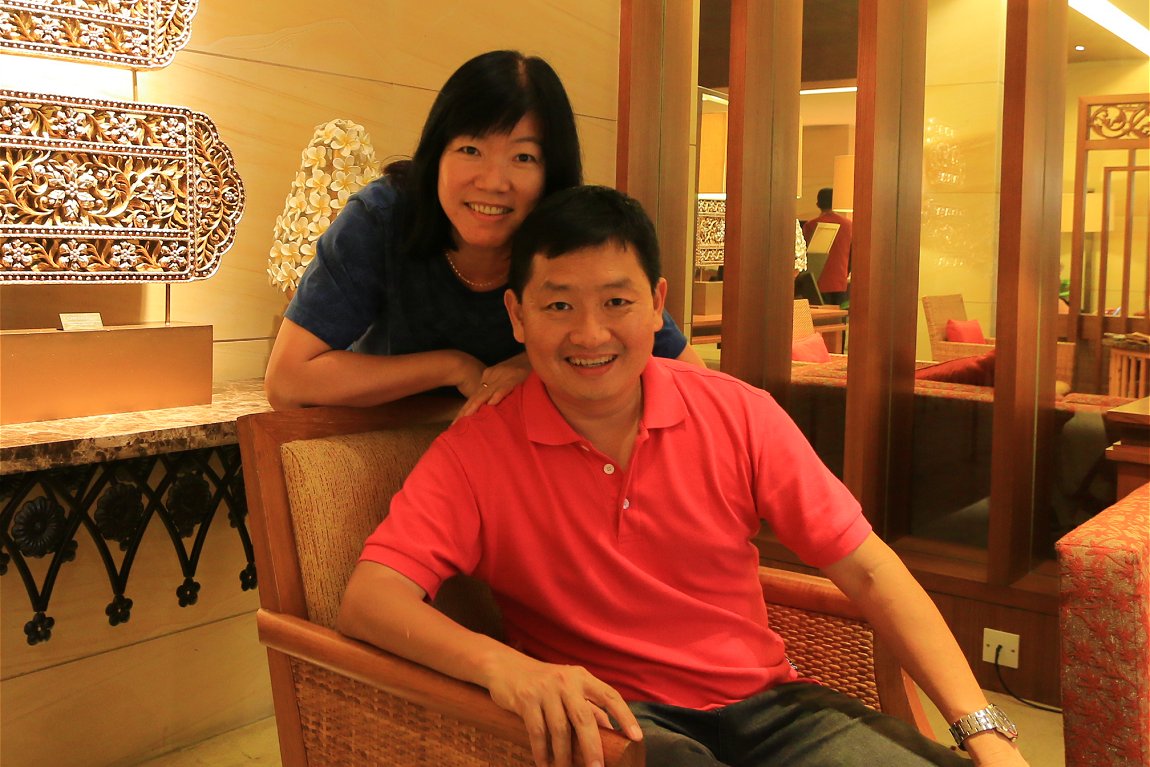 Tim & Chooi Yoke's Recipes
It is our joy to share with you some of our recipes. We hope that they will inspire you to enjoy creating homecooked food in your own home.
Details
Copyright © 2003-2019
Timothy Tye
. All Rights Reserved.