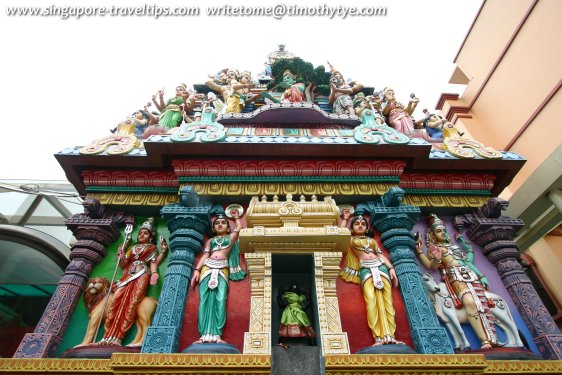 Sri Vadapathira Kaliamman Temple, Little India
(10 July, 2006)

Little India
is a neighbourhood, or subzone, of
Rochor
,
Singapore
. It is known for its Indian characteristics, which actually spill over to the neighbouring areas. Based on Singapore's administrative division, the subzone of Little India is bordered by
Serangoon Road
,
Syed Alwi Road
,
Jalan Besar
and
Sungei Road
.
The smell of spices in the air. Saris in every colour of the rainbow. Shops selling pots and pans, brightly painted temples, images of Hindu deities. This can only be
Little India
(GPS: 1.30634, 103.84967). If you want your sights to be neat and orderly,
Little India
is not the place for you. But if you relish the sights and sounds of the Indian subcontinent, you can get a piece of it right here in Singapore. The only exception is that Singapore, being a cosmopolitan city, also adds a dash of Chinese temple here, a church there, into the mixing bowl.
The Indians are mostly Hindus of course, and as your explore, you will come across a number of big Hindu temples in this area. But not all Indians are Hindus. You will also find a few Indian Muslim mosques in Little India.
Little India was created because the British, or to be specific, Stamford Raffles, parcelled the population out according to ethnic backgrounds. Originally, the Indians were given an enclave at Kampung Chulia - where
Chulia Street
and
Market Street
in the financial district is located. However, the abundance of grassland and water supply enticed the Indians to move north, to settle in the
Serangoon Road
area. They established themselves here around the 1840's as cattle breeders. The farm owners brought in labourers from India to work for them, and these Indians also settled in the Serangoon Road area. On top of that, the Indians working at the prison which was at
Bras Basah Road
and
Bencoolen Street
also opt to reside in the Serangoon Road area. In due course, a full-fledged Indian settlement was established.
The Indians brought their religion with them. One of the first temples in Little India is the Sri Veeramakaliamman Temple, set up for the worship of Kali, the goddess of destruction. A rather gruesome statue of the deity can be seen in the temple, where she rips open a hapless person. Another very early temple to establish itself in Little India is the Sri Srinivasa Perumal Temple. Both of these temples began as small shrines that expanded over time through contributions from the community.
On the northern fringe of Little India, the characteristic of the area changes to become more Chinese. Lined up along Race Course Road are a number of Buddhist and Taoist temples, the bigger ones being the Sakya Muni Buddha Gaya Temple and the Leong San See Temple. These temples were established in the early part of the 20th century.
In addition to sightseeing, Little India is a shopper's paradise. Although I am not sure whether the type of merchandise found in Little India is to your liking, I still think it is a lot of fun browsing through the shops and looking at what the local people buys. In addition to the small shops like those found in the Little India Arcade, there are also air-conditioned shopping complexes - all catering to local taste. These include Serangoon Plaza, The Verge and Mustafa Centre.
Getting there
The easiest way to reach Little India is by MRT. The MRT stations serving the Little India district are the
Little India MRT Station
(
NE7
) and the
Farrer Park MRT Station
(
NE8
) on the
North East Line
. You can also take the
East West Line
to
Bugis MRT Station
(
EW12
), and then walk for about 500 meters to Little India.
Sights in Little India
These are all the sights I've grouped under Little India, listed in alphabetical order.
* Sights of considerable interest
* * Sights of major interest
Exploring Little India
I have written a
Little India Walking Tour
to help you discover this neighbourhood.
Shopping in Little India
The following are places where you can do a bit of shopping. These include places where the locals shop for their local items, but it provides an interesting glimpse of life in Singapore.
Thank you for using my website!
arrange for you a tour guide and/or driver
to show you around. If you are traveling by bus anywhere in Malaysia or Singapore, you can
book your bus ticket
. If you seek accommodation, you can
get hotel room rates
.
As a Christian, I hope that through this website, I am able to deliver God's message to all who need it, anywhere in the world. If you are open to hearing it, please read
God's Good News to You
.
If you wish to contact me, please use this
contact form
. And don't forget to
follow me on Facebook
. See you!