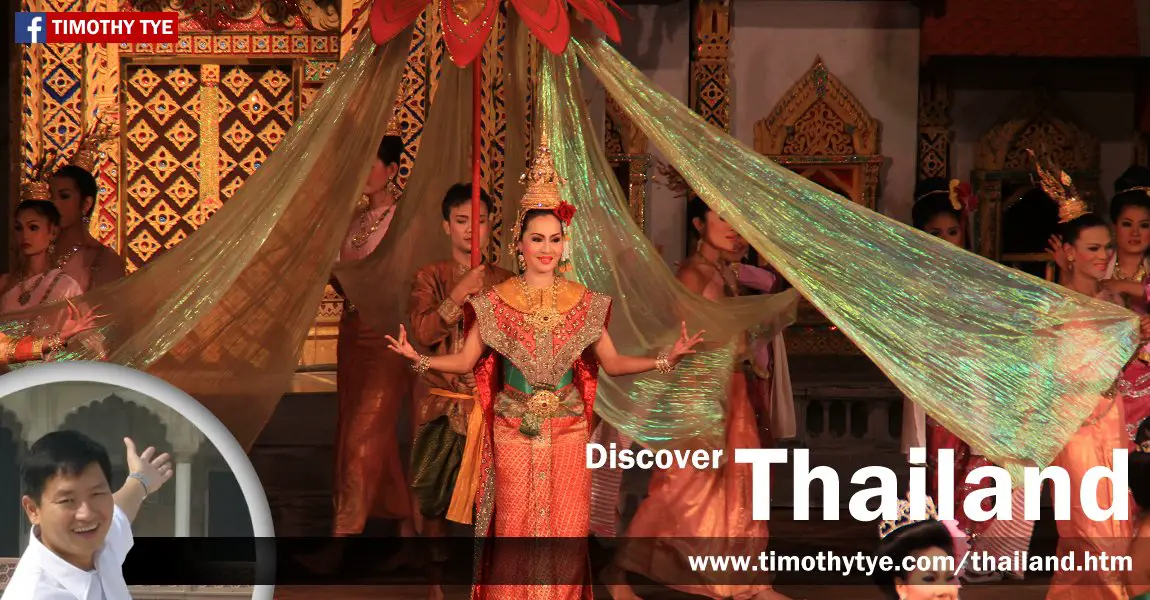 Discover Thailand with Timothy Tye
(5 February, 2012)

Timothy Tye
B. Melayu
Thailand
or Prathet Thai (ประเทศไทย
), and also known as the
Kingdom of Thailand
(or Ratcha Anachat Thai, ราชอาณาจักรไทย
), is a country on mainland Southeast Asia. It covers 513,120 sq km (198,115 sq mi) and has a population of 68.8 million people (2016 estimate). The capital of Thailand and also its biggest city is Bangkok.
Thailand is seven hours ahead of Coordinated Universal Time (UTC+7). Traffic is driven on the left here, just as in neighbouring Malaysia. The phone IDD code for Thailand is +66. The official currency is the Baht (THB). The official language of the country is Thai.
Cities in Thailand
Holiday Islands in Thailand
Categories of Sights in Thailand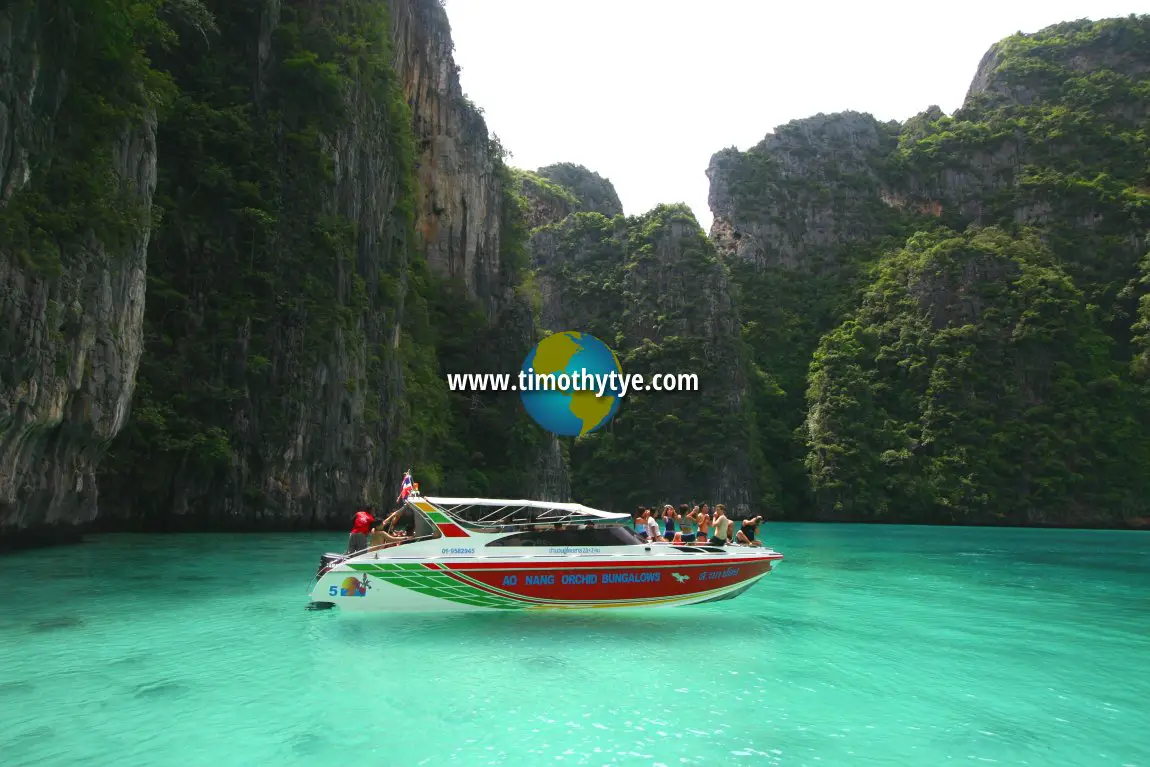 The pristine Pileh Lagoon on the island of Phi Phi Ley in Thailand
(4 November 2005)

Fisherman's hut in the sea off Ko Yo in Songkhla Province
(11 June 2005)

The 76 provinces of Thailand are subdivided into districts, called amphoe (อำเภอ
), and these are further sub-divided into neighborhoods, called tambon (ตำบล
).
A young hilltribe woman with her infant
(21 December 2002)

The district containing the administrative office is known as Amphoe Mueang. These are the location of the original Mueang (เมือง
), or historical city state, from which the province developed around. All the provinces share the same name as the provincial capital, with the term Changwat denoting the province and Mueang denoting the capital. Hence Changwat Chiang Mai is Chiang Mai Province while Mueang Chiang Mai is Chiang Mai City. The term "city" is used here as an approximation to denote the provincial capital.
The economy of Thailand, formerly based on agriculture, is today more diversified. Tourism and manufacturing are now major components of the Thai economy. In 2010, Thailand had an estimated nominal GDP of $514.7 billion (2018 estimate), equivalent to a per capita nominal GDP of $7,588. Its per capita GDP at purchasing power parity was $18,943.
Thailand is a constitutional monarch. The king is His Majesty,
Maha Vajiralongkorn
, who ascended the throne on 13 October, 2016. He was born on 28 July, 1952, as the only son of King Bhumibol Adulyadej, and reigns by the title of Rama X.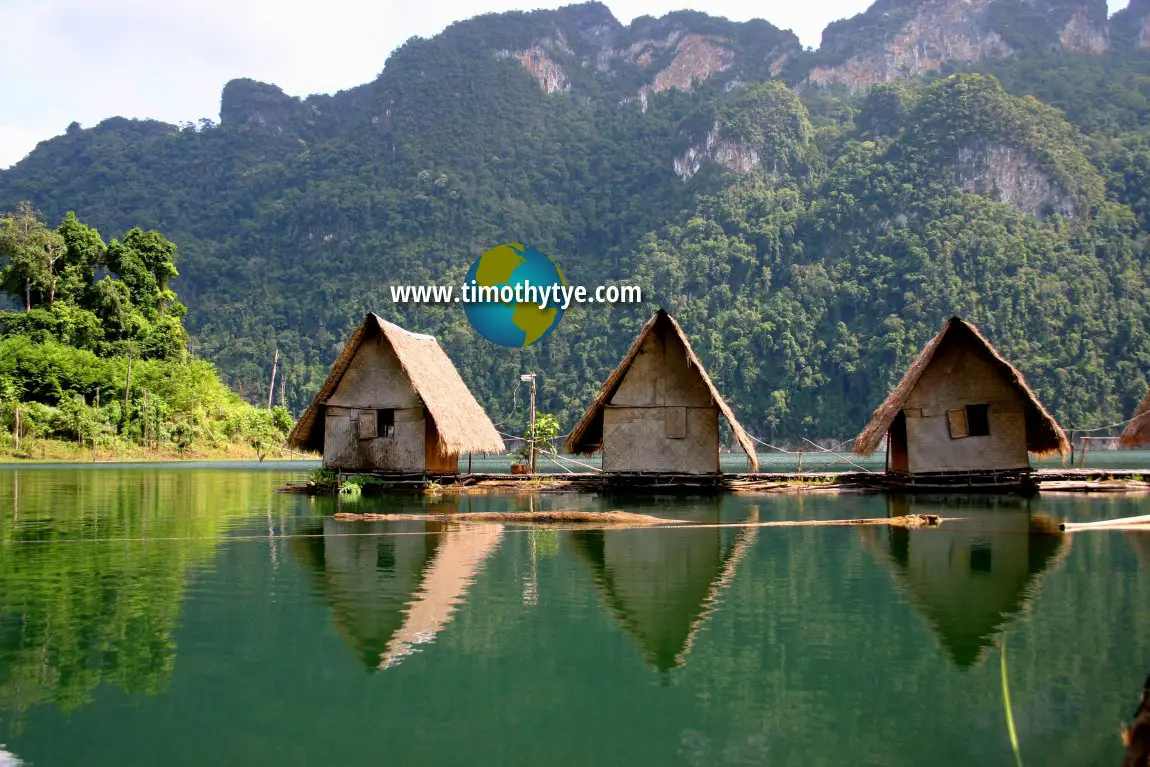 Huts on the water of Cheow Lan Lake, which formed due to Ratchaprapa Dam, at Khao Sok National Park
(26 December 2003)

Thailand
is an inviting destination with much to offer travellers, whether they are looking for culture, history or sun-and-surf. The biggest tourist destinations in Thailand, apart from the capital Bangkok, include Phuket, Ko Samui, Chiang Mai and Pattaya.
There are still hill tribes still live on the northern part of Thailand, especially in the hinterland north of Chiang Mai, in places close to the border of Myanmar. There, they continue to practise their age-old customs and wear their traditional attires. Among the tribes are the Akha, the Hmong, the Mien, the Lahu, the Lisu, to name a few. Each has its own costume - their tribal uniform - which distinguishes them not only by tribe, but also by their social status, age, marital status, and even their village. Perhaps the most intriguing are the Padaung, better known as the long-neck people because the women wear brass rings around their arms, legs and necks. Although this custom is diminishing, many have once again taken up this practise for commercial purpose.
Here I am with a Padaung lady
(21 December, 2002)

Some of the oldest cities and kingdoms to have flourished in Thailand were founded on the north, chiefly between Sukhothai and the northern border. These ancient cities will give us an insight into the life in Thailand many centuries ago. Although most of the temples are now in ruins, they have been meticulously preserved in heritage parks such as Sukhothai and Si Satchanalai.
The capital of Thailand, Bangkok, is a modern-day metropolis at the geographical centre of the nation. Within driving distances are the beach resorts of Pattaya and Hua Hin. Going further east, we come upon Khmer ruins within the border of Cambodia. Among these are Prasat Hin Phimai and Prasat Phanom Wan, both outside Nakhon Ratchasima.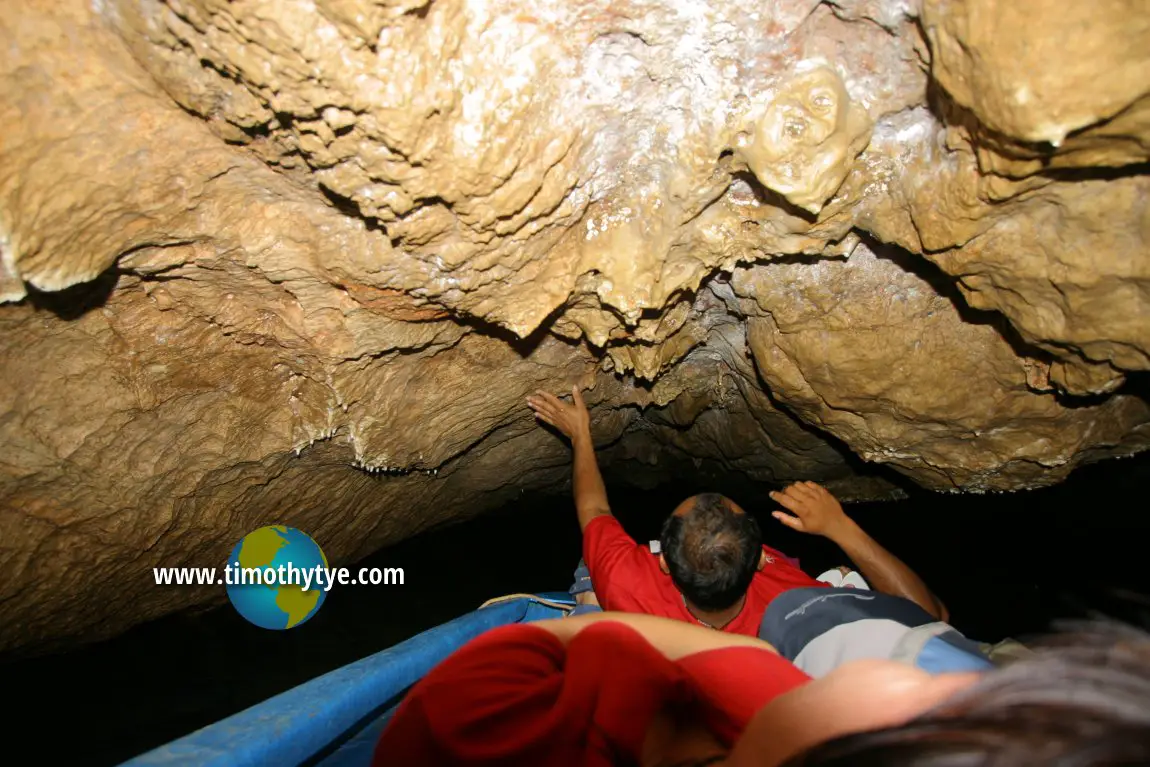 Negotiating a tight spot inside Ley Cave in Trang Province
(3 November 2005)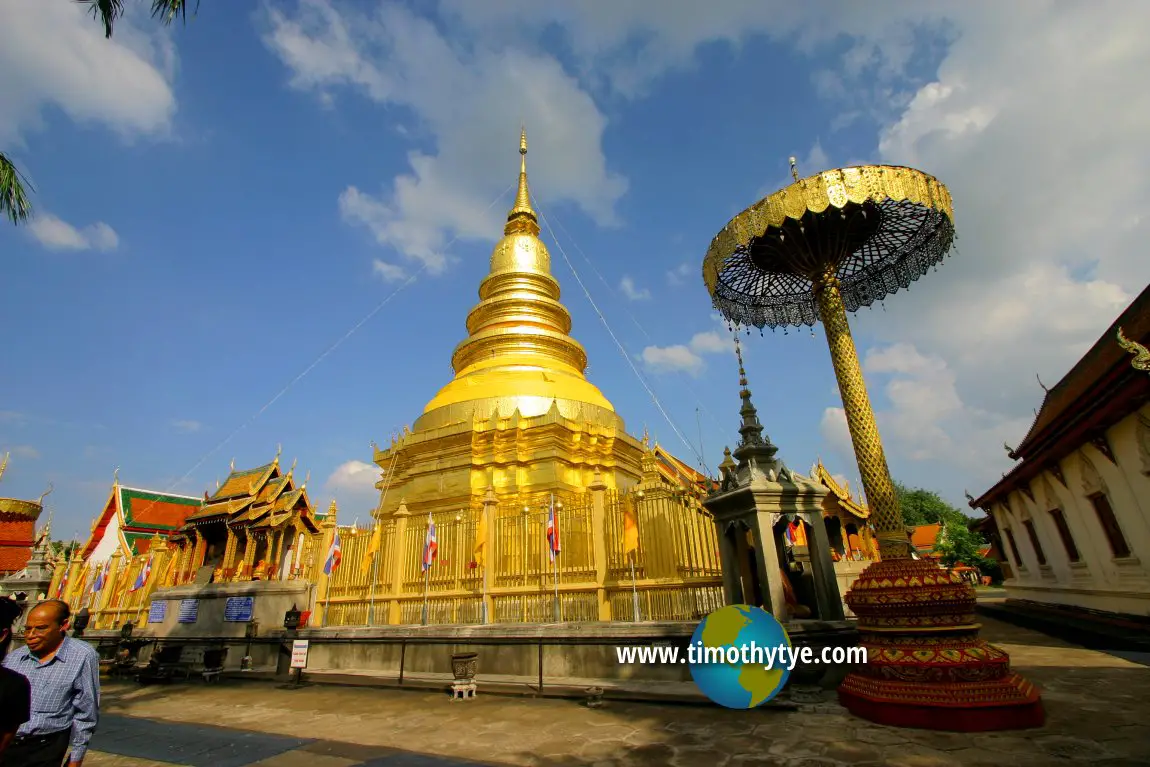 The gilded chedi of Wat Haripunchai in Lamphun
(24 October 2006)

Thailand Customs
Entering Thailand, visitors may bring in any amount of foreign banknotes.
Leaving Thailand, visitors may take out a maximum of 50,000 baht in Thai currency.
Foreigners may bring in without tax one camera, 5 rolls of film, 200 cigarettes, 1 litre of wine.
Thailand SIM Card
If you are planning to stay more than two days in Thailand, it would be wise to get a Thailand SIM Card for your phone. Here are your options, as of October 2018:
Thailand TrueMove H
offers unlimited 3G/4G Sim Card for 8-day use.
Happy Tourist
SIM Card priced at 49 baht, 199 baht, 299 baht and 599 baht.
Details
Thailand Public Holidays
New Year Day: 1 January
Magha Puja: Full moon in February/March. This festival commemorates the speech given by Buddha to 1,250 enlightened monks. Throughout Thailand, devotees carry candles and circumambulate the main shrine of the wats three times in the clockwise direction.
Chinese New Year: January/February
Chakri Day: 6 April, commemorates the establishment of the royal house of Chakri
Songkran: 13-15 April - Thai New Year, characterised by water throwing.
Coronation Day: 5 May
Ploughing Ceremony: May, actual day varies
Visakha Puja: Full moon in May, to commemorate the birth, enlightenment and death of Buddha
Asalaha Puja: Full moon in July, to commemorate Buddha's first sermon
Khao Phansa: July, beginning of the Buddhist rainy season retreat
Queen's Birthday: 12 August
Chulalongkorn Day: 23 October
Loy Krathong: Full moon in November, when people head to rivers and lakes to float candle-laden banana-leaf floats called the krathong, intended to be a thanksgiving offering to the water deity. It is also believed that bad luck floats away with the krathong. A spectacular light show takes place at the Sukhothai Historical Park.
King's Birthday: 5 December
Constitution Day 10 December
New Year Eve: 31 December
Natural Sites of Thailand
Updates on Thailand
2 December, 2016
: The crown prince of Thailand formally accepted the invitation to ascend the throne to reign as King Rama X of the Chakri Dynasty. He will take the title of His Majesty King Maha Vajiralongkorn Bodindradebayavarangkun.
Thank you for using my website!
Hello and thank you for reading this page. My name is
Tim
. I wrote this page to compile what I discover, for my own knowledge, and also to share it with people who might find it useful. It is part of three inter-connected websites:
Penang Travel Tips
,
TimothyTye.com
and
Timothy Property Mart
.
I am a real estate agent, food blogger, amateur historian and travel author. This website is an encyclopedia as well as a business directory. As a real estate agent, I help people buy, sell, rent and let properties. If you have a property to sell or rent in Penang, Kuala Lumpur, Johor Bahru, Ipoh or Malacca, my team of realtors and I can help you. If you operate a restaurant, can write about your food and promote your restaurant. I can also help you engage other food bloggers to write about your food. And finally, if you are operating a business anywhere in Malaysia, you can add your shop to this website and be found by lots of customers. All you need to do is contact me with what you need.
contact Tim
You can do many things directly from this website. If you are visiting Penang, I can
arrange for you a tour guide and/or driver
to show you around. If you are traveling by bus anywhere in Malaysia or Singapore, you can
book your bus ticket
. If you seek accommodation, you can
get hotel room rates
.
As a Christian, I hope that through this website, I am able to deliver God's message to all who need it, anywhere in the world. If you are open to hearing it, please read
God's Good News to You
.
If you wish to contact me, please use this
contact form
. And don't forget to
follow me on Facebook
. See you!
Copyright © 2003-2019
Timothy Tye
. All Rights Reserved.