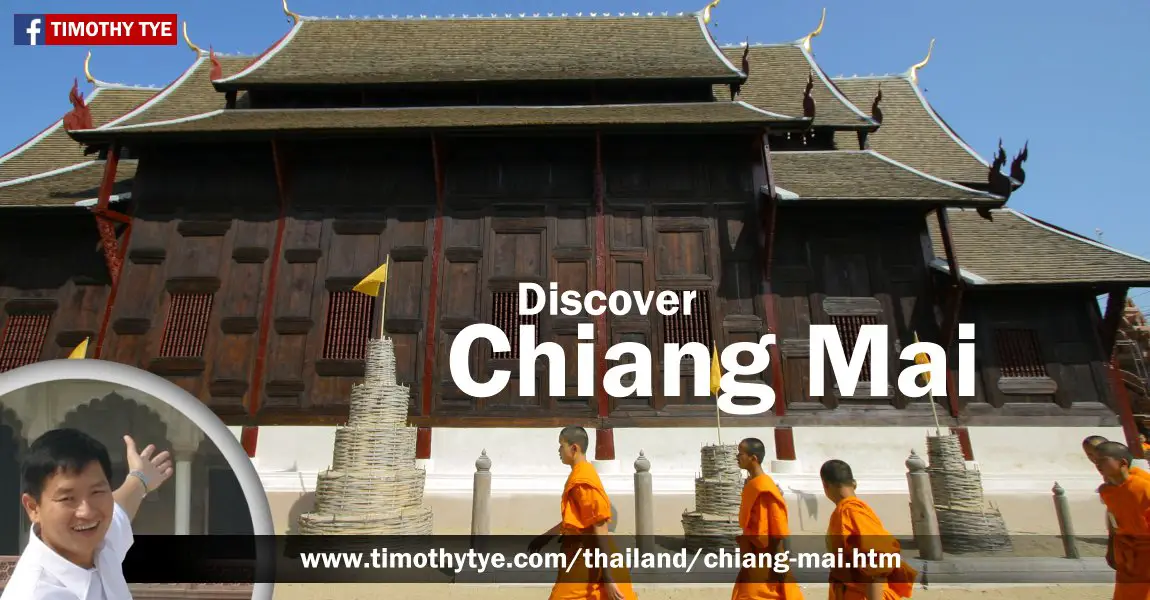 Novice monks in Chiang Mai
(24 October, 2006)

B. Melayu
Chiang Mai
(GPS: 18.788441, 98.985603; Thai: เชียงใหม่

) also written Chiangmai and Chiengmai, is the main city in northern Thailand. It is located at an elevation of 313 meters above sea level in the Ping River Valley, a broad fertile plain that includes nearby
Lamphun
. The
Ping River
runs from north to south across the eastern side of Chiang Mai.
The old city of Chiang Mai was the capital of the ancient Kingdom of Lanna. The old kingdom is also known as the Kingdom of a Million Rice Fields and was also known as Lannathai. Today Chiang Mai is the administrative capital of
Chiang Mai Province
. It is also the largest city in Northern Thailand and serves as the cultural and handicraft centre of the region.
Where to stay in Chiang Mai
I would recommend staying somewhere between Modern Chiang Mai and the Old City. In any case, the city is small enough for you to walk around on foot, and if you're a hardy walker with stamina, you can explore much of it without resorting to any form of transport. For most people, however, it is faster and more convenient to simply hire a tuk tuk for a single journey, or to charter it by the hour or even the whole day. To check out prices of hotel rooms online, use the search engine below.
Map of Chiang Mai
Places of Interest in Chiang Mai
Temples of Chiang Mai
Map of Mosques and Halal Restaurants in Chiang Mai
For the benefit of Muslim visitors to Chiang Mai, listed below are the mosques and halal restaurants in the city.
List of Mosques in Chiang Mai
Masjid At Taqwa (GPS: 18.79187, 99.00711)
Masjid Chang Khlan มัสยิดช้างคลาน (GPS: 18.7691, 98.99985)
Masjid Hidayatul Islam Banhaw (GPS: 18.78664, 99.00134)
Masjid Nurul Chang Phuak (GPS: 18.79653, 98.98649)
List of Halal Restaurants in Chiang Mai
Babylonian Iraqi Restaurant (GPS: 18.80232, 98.96729)
Changmoi House (Little Village) (GPS: 18.78994, 98.99439)
Choei Cafe & Bistro (GPS: 18.77919, 98.99958)
Fatimah Burger House (GPS: 18.78644, 99.00153)
Gulf Restaurant (GPS: 18.78265, 99.00081)
Halal @ Food Court (GPS: 18.77665, 98.99761)
Halal Briyani Stall (GPS: 18.78154, 98.98727)
Halal Hanifa (GPS: 18.78645, 99.00161)
Ikhwan Restaurant (GPS: 18.77042, 99.00005)
Kabab House Restaurant (GPS: 18.78265, 99.00081) - Indian vegetarian
Khao Soi Islam Restaurant (GPS: 18.78686, 99.00204)
Khao Soi Muslim Noodles (GPS: 18.78655, 99.00202)
Khum Khantoke (GPS: 18.79938, 99.02639) - ask for their halal options
Little Istanbul Halal Restaurant (GPS: 18.78644, 99.00179)
Nasmeen Halal Food (GPS: 18.78577, 99.01435)
Roummit Restaurant Halal Food (GPS: 18.78267, 99.0014)
Ruammit 1 Halal Restaurant (GPS: 18.77449, 98.99887)
Sofia Restaurant (GPS: 18.78644, 99.00179)
Takawa Halal Cuisine (GPS: 18.76498, 98.99281)
The R Kitchen (GPS: 18.77418, 99.00072)
Yaring Cuisine (GPS: 18.78998, 98.99446)
Nearby sights in Northern Thailand
Streets in Chiang Mai
Categories of sights in Chiang Mai
New Masjid Nurul Chang Phuek
(Mar 2018)
Masjid Hidayatul Islam Banhaw
(Mar 2018)
About Chiang Mai
Located on the southern branch of the ancient Silk Road, Chiang Mai has long seved as an important centre for handicrafts, including umbrellas, jewellery - particularly silverware, and woodcarving. Increasingly modern, and with a population of 700,000, Chiang Mai is one of the most livable cities in Asia.
Chiang Mai's old town is located on the west side of modern Chiang Mai. The most apparent remains of the medieval city is the fortress that forms a square encircled by a moat. The area within the Old City is dense with temples, but it is not a historically preserved quarter. Apart from the temples, the buildings within the Old City are the same in form and style as elsewhere in Chiang Mai.
Although much of the fortress had either been torn down or broken down, parts of it still remains, and have been systematically restored. It is actually more significant than impressive. To the eye of most beholder, the remains of the fortress look like nothing more than a red-brick wall.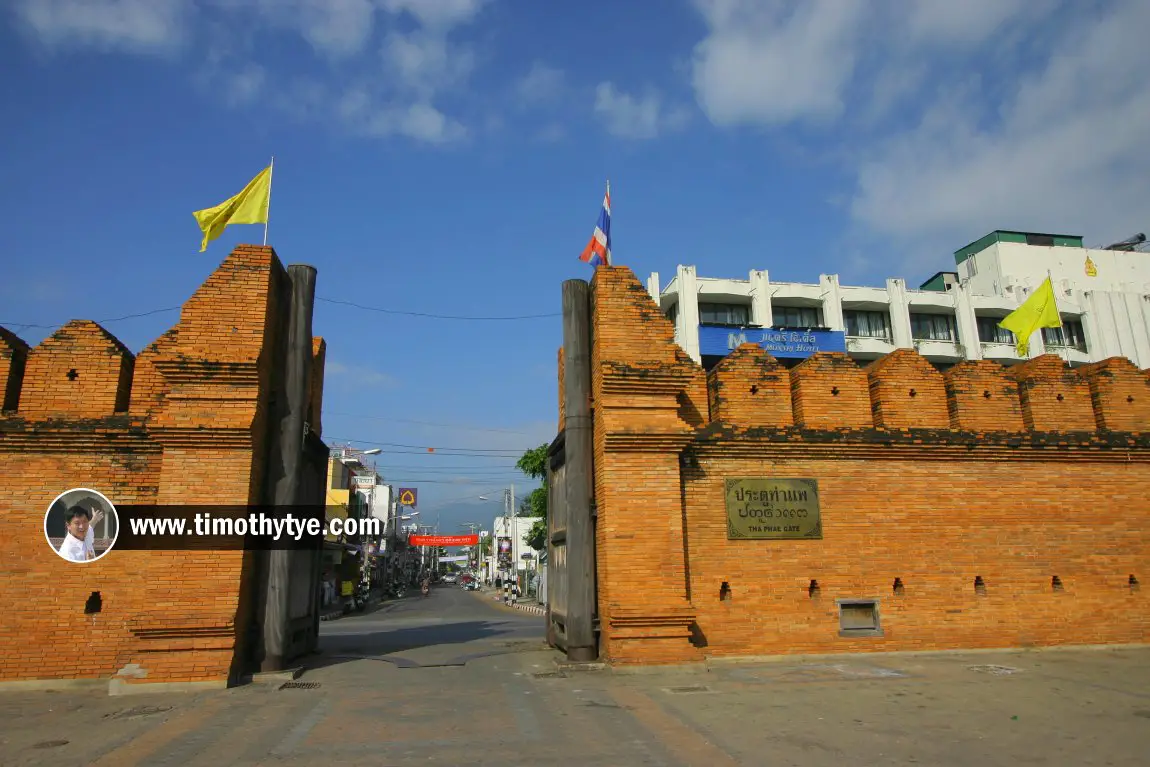 Tha Phae Gate, Chiang Mai
(24 October, 2006)

Layout of Old Chiang Mai
Similar to
Angkor Thom
and
Mandalay
, Old Chiang Mai was laid out as a square with a moat around it. Most of the ancient temples still exist within the old quarters surrounded by the moat and old city fortress.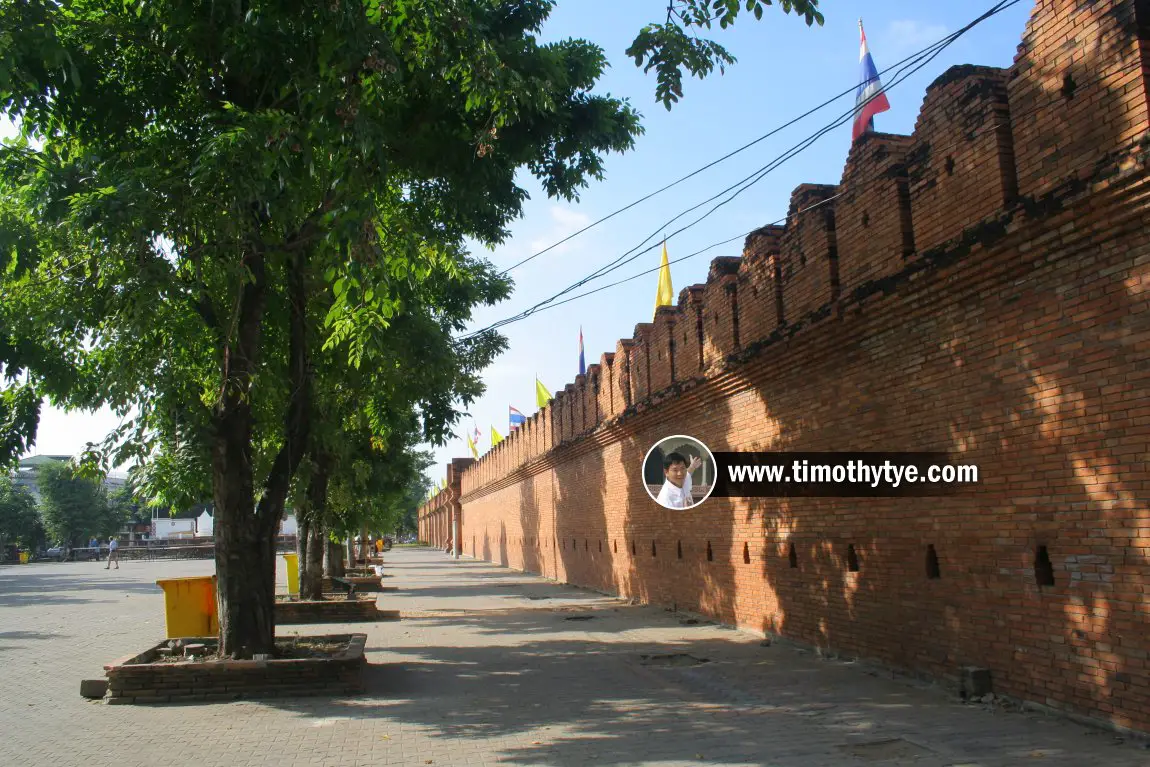 Remains of the old fortification of Chiang Mai
(24 October, 2006)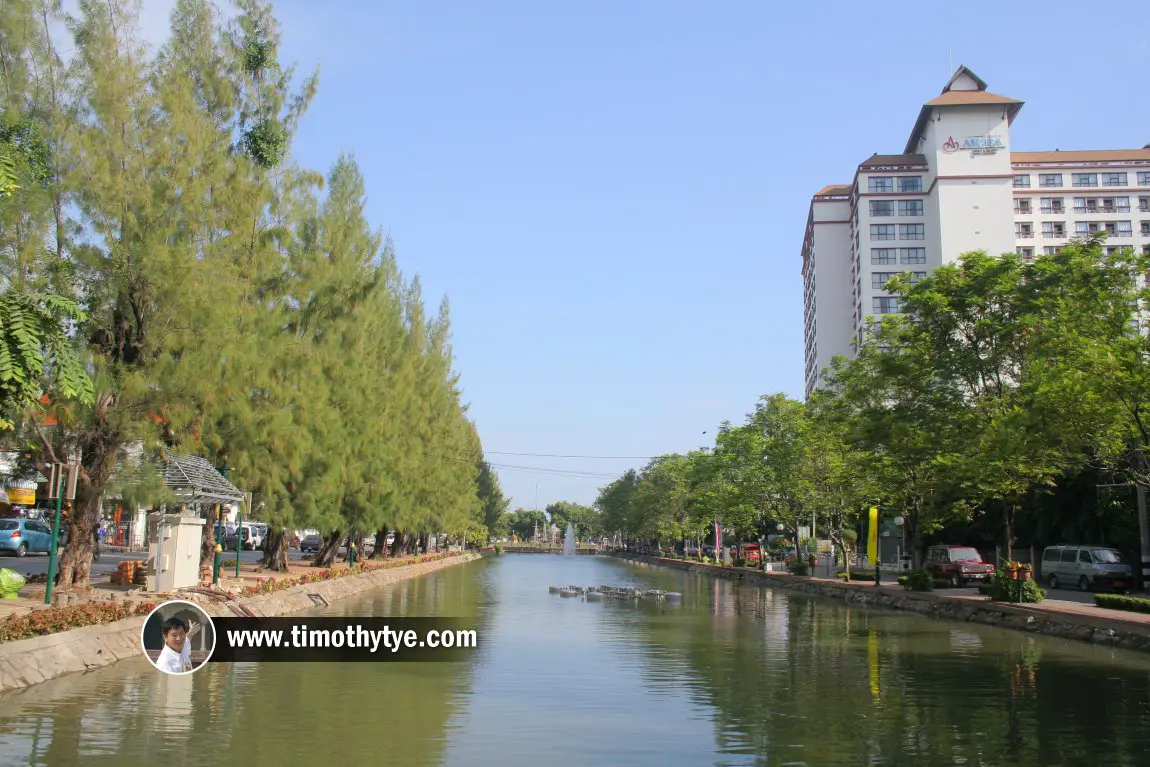 Parts of the moat of Old Chiang Mai is still there, and has been beautified.
(24 October, 2006)

Going to Chiang Mai by flight
There are several airlines that can fly you to Chiang Mai. They include AirAsia (from
Bangkok Don Mueang
,
Phuket
,
Krabi
,
Hat Yai
,
Kuala Lumpur
), Bangkok Airways (
Bangkok Suvarnabhumi
,
Ko Samui
, Krabi, Phuket, Udan Thani), Nok Air (Bangkok Don Mueang), Thai Airways (Bangkok Suvarnabhumi), Lion Air (Bangkok Don Mueang) and Tigerair (Singapore).
Going to Chiang Mai by Train
You can also go to Chiang Mai by train from
Bangkok
(though personally I find it too time consuming). It is advisable to book in advance, and you can do it up to 60 days ahead of travel. The distance is 751km (467 miles), and the journey takes 13 hours. It is certainly much slower than flying from Bangkok, but you will get to view the Thai countryside all the way in between.
Upon arrival at Chiang Mai International Airport, you can take a taxi or better still, call GRAB. Taxis should cost you around 160 baht, so GRAB might be cheaper.
Travel within Chiang Mai
Getting around in Chiang Mai Old City is possible by foot. The Old City is quite walkable, and you will be able to view the sights at a more unhurried pace. However, the city can get blazingly hot in the afternoon. It may be less time consuming to take a tuk tuk or songthaew.
I would not have recommended tuk tuk or songthaew if you were exploring Bangkok, where there are better modes of transport such as taxis and mass rapid trains. In Chiang Mai, however, the taxis are not that many - it takes a long time before you see a taxi passing by on the road. The other option now is to call GRAB, which offers you smooth, air-conditioned rides in relatively new vehicles. As Chiang Mai is also less crowded and less polluted than Bangkok, it is possible, even enjoyable, to explore it by tuk tuk.
Exploring Chiang Mai on foot
Chiang Mai, especially the old city area, is easily explored on foot, and quite fun that way too. If you love viewing Thai Buddhist monastery, there are plenty to see here. Within a single kilometer you are likely to come across a few, one after another. The medieval moat is still there, and the walk around it is also quite fun. Many places are nicely landscaped with trees. It is best to do your walk in the morning part of the day, as Chiang Mai can get scorching hot in the afternoon.
Chiang Mai moat
(24 October, 2006)

Discover the Ancient Sites of Asia with me
If you love learning about Asian civilization, here are other ancient sites in Asia that I have explored and written about.
Thank you for using my website!
Hello and thank you for reading this page. My name is
Tim
. I wrote this page to compile what I discover, for my own knowledge, and also to share it with people who might find it useful. It is part of three inter-connected websites:
Penang Travel Tips
,
TimothyTye.com
and
Timothy Property Mart
.
I am a real estate agent, food blogger, amateur historian and travel author. This website is an encyclopedia as well as a business directory. As a real estate agent, I help people buy, sell, rent and let properties. If you have a property to sell or rent in Penang, Kuala Lumpur, Johor Bahru, Ipoh or Malacca, my team of realtors and I can help you. If you operate a restaurant, can write about your food and promote your restaurant. I can also help you engage other food bloggers to write about your food. And finally, if you are operating a business anywhere in Malaysia, you can add your shop to this website and be found by lots of customers. All you need to do is contact me with what you need.
contact Tim
You can do many things directly from this website. If you are visiting Penang, I can
arrange for you a tour guide and/or driver
to show you around. If you are traveling by bus anywhere in Malaysia or Singapore, you can
book your bus ticket
. If you seek accommodation, you can
get hotel room rates
.
As a Christian, I hope that through this website, I am able to deliver God's message to all who need it, anywhere in the world. If you are open to hearing it, please read
God's Good News to You
.
If you wish to contact me, please use this
contact form
. And don't forget to
follow me on Facebook
. See you!
Copyright © 2003-2019
Timothy Tye
. All Rights Reserved.