Discover Lamphun, Thailand, with Timothy Tye
(26 October, 2006)

Lamphun
ลำพูน

is an ancient city in northern Thailand. Today it is the provincial capital of
Lamphun Province
. The city is located 26 km to the south of
Chiang Mai
. It was founded in the 9th century, and once served as the capital of the Haripunchai Kingdom, which flourished between AD 750 to AD 1281. Even today, you will find the name Haripunchai continue to appear alongside Lamphun in various instances. The city is located by the banks of the Khuang River.
Lamphun has many Buddhist temples, including the most important in northern Thailand, Wat Phra That Haripunchai, which holds a sacred Buddhist relic - one of his hairs. It was interred in a chedi in AD 897. The chedi is located within the temple compound which was built by King Athitayarat of Haripunchai in AD 1044. Of interest in this temple is its pyramid-shaped chedi.
Map of Lamphun
Places of Interest in Lamphun
History of Lamphun
According to the
Camadevivamsa
and
Jinakalamali
chronicles, which are both a mix of legend and historical accounts, Lamphun was established by a hermit named
Suthep
in 629 AD. Its first ruler was
Queen Phranang Chammathewi
, who was sent by her father, the ruler of Lavo Kingdom, to be the ruler of the new settlement. They are
Mon people
, and this settlement is the northernmost Mon kingdom in Thailand. At that time, Lamphun was known as Haribhunjaya (or Hariphunchai หริภุญชัย

in Thai and ហរិបុញ្ជ័យ

in Khmer).
The layout of Lamphun was established by two ascetics, Sudorasi and Sukkadandarasi, and as with many Mon settlement, it was laid out in the form of a shell (or more likely, a mussel). A moat was dug in an oval shape which connects with the Kuang River on the east side. This layout is still preserved and visible to this day.
The Mon kingdom, with its capital at Lamphun, lasted until the 11th century, when they were to brush against the Khmers, who had by then extended their empire all the way to
Lopburi
in 1925. Skirmishes between the two sides followed. Then in 1050, following another skirmish and a cholera epidemic, the population of Lamphun decided to move. They resettled in
Bago
, in present-day
Myanmar
, where they stayed for some six years before returning. The Khmers were still at Lopburi, and at least once, another skirmish erupted, when King Adityaraja of Lamphun decided to mount an attack on Lopburi, only to be forced back to Lamphun, causing the Khmers to seige the town.
By the 13th century, the once-mighty Khmers had weakened their grip to the area, and one by one, Thai settlements rebelled and declared their independence. Independence from the Khmers brought a moment of prosperity to Lamphun, but not for long.
The prosperity of Lamphun caught the attention of King Mangrai, who at that time had his capital at
Chiang Rai
. Initially, he had intended to launch a military offensive against Lopburi, but was advised against that, as Lopburi was very powerful. Instead he understood a slow but ultimately successful strategy to defeat Lamphun.
King Mangrai's cunning official, Ai Fa, was sent to Lamphun and was received by its ruler, King Yi Ba. Pretending that King Mangrai had banished him, Ai Fa slowly gained King Yi Ba's trust, so much so that King Yi Ba eventually appointed him as his close advisor. However, Ai Fa had a hidden agenda, which was to slowly alienate the Lopburi people against their own king. It took eight long years of devious scheming to make King Yi Ba unpopular with his own people, then when King Mangrai finally attacked, the city was sufficiently demoralised to mount an effective defense. The fall of Lamphun spelled the end of the Mon kingdom in Thailand.
After capturing Lamphun in 1281, King Mangrai moved his capital from Chiang Rai to
Wiang Kum Kam
, which is 15 km north of Lamphun, in 1286. There, he erected
Wat Chediliem
, which is a copy of Wat Chama Thewi in Lamphun. Then, in 1896, he moved his capital again, this time to a new settlement called
Chiang Mai
.
Today, Lamphun is a quiet provincial town. As with Chiang Mai, it has a moat around it. Remains of the ramparts that once encircled the medieval town can still be seen in various places. The city wall was built by Phra Muangkeaw (according to interpretive plaque at Phatu Mahawan) in 1520 (2063 Buddhist Era). There were four gates in the medieval city namely Changsi Gate, Thanang Gate, Pratulee Gate and Mahawan Gate. Much of the medieval wall were dismantled for road construction but Changsi and Mahawan gates are still standing today.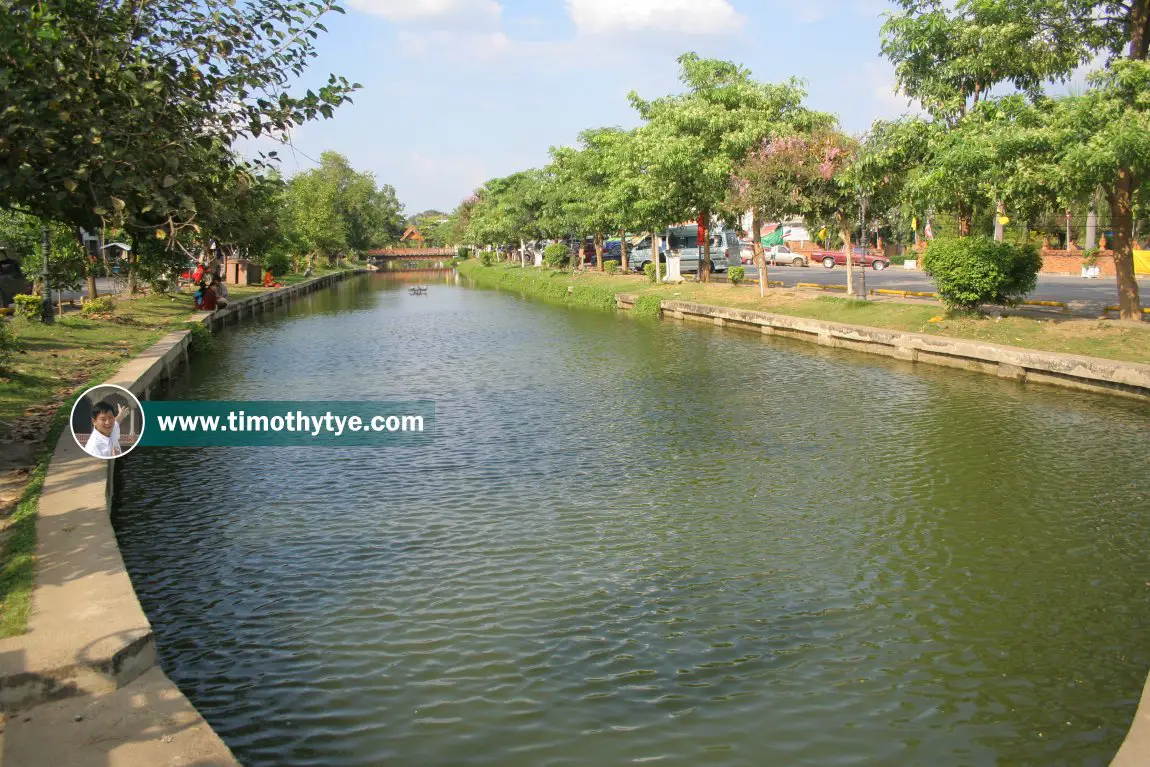 A stretch of Lamphun moat at Tambon Nai Mueang (GPS: 18.574322, 99.003410)
(26 October, 2006)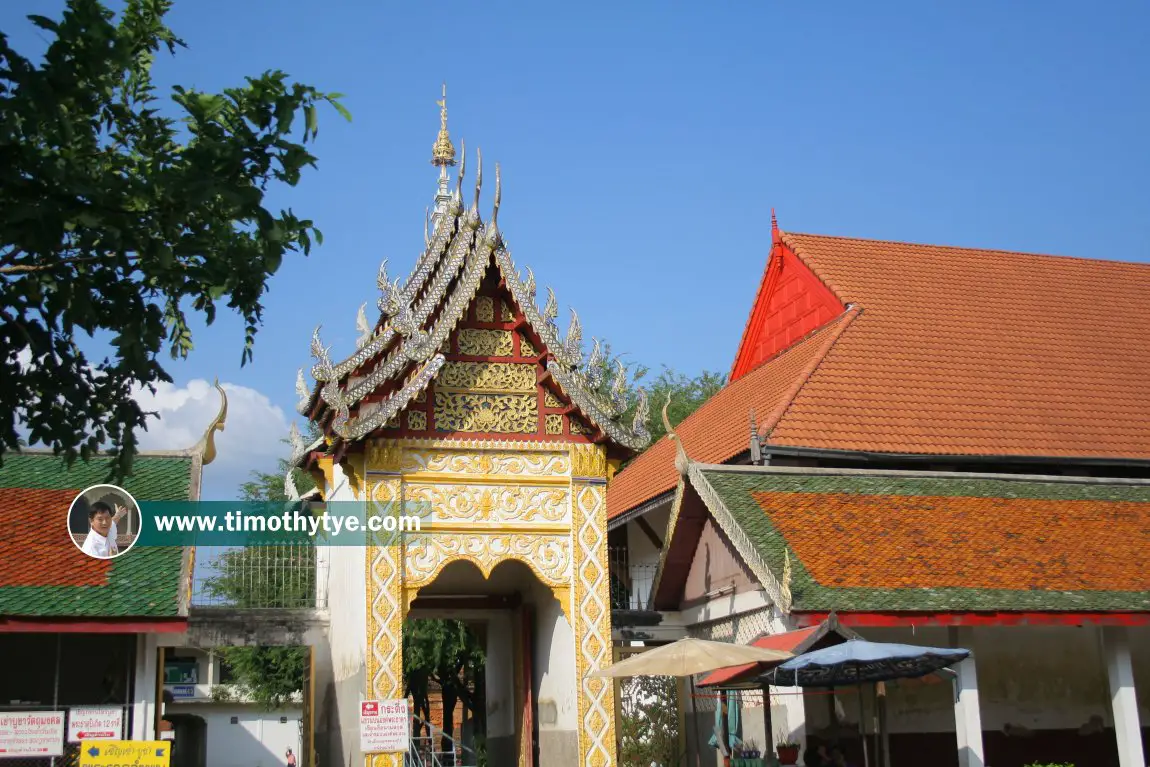 One of the gatehouse of Wat Phra That Haripunchai
(26 October, 2006)

Discover the Ancient Sites of Asia with me
If you love learning about Asian civilization, here are other ancient sites in Asia that I have explored and written about.
Thank you for using my website!
arrange for you a tour guide and/or driver
to show you around. If you are traveling by bus anywhere in Malaysia or Singapore, you can
book your bus ticket
. If you seek accommodation, you can
get hotel room rates
.
As a Christian, I hope that through this website, I am able to deliver God's message to all who need it, anywhere in the world. If you are open to hearing it, please read
God's Good News to You
.
If you wish to contact me, please use this
contact form
. And don't forget to
follow me on Facebook
. See you!