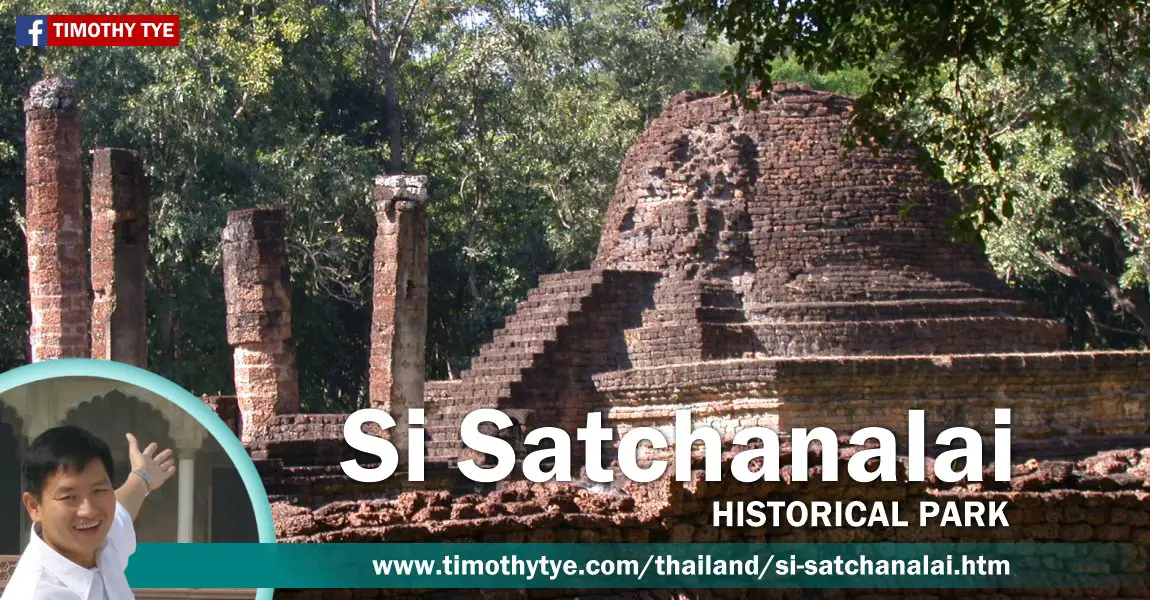 Si Satchanalai Historical Park
(23 December, 2002)

Si Satchanalai Historical Park
(GPS: 17.431772, 99.786276; Thai: อุทยานประวัติศาสตร์ศรีสัชนาลัย

) is a historical park that preserves the ruins of the ancient sites of
Si Satchanalai
and
Chalieng
, in
Sukhothai Province, Thailand
. The park is located beside the Yom River, about 55 kilomters from
Sukhothai Historical Park
. It covers 45.14 square kilomters and comprises four areas: the Inner City of Si Satchanalai, the western part of Si Satchanalai, the northern part, where the ancient ceramic kilns are located, and the Chalieng district.
The name Si Satchanalai means City of Good People. Before the founding of the Sukhothai Kingdom, the area was called Chalieng, but today that name Chalieng refers to only to the area in the bow of the Yom River. After Sukhothai was founded, Si Satchanalai became a city state, with its own city pillar shrine. It is a sister site to Sukhothai, and in the 13th and 14th centuries, was government by the Crown Prince.
Due to the close relationship between Sukhothai and Si Satchanalai, I discover that the temple ruins at Si Satchanalai are pretty much similar to that of Sukhothai in terms of architectural style. As the the layout, Si Satchanalai is roughly rectangular. There is possibly a moat around it, with the northeastern side being the Yom River. Today, the moat is dry and overgrown with vegetation.
A modern road encircles the Inner City of Si Satchanalai. Much of the medieval wall that surrounds Si Satchanalai is still there, and is punctuated with gates, such as Tao Moh Gate (GPS: 17.43793, 99.78659)

in the north side. While the main section is relatively flat, the terrain of the surroundings is undulating, and so that medieval wall also follows the contours of the terrain. None of the gates can compare to those at
Angkor Thom
.
Map of Si Satchanalai Historical Park
Sights in Si Satchanalai
Where to stay when in Si Satchanalai
Use our search engine to look for and compare room rates in the vicinity of Si Satchanalai, as provided by various online booking sites.
Travel to Si Satchanalai
Si Satchanalai is about 20 km from Sukhothai. There is a bus that goes there from Sukhothai, which you can reach by train from
Bangkok
or
Chiang Mai
.
Travel within Si Satchanalai
It is possible to visit the ruins on foot. You can also hire a tuk tuk to be on standby to help you cover distances between ruins.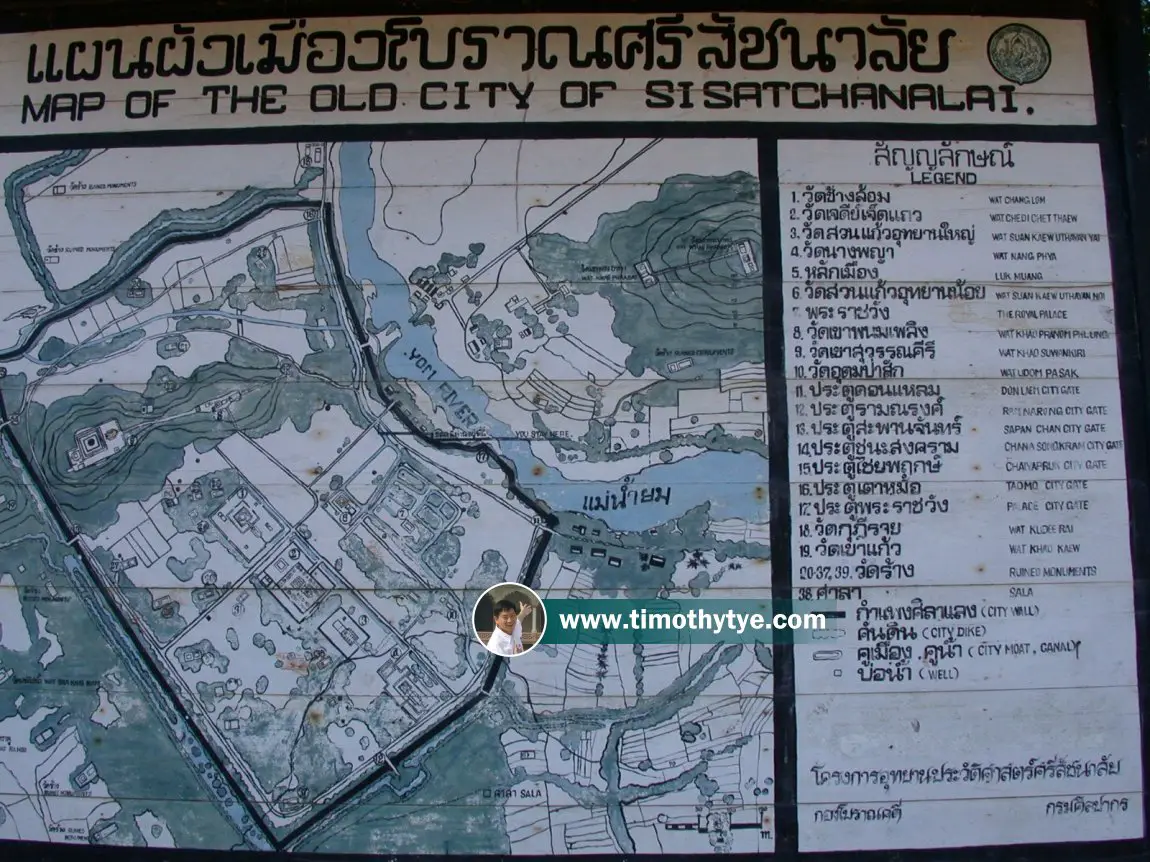 On site map of Si Satchanalai
(23 December, 2003)

Google Street View of sights in Si Satchanalai
Tao Moh Gate (GPS: 17.43793, 99.78659

)
(Jan 2014)
Discover the Ancient Sites of Asia with me
If you love learning about Asian civilization, here are other ancient sites in Asia that I have explored and written about.
Thank you for using my website!
arrange for you a tour guide and/or driver
to show you around. If you are traveling by bus anywhere in Malaysia or Singapore, you can
book your bus ticket
. If you seek accommodation, you can
get hotel room rates
.
As a Christian, I hope that through this website, I am able to deliver God's message to all who need it, anywhere in the world. If you are open to hearing it, please read
God's Good News to You
.
If you wish to contact me, please use this
contact form
. And don't forget to
follow me on Facebook
. See you!