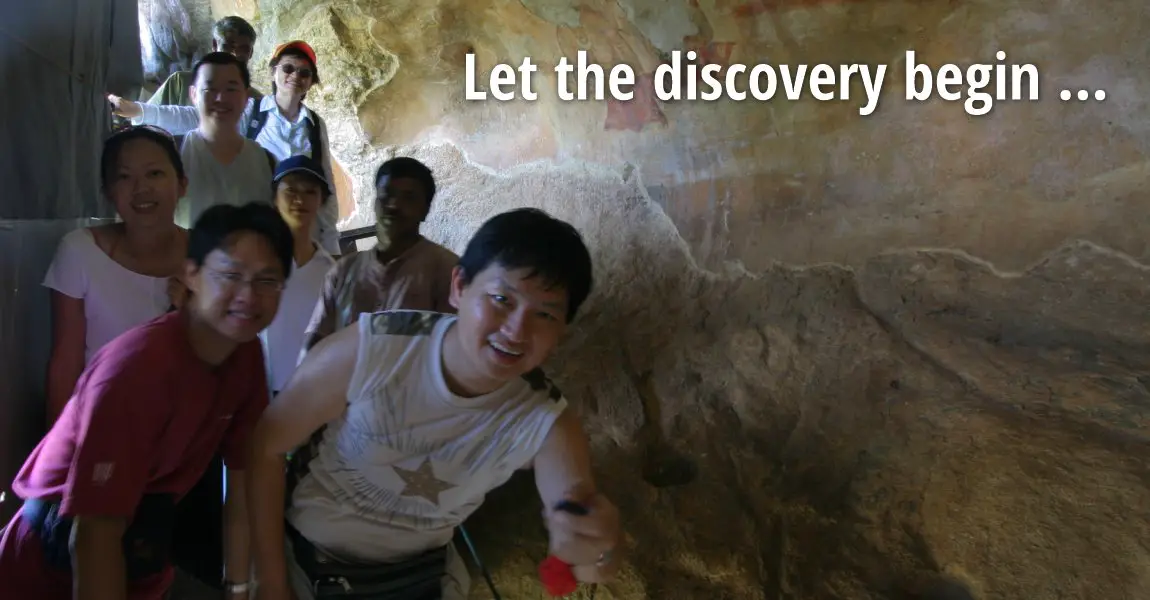 Tim and gang in Sigiriya, Sri Lanka
(29 August, 2005)

Hello and welcome to my own personal website!
My name is
Timothy Tye
. I am an online publisher of travel content. What began as a hobby developed into the most interesting activity that I can possibly imagine. What started as a passion for travel and photography unravelled to become a full-time career.
It all started in 2003, when I established a travel club called AsiaExplorers, so that I could organise trips to various places with other travel enthusiasts. From there, I moved to learn everything about the travel industry, and along the way helped to found a travel agency. I obtained a tour guide license, which I would eventually never get to use, as I was already preoccupied elsewhere.
I am perhaps best know for writing
Penang Travel Tips
, which has become my own online travel encyclopedia. Today it has over 20,000 pages and receives some 2 million page views per month.
As a Christian, I hope that through this website, I am able to deliver
God's Good News
to every corner of the world so that it reaches every person who needs. To get in touch with me, simply submit this
contact form
. Thanks for visiting and don't forget to
follow me on Facebook
!
All About Me
I live in
Penang, Malaysia
, with my beloved wife. It is a perfect bliss for the two of us since getting married in 2007. It was also the same year I went full time in web writing.
A little bit about me? Okay, I am Chinese. My mother is
Hokkien
while my father is
Taishanese
, which is a subgroup of
Cantonese
. My mother tongue is
Penang Hokkien
, the language spoken by most of the Chinese people in Penang. Nevertheless, I am glad that I can make myself understood in English.
I first learned to build websites back in 1996. At that time, I relied on free web hostings provided by
Tripod
(which is now owned of
Lycos
) and Geocities. Tripod's
WYSIWYG
page editing helps a lot at that time, as I had no knowledge of
HTML
going in. Concurrent to building free sites on Tripod, I also did the same on another free web hosting service,
Geocities
(now known as Yahoo! GeoCities, and now limited only to Japan). Using these free web hosting companies, as I quickly found out, had its drawbacks, as my sites appeared as their subdomain, with advertisements placed by the host on my sites. Some of these sites are still on the web, such as my
Heijongliang Soya
site. For a while in the beginning, it did not matter, for I had not wanted to pay anything for my sites. When Tripod began providing an option for account holders to upgrade to paid accounts without advertisement, I did not take action to upgrade, as I felt my early sites were not serious pursuits. On the other hand, I began to appreciate the value of having my own domain names.
My first website built with a domain name was hosted by
Hypermart.net
. In the beginning, Hypermart.net offered free hosting, but when it changed its plans and decided to charge for hosting, I decided to discontinue those sites.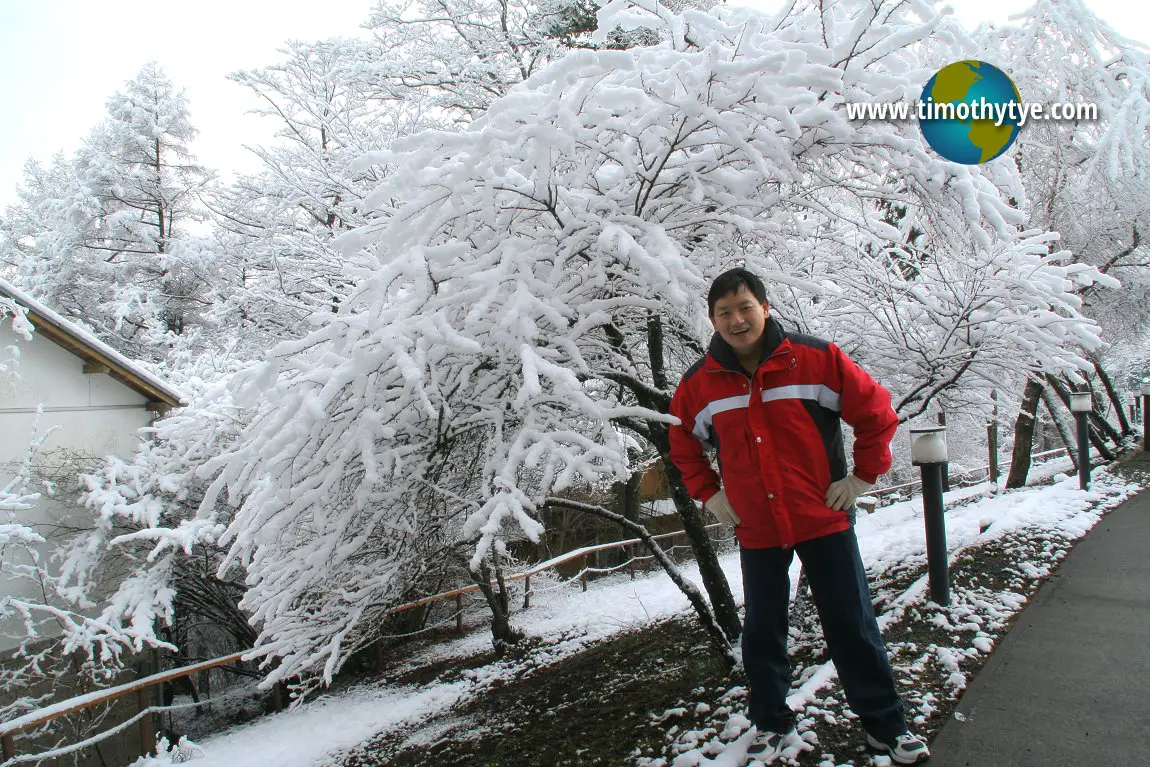 Here I am in Yamanaka-ko, Japan
(3 April, 2007)

My first travel-related website is
AsiaExplorers
, which I started in March 2003. At that time, I was still holding a job, and AsiaExplorers provided an outlet for me to escape into a world of exotic destinations. During that time, I also got to know of
Google Adsense
, and the possibility of earning some residual income from it. Between 2004 to 2006, my website was privately hosted by an acquintance, Wang Sim Kok, who approached me for a partnering opportunity in return for a percentage of my Adsense earnings. The relationship went for a while until eventually we both parted ways, probably due to differences of opinion over the direction AsiaExplorers should take.
Left to search for an alternative web hosting for my website, I chanced upon an article by
Steve Pavlina
, which mentioned the company
Bluehost
. That was how I first learned about using Bluehost as my hosting provider, beginning in around 2006, and has been since. In the beginning, I was only writing for fun, enjoying the thrill of seeing what I have written appear on the web. But over time, I began to learn that I could earn quite well from my websites. This propelled me to write more seriously, to embark on more indepth research, and in general make my writing more useful to people.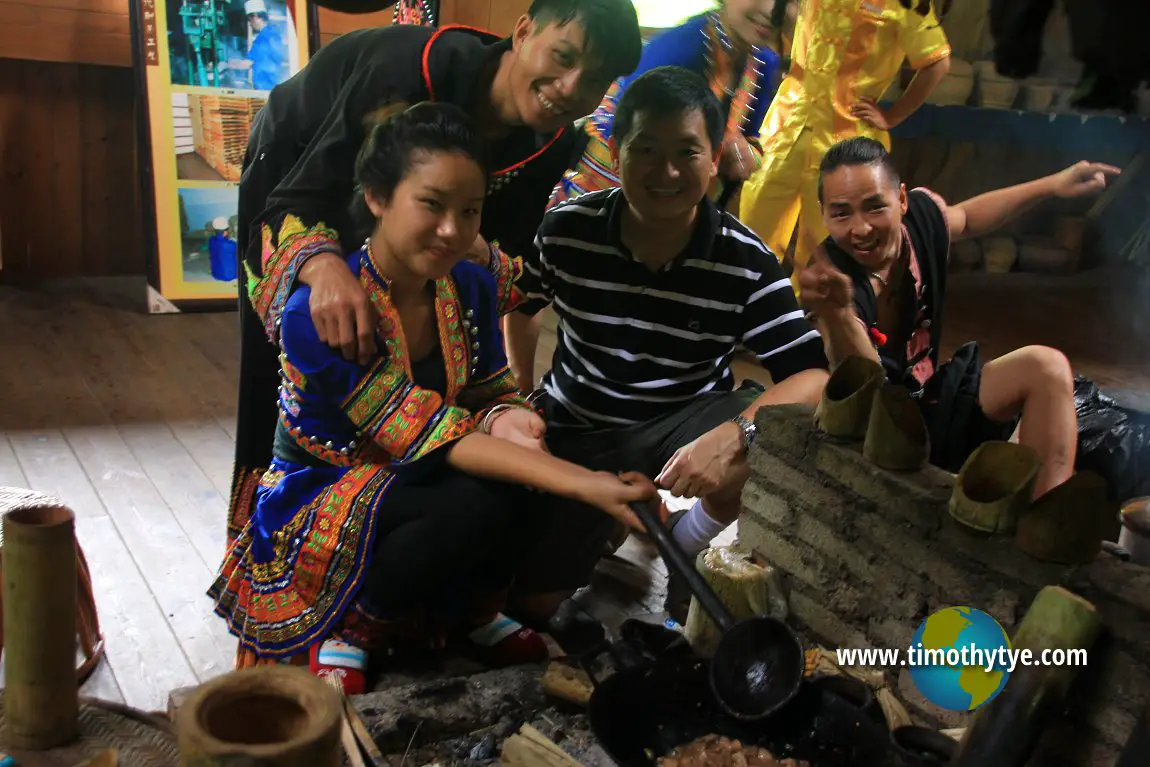 Here I am with the minority tribes of Xishuangbanna, China.
(17 August, 2014)

The look-and-feel of my websites have come a long way since AsiaExplorers in 2003. Back then, every country has a different look. It required much effort to herd them all in a single direction, so that today, all my travel websites share the same look-and-feel, and they link so seamlessly together that you hardly realise you are moving from one website to the next.
The beauty of writing on the web, as opposed to writing in print, is that I can easily update my articles and keep the information up-to-date. That would not be possible with printed text, which would require a revised edition.
Between 2003 and 2013, my travel websites grew from one website to some fifty and at one time peaking at seventy different websites (yes, 70!). That's because I have a different website for every major city, and one for every major country. Needless to say, seventy was more than I could manage, and as a result, many sites got neglected. From end of 2013 onwards, I began a consolidation process that will eventually reduce my travel websites down to only three:
Penang Travel Tips
to describe places within my hometown,
Exploring Malaysia
to describe places within my home country, and
Big World Out There
to describe everything else beyond Malaysia! But even three websites are still too much work, so from April 2016, I begin to consolidate all my writings to just the Penang Travel Tips website, gradually moving all the other pages over.
Here I am with an Indian soldier, in the volatile city of Srinagar, in Kashmir, India
(13 November, 2004)

Two websites not related to travel that I happily author include
Happy Jobless Guy
and
The Flowering Garden
.
Happy Jobless Guy
is a website that celebrates my state of unemployment. (To state that I am completely jobless is untrue, as I still have travel businesss running, both online and offline.) Although I do not regularly update the Happy Jobless Guy website, it is one that has touched many lives, especially those who were made redundant by unfavorable economic situations and were often at a loss as to their future life path. Happy Jobless Guy is not a website about earning a living without working. I am still working, and I work very hard too, but I now work for myself. And people who follow my advise in Happy Jobless Guy will be working for themselves as well.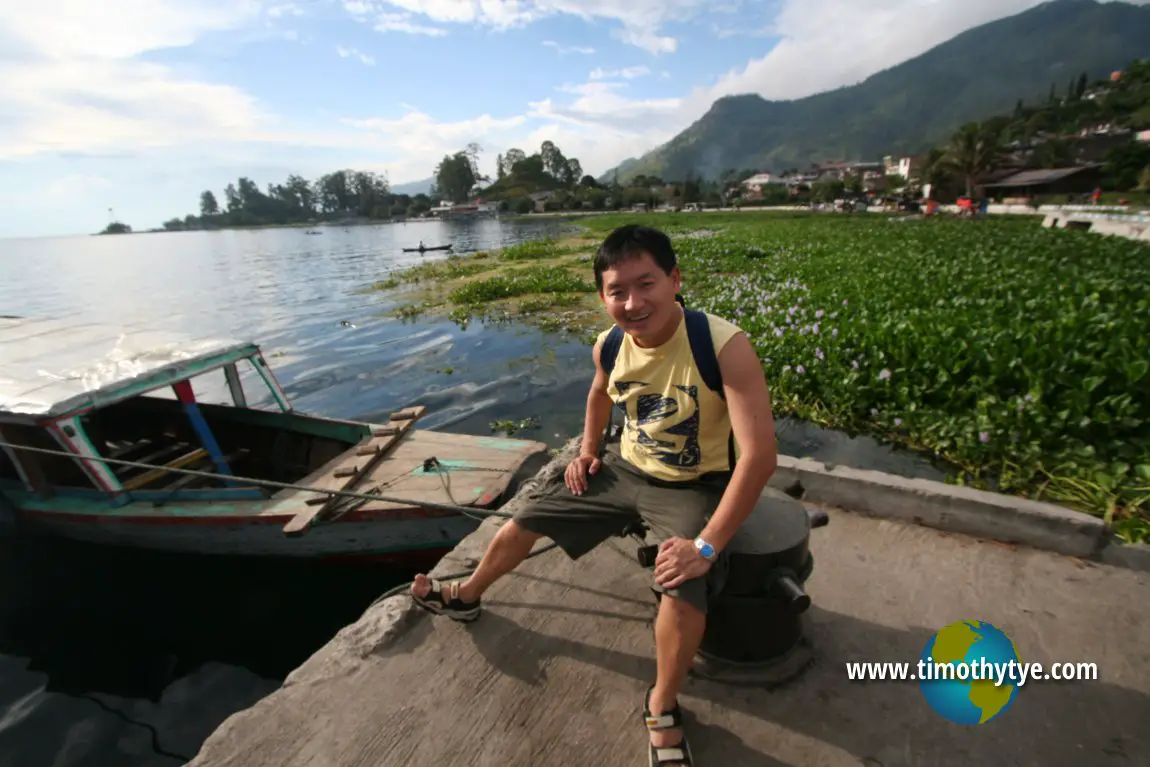 Here I by the bank of Lake Toba.
(28 April, 2006)

The Flowering Garden
is a website that I started with my wife, because we both love flowers, but do not care to do any gardening. So, the next best thing is to place our garden on the web, where we can enjoy flowers that continue to bloom 365 days of the year!
The photographs appearing on my websites are either shot by me, or attributed to photographers under licensing terms as captioned. My own photographs - those that do not bear an attribution to someone else are mine - are all copyrighted. Some have been licensed to appear in a variety of media, including guidebooks, magazines, calendars and other websites for advertising, editorial, promotional and other uses . If you need to use any of my photographs, just write me a mail, letting me know the purpose and duration, and in the case of magazines, your circulation size. I will advise you the fee involved.
Most of my time is now spent in writing and updating my websites, if not travelling. Back in 2003, when I started AsiaExplorers, I used to organise tours, taking groups of travel enthusiasts to interesting destinations. People still ask me to organize tours, but I don't have the time to do that nowadays. I would refer them to my travel business where I have full-time tour coordinators, tour guides and drivers to assist people with their travel, and could get the job done more professionally than me.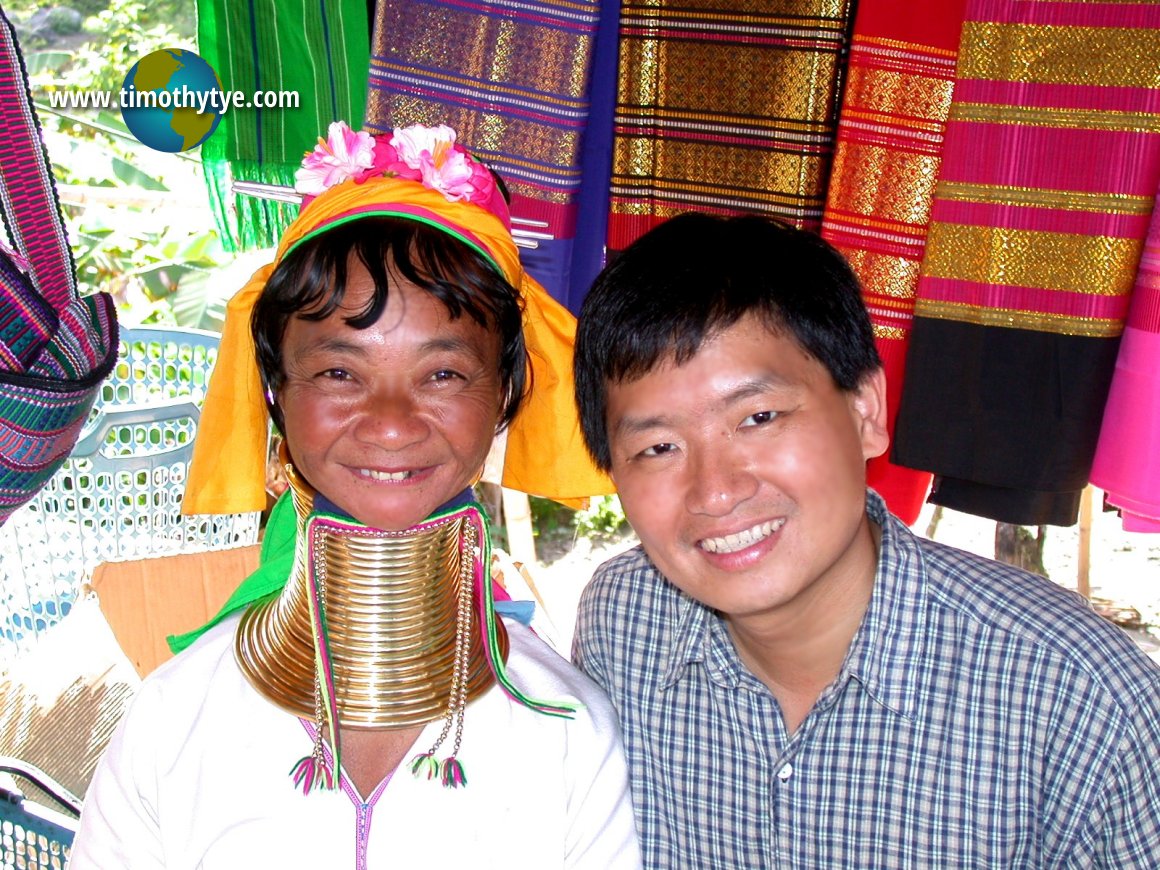 Here In am with a Padaung lady of northern Thailand
(26 December, 2003)

Now I can spend my time doing my writing as well as on my personal travels, and the more time I have on my hand allows me to do my research in greater depth. I work from home and I absolutely enjoy it. I live with my wife in our small apartment (small is good, I am neat, but housekeeping is not my forte), where I have a custom-designed study room. The room is very small but cosy. It has a wall of dark-wood cabinets filled with my books. I love books, but a lot of my research is done on the web nowadays. Still, I enjoy a visit to the bookstore every now and then to look up the latest titles, though lately I have to depend on Amazon as the local bookstore is too limited.
All my articles are written at a workstation, with three monitor screens side by side, a backup laptop and a backup workstation, a tablet and of course, smart phone. When I travel, I usually go with two camera bodies, two or more lens and a tripod. It is impossible for me to travel light, though I now travel lighter today than before (when I also brought along the laptop). Even a trip to a neighbouring town feels like I am moving house.
Here In am on the Old Bridge of Mostar, in Bosnia-Herzegovina.
(18 April, 2008)

I have come a long way since the time I wrote for fun. Well, I still do write for fun - I definitely would not be able to face having to write yet another travel article if I do not - but now I also earn money from it, sufficiently that I never have to go out to work again. And that doubles the fun! But what I love most, apart from this passion for writing and discovery, is that I am able to earn a comfortable living without having to suck up to bosses or please customers. I only answer to the man in the mirror, and he's real easy to please.
When I write, I embark on a mind trip of exploring and discovering. But more than just writing for fun, I now do it with a consciousness that what I write should not only entertain me, it should also provide the information that people are looking for, information that will help them as they follow in my wake.
Some of my articles are the result of spending much time hunting for information, asking questions, interviewing people, talking to the locals, searching for that hard-to-find document, and all the while trying to make sense of this wonderful world that continues to intrigue and amuse. Often the information does not come when I am right in front of an obscure building; it is the result of lots of research done afterwards, far removed from the building itself. These are the things I enjoy, to hunt for information, to assemble them, and then to present the results to a worldwide audience in articles which, I hope, make the entire process appear effortless.
I love hearing from you. If you care to write, you'd be surprised that I do reply, to as many email as I can possibly manage. Once again, thank you for reading. I am most grateful.

My Social Media Presence
To interact with me,
LIKE ME
on Facebook, or LIKE any of my Facebook pages:
Penang Travel Tips FB Page
and
Places To Go FB Page
, and join any/all of my Facebook Pages and Groups including
Penang Travel Tips FB Group
,
Exploring Malaysia
,
Big World Out There
,
My Little Bookshelf
,
Learn Penang Hokkien
,
Penang Street Art
,
Penang Hawker Food
,
Penang Restaurant Food
,
Masa Masak
,
Penang Residential Properties
and
Armchair Traveler
. In addition, you can also find me on
Instagram
,
Twitter
,
Google+
,
Tumblr
,
Pinterest
,
Memrise
and
Flickr
.
My other writings
Media mentions
I was quoted in the following newspaper articles:
God's Good News
Information on how to achieve a purposeful life on earth.
God's Good News to You
Learn about God's Good News and his plans for your life.


If Tomorrow Never Comes
Find out why it is important for everyone to have a chance to know about God's Good News.
Ruminations
Learning Thai
My Facebook Groups
Miscellaneous Links
Photos from School
Some old photos I've found from my school days.
Licensing Photos
All the photos taken by me are copyrighted and available for use. Find out how you can license the photos for use in travel guides, magazines, calendars, etc.
My Wife's Paintings
Since 2013, my wife has taken up a new hobby to do by-numbers painting. Here's an online gallery of the pieces she has completed.
My Websites
My Tripod Websites
These sites date to 1999 when I was just learning to build websites. I often look at them and cringe, but with all their innocence, they reflect who I was back then.
Copyright © 2003-2019
Timothy Tye
. All Rights Reserved.